Amid all the angst over the blockbuster merger of Time Warner Cable and Comcast—which could be a disaster for consumers, though competition in the industry is virtually nil as is—the companies this weekend attempted to assuage any fears of a brutalizing monopoly with a friendly email. Too bad the fine print lays bare just how hollow their promises are. 
"Dear Valued Customer," the message begins. Not a comforting salutation: Is it that difficult to make my name appear there? Time Warner and Comcast, we're told, will together form "an industry-leading technology and media company dedicated to delivering great customer experiences," though almost anyone with an Internet or cable hookup is well aware that neither brand delivers anything close to this.
That doesn't curb the shameless optimism.
"Above all, this merger will benefit you, our customers," the note, signed by Time Warner CEO Robert D. Marcus, goes on to claim, conveniently forgetting stockholders and board members. Anyway, we can expect faster broadband, innovative new products, and more Wi-Fi access points. Sounds great, really!
Oh, what's this?
There's a big disclaimer in unreadably tiny font—gray on a gray background—just below Marcus's breezy missive. A lot of it is about how relevant filings with the Securities and Exchange Commission will be handled, but toward the very bottom, an awkward phrase catches the eye: "Cautionary Statement Regarding Forward-Looking Statements." 
Um, are they about to admit they can't see into the future? This sort of thing is, insanely, more or less boilerplate for any press release from a public company, so prepare for legalese at its finest (emphasis ours):
Certain statements in this communication regarding the proposed acquisition of Time Warner Cable by Comcast, including any statements regarding the expected timetable for completing the transaction, benefits and synergies of the transaction, future opportunities for the combined company and products, and any other statements regarding Comcast's and Time Warner Cable's future expectations, beliefs, plans, objectives, financial conditions, assumptions or future events or performance that are not historical facts are "forward-looking" statements made within the meaning of Section 27A of the Securities Act of 1933, as amended, and Section 21E of the Securities Exchange Act of 1934, as amended. These statements are often, but not always, made through the use of words or phrases such as "may," "believe," "anticipate," "could," "should," "intend," "plan," "will," "expect(s)," "estimate(s)," "project(s)," "forecast(s)," "positioned," "strategy," "outlook" and similar expressions.
Oh, I see. They were "using" what we call "words" to describe "events" that probably won't actually "happen."
Then they used additional "words" to let you know that those first "words" don't mean anything.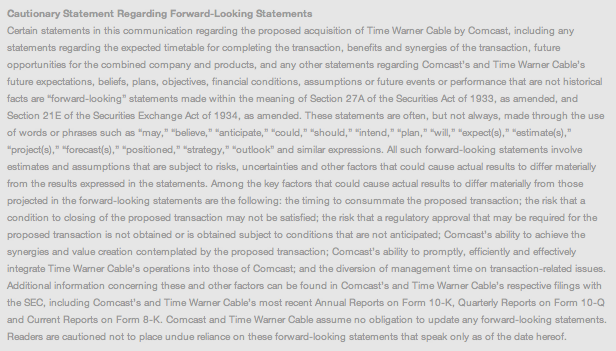 It's almost as if they know already that certain factors—"Comcast's ability to promptly, efficiently and effectively integrate Time Warner Cable's operations into those of Comcast" prime among them—are bound to complicate all those rosy plans for service enhancement. That is to say, "actual results" may "differ materially from the results expressed in the statements."
Why bother, then, to misleadingly inform us of all that "will" occur, using that auxiliary verb which most of us equate with total certainty?
Perhaps it's just a way of setting goalposts. Yet "Comcast and Time Warner Cable assume no obligation to update any forward-looking statements," and readers "are cautioned not to place undue reliance on these forward-looking statements that speak only as of the date hereof."
So not only will none of this come to pass; the combined company also won't beat itself up for failing to effect any such changes, nor will they bother to inform you that they did. Now that's a business model.
All in all, you can't read this email as anything other than a cynical ploy to dampen the maelstrom of bad publicity and customer dread this megadeal has brought about, simply by painting a pretty picture of potential successes that no one is really responsible for. But hey, if they somehow become reality, the company wasn't lying just now. I wouldn't hold my breath, however.
Illustration by Jason Reed