Sign up to receive the best of the internet straight to your inbox.
Hey readers! Welcome to this week's 'Tech Tuesday' edition of the Internet Insider. The election forced tech giants like Twitter and Facebook to move quick and combat misinformation. Trump took the brunt of the labels, but so did Joe Biden. 
Here's what we've got on deck today:
Here's how big tech reacted to the election 
Trump supporters freak after 'Stop the Steal' Facebook group renamed 'Gay Communists for Socialism'
Biden digital director trolls Trump campaign with Death Star tweet
---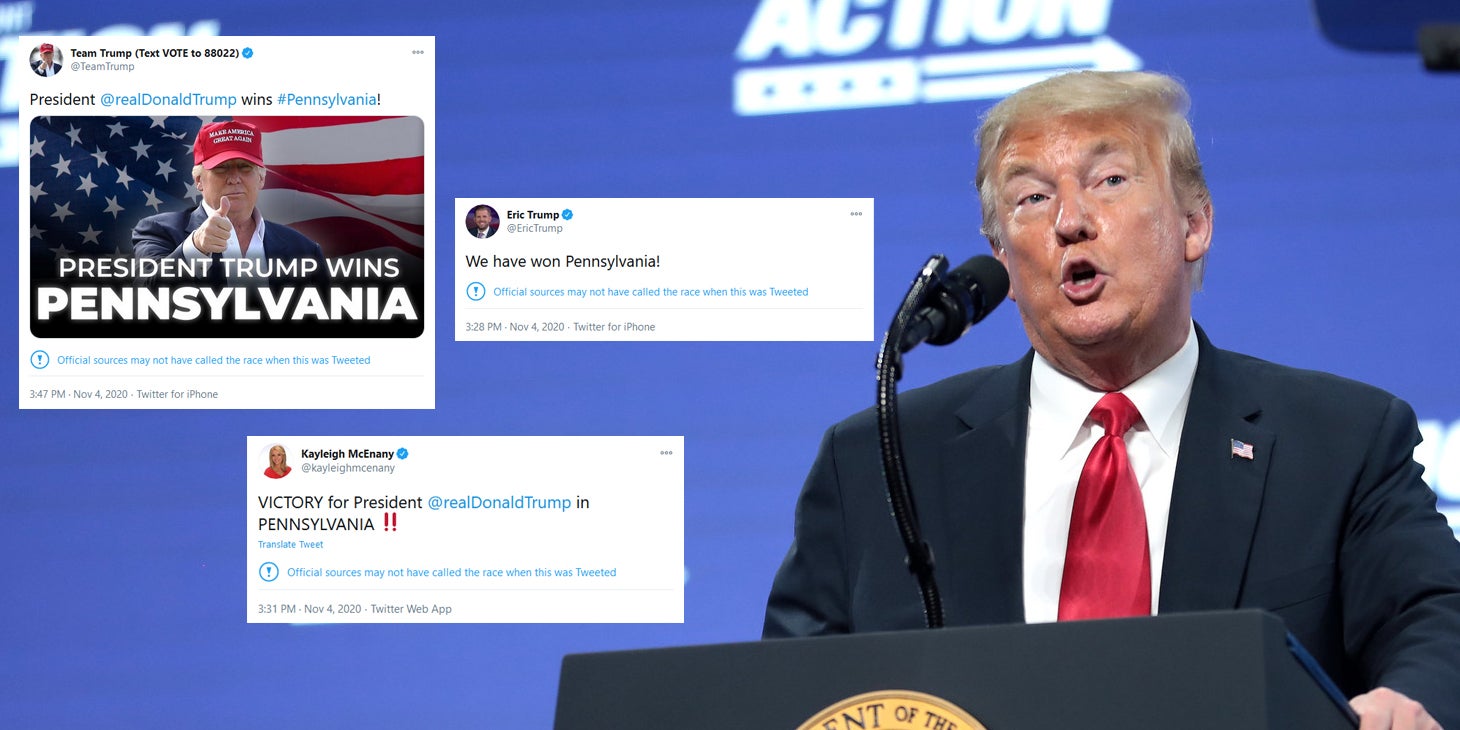 BREAK THE INTERNET
Here's how big tech reacted to the election
Both Twitter and Facebook said ahead of the election that they would monitor and combat misinformation, including incorrect claims about winning or spreading false information. There were plenty of opportunities for those policies to take effect. 
President Donald Trump, and people in his orbit, kept Twitter busy. On Wednesday, Twitter slapped warning labels on tweets from the president that tried to sow doubt on the outcome of the election. The labels read: "Some or all of the content shared in this tweet is disputed and might be misleading about an election or other civic process." 
Later that same day, the president's son, a campaign account, and his press secretary all touted a victory in Pennsylvania prematurely. Those tweets also were given a label warning that official sources hadn't yet called the race. (Biden would eventually go on to become the projected winner in the state). 
Only a few days after Election Day, more than a dozen of Trump's tweets had been labeled. This led the president to lash out against Twitter around 1:20am CT on Friday morning, calling the social media company "out of control" and blaming it on Section 230 of the Communications Decency Act. 
Ironically, that was one of the few tweets from the president that wasn't given a label. 
But it wasn't only Trump content that was labeled by the social media giant. Tweets on Friday that called Biden "president-elect" were also given warnings, since only one source, Decision Deck HQ, had called the race in favor of the former vice president at the time. 
While Biden was projected to be the winner by several other news outlets on Saturday, the fact that labels were put on tweets on Friday wasn't shocking. Twitter said it would consider a race "official" if a winner is announced by a state election official or two news outlets among ABC, AP, CBS, CNN, Decision Desk HQ, Fox News, or NBC News. Since Decision Desk HQ was the only source on that list that called it in favor of Biden, tweets declaring him the winner would seem to fall under the company's policy for labeling tweets with an "Official sources may not have called the race when this was tweeted" warning. 
On Facebook, things went a bit differently. Trump's misleading election post where he said he "claimed" a number of states in the 2020 election became one of the most popular posts on the site, according to reports. 
The company did put a label on Trump's post that read: "Final results may be different from the initial vote counts, as ballot counting will continue for days or weeks after polls close." Despite this, CNN reporters found that the post had become one of the most popular posts on the site over a 24 hour period. 
While the labeling wasn't perfect, both social media companies did take steps to try and keep some semblance of order during a chaotic social media landscape as the election results were tallied up. 
– Andrew Wyrich, deputy tech editor
---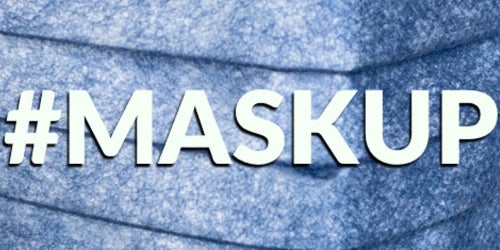 SPONSORED
From cloth to surgical, masks are everywhere now. But not all masks provide the same levels of protection. If you'd like to understand each type of mask and how well it protects you, our guide can help––but the TL;DR is that surgical masks are the safest option you can buy.
If you'd like to purchase surgical masks from a reliable source (and that's not Amazon), Armbrust USA makes FDA-registered, ASTM Level 2-rated, disposable surgical masks made in Austin, Texas. Armbrust supplies millions of masks a week to hospitals and state governments. But it also sells direct to the consumer. So if you want to be as safe as possible, this is the mask to buy.
Use code DAILYDOT and save 20% on your first order.
---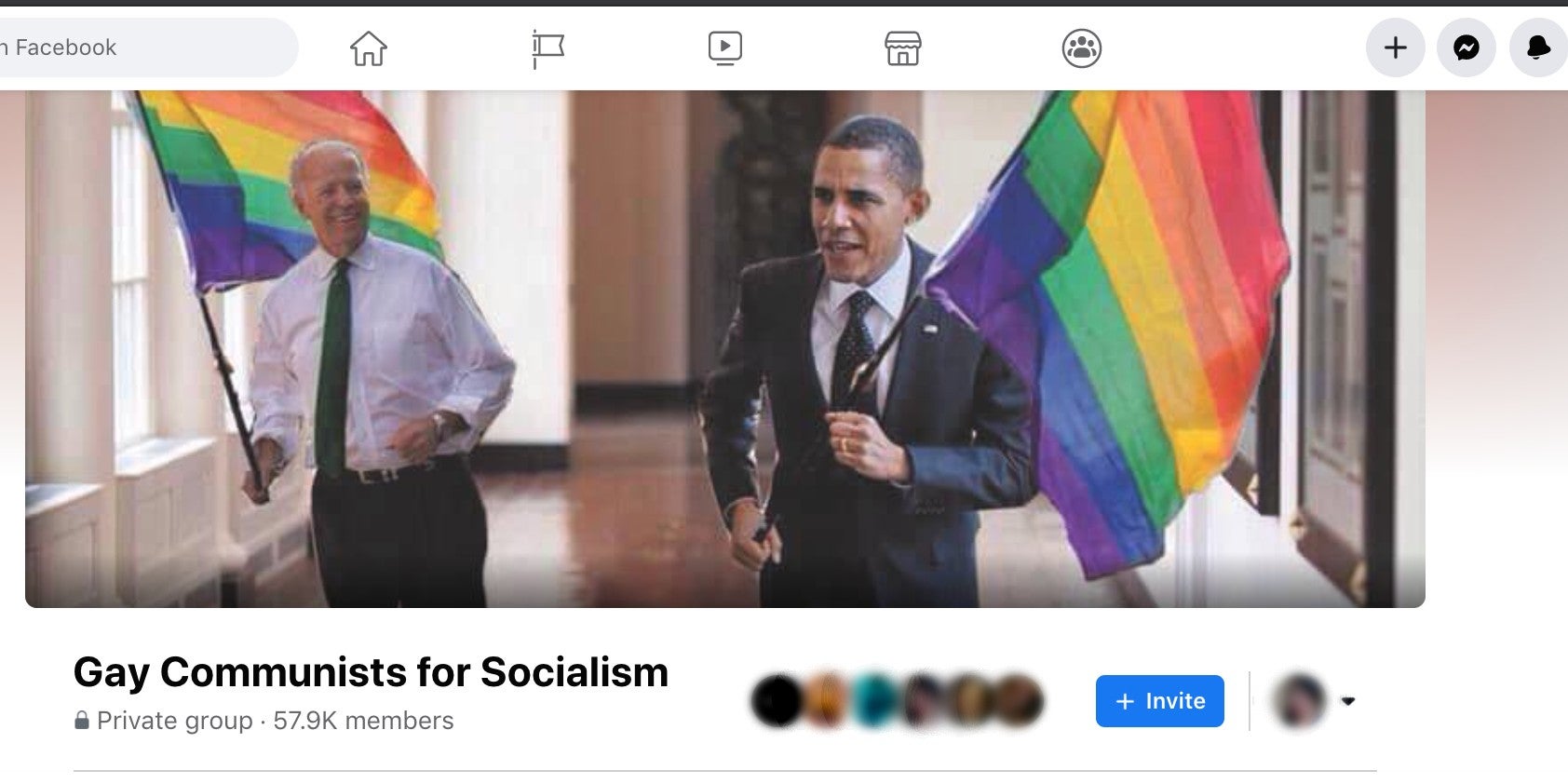 OVERLORDS
Trump supporters freak after 'Stop the Steal' Facebook group renamed 'Gay Communists for Socialism'
A Facebook group that overnight attracted tens of thousands of people, many of whom are President Donald Trump supporters, has now been renamed to something that's probably every Trump supporter's nightmare: "Gay Communists for Socialism."
The group, initially titled "Stop the Steal," was similar to one that Facebook shut down on Thursday because it called for real-world violence. Trump supporters across the country have been rallying for mail-in ballots to not be counted. Their demand hinges on the premise that these ballots are stealing the presidency from him. 
This group had 64,000 members on Friday morning, which was rapidly decreasing by the hour. At the time of publication, the number of members had dropped to 56,800 members. People who joined the group thinking they would find a community of Trump supporters posting angry messages about the elections are now freaking out about having affiliations with homosexuality, communism, and socialism. 
Here's why it matters: Predictably, the comments were all over the place about the name change. It's not clear if the group was created by admins with this agenda or someone hacked into the group to create it. The group was only created on Thursday and renamed by Friday. 
– Samira Sadeque, contributing writer
---

STREAM THE SEAMS
The Daily Dot is very excited to drop its very first streaming series, Behind the Seams, on YouTube.Check it out here!
---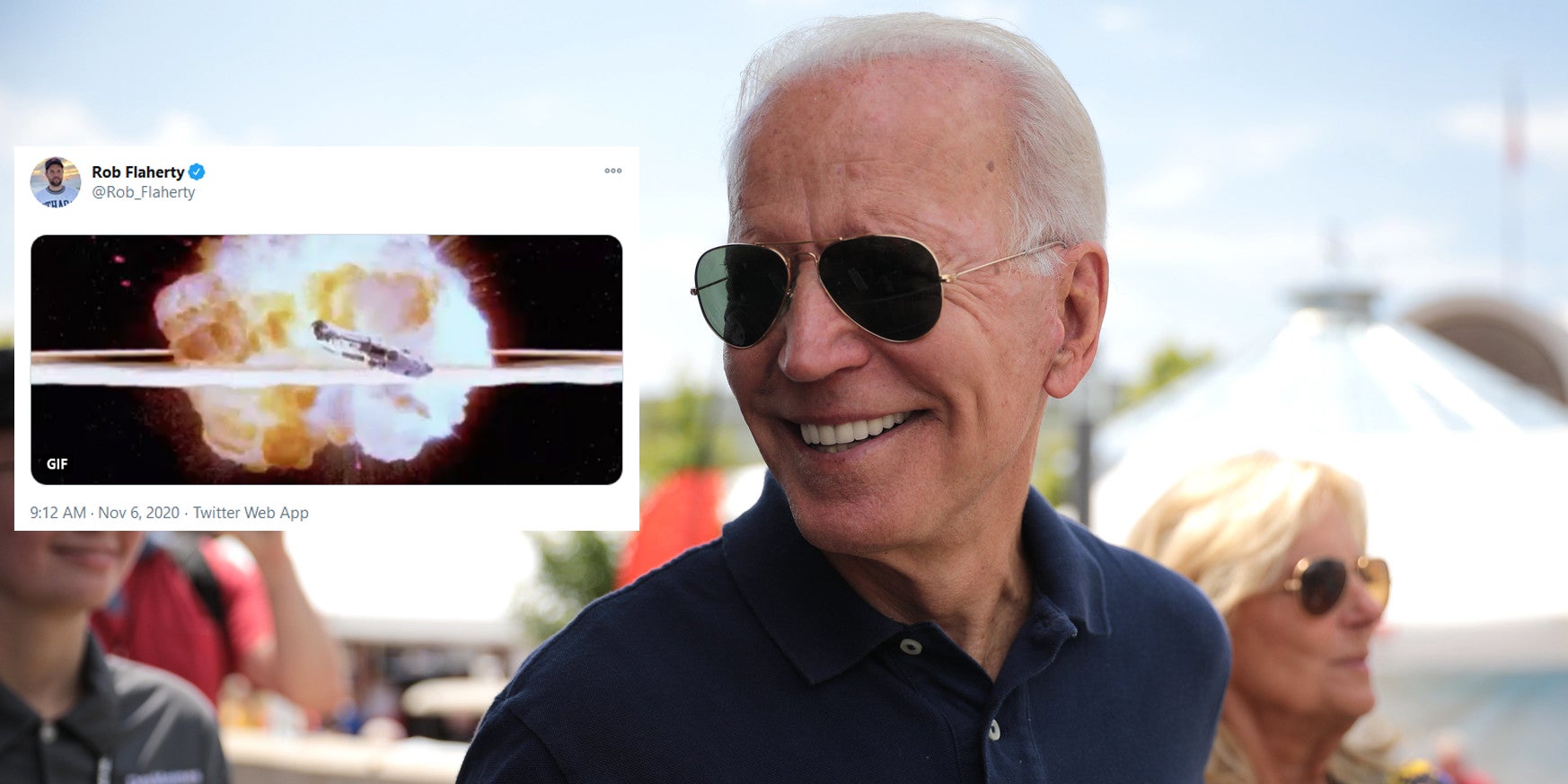 VIRAL
Biden digital director trolls Trump campaign with Death Star tweet
Former Vice President Joe Biden's digital director trolled President Donald Trump's campaign by tweeting a GIF of the Death Star from Star Wars exploding as the Democratic nominee became incredibly close to being named the next president-elect of the United States. 
Rob Flaherty, the digital director of Biden's campaign, tweeted the GIF shortly after 8am CT—just after the former vice president jumped ahead of Trump in the vote count in Pennsylvania. 
The Star Wars GIF was a direct troll of former Trump campaign manager Brad Parscale, who compared the president's "juggernaut campaign" to the Galactic Empire's superweapon in the movies back in May. 
"For nearly three years we have been building a juggernaut campaign (Death Star). It is firing on all cylinders. Data, Digital, TV, Political, Surrogates, Coalitions, etc. In a few days we start pressing FIRE for the first time," Parscale tweeted on May 7. 
Parscale added a GIF of the Death Star firing its laser from Return of the Jedi. 
Here's why it matters: With Biden's win looking to be incredibly likely on Friday, Flaherty trolled the campaign with a GIF of the Death Star exploding in Return of the Jedi, with the Millennium Falcon flying away from the super weapon. 
Unsurprisingly, a whole lot of people enjoyed the Star Wars themed clapback. Several news outlets called the race for Biden on Saturday morning, projecting that he would be the next president of the United States. 
– A.W.
---
BTW