It was quite possibly the most bizarre moment in the most bizarre election in American history. On Saturday, President Donald Trump's campaign held a press conference at a Philadelphia Four Seasons—the landscaping company, not the luxury hotel.
Now everyone wants a piece of memorabilia of what came to pass that unforgettable morn.
Upon being beckoned via presidential tweet—how else?—on Saturday, global media dutifully gathered in the Four Seasons Total Landscaping parking lot adjacent to a crematorium and a sex shop to hear Trump's representatives, led by Rudy Giuliani, lie about widespread voter fraud and Democrats trying to steal the election.
The events proved even stranger than even the location foretold.
Politico reports that the first person to the podium, supposedly a Philadelphian GOP poll watcher, is actually a perennial candidate from New Jersey who also happens to be a convicted sex offender.
Then, in a quintessentially 2020 plot twist, the presser had barely kicked off when news broke that first one, then all the major outlets, had called the race for Democratic presidential nominee Joe Biden. (Trump is suing to overturn the results.)
Richard Hall of the Independent would later write that Trump's campaign "ended with his personal lawyer in the parking lot of a landscaping company, struggling to be heard over a man in his underpants shouting about George Soros."
The internet was thrown into a frenzy by news of a presidential campaign holding a press conference at a seemingly random landscaping business, albeit one whose website promises, "We would like to aid in making that first impression an impressive one." A parody Twitter account quickly appeared.
It's as if the writers' team for 2020 thought they were working for Ripley's Believe It or Not!
Much like a shot glass purchased during Spring Break, unforgettable times such as these demand memorabilia.
Artist Shing Yin Khor was first to heed the call. Khor is selling shirts with the company's name and Philadelphia Flyers' beloved mascot Gritty astride a riding lawn mower. "Not the Four Seasons Hotel Philadelphia," the shirts proclaim. The proceeds benefit efforts to elect Democrats in both Georgia's Senate runoff elections, AV Club reports.
Four Seasons Total Landscaping (the real business, not the Twitter parody) also vowed to fill the public's demand for a memento to its incredibly strange moment on the world stage. As of this morning, it's selling shirts, hoodies, and stickers, the latter which read, "Make America Rake Again/Lawn and Order!" plays on Trump's campaign slogan and oft-repeated line about "law and order."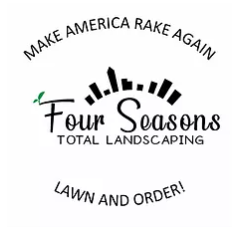 Seemingly overnight, a slew of Four Seasons Total Landscaping merchandise also popped up elsewhere on the internet.
We may never know precisely how the Four Seasons Total Landscaping presidential campaign press conference came to be. But for a few bucks, we can at least have a T-shirt, hoodie, or sticker so that we may never forget.
More election 2020 coverage