President Donald Trump's misleading election post where he said he "claimed" a number of states in the 2020 election is among the most popular posts on Facebook, according to reports.
On Wednesday evening, the president posted on Twitter and Facebook that his campaign "claimed" Pennsylvania, Georgia, North Carolina, and Michigan. He continued on, claiming without evidence that there were "secretly dumped ballots" in Michigan.
Presidential campaigns do not "claim" states, so it's unclear what the president was saying other than disputing the incoming results of the election. No winner has been called, as states continue to count ballots.
Trump's post quickly became a meme.
Amid all of this, Trump has tried to attack the integrity of the vote, making unfounded claims of fraud.
Both Twitter and Facebook labeled Trump's post—the president posted the same thing on both sites—however, Twitter went a step further on the part of the post about "secretly dumped ballots" by restricting users' ability to comment or like on the post.
Facebook meanwhile added a label that reads: "Final results may be different from the initial vote counts, as ballot counting will continue for days or weeks after polls close."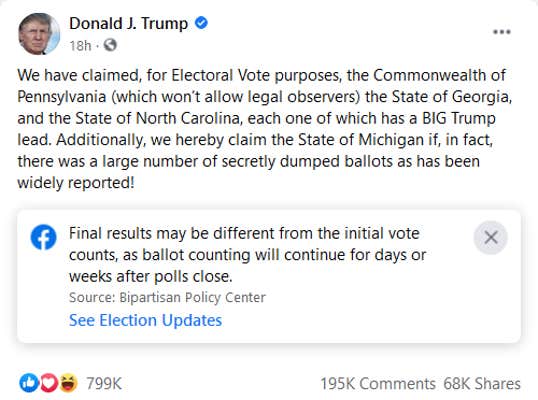 Trump's post, according to reports from CNN, is among the most popular on Facebook.
"The MOST POPULAR post on Facebook in the US in the past 24 hours? A post from Trump baselessly undermining the election. This is a post Facebook itself views as problematic," CNN's Donie O'Sullivan tweeted early Thursday, adding that the data was from CrowdTangle, an analytics company Facebook owns.
CNN's Oliver Darcy followed up on O'Sullivan's post, adding that Trump's post became the "top post" on Facebook over the last 24 hours.
Other posts from Trump on Thursday had a more direct label added to it that says "votes are being counted. The winner of the 2020 Presidential Election has not been projected."
Facebook has long been criticized for its lax approach to moderating Trump's content.