One in five U.S. adults, or around 47.3 million people, have access to a smart speaker, according to a survey conducted by Voicebot.ai.
Exceeding analyst estimates, the smart speaker market has risen from 1 percent adoption to 20 percent in just two years. That number will continue to rise. Customer adoption is expected to grow more than 50 percent this year, according to comments from survey participants who don't already own one.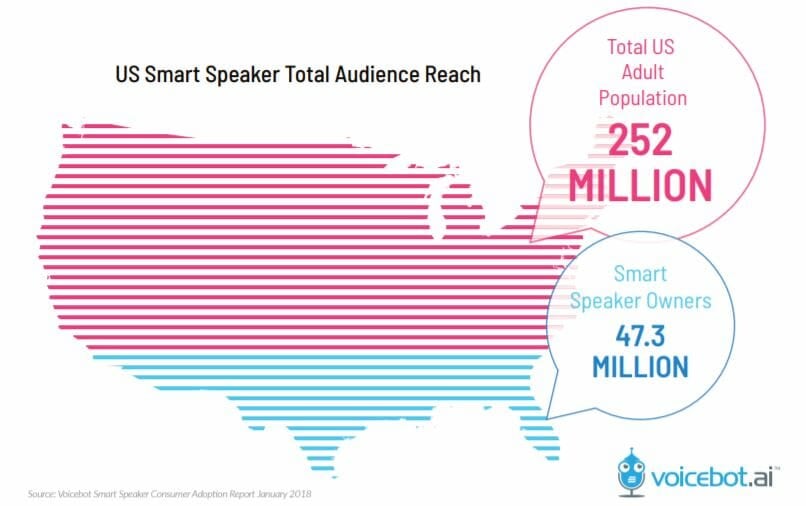 The survey notes it only looked at those who have access to a smart speaker, not everyone who owns one. That differs from, say, smartphones or headphones, which have a single owner. Therefore, the study better indicates how many homes have smart speakers rather than how many were purchased. 
According to the study, smart speakers were the most popular holiday gift this year with 16 percent of survey participants either giving or receiving one. The survey included several other interesting bits of information. For example, 57.8 percent of those who have access to a smart speaker are male. Smart speakers are more likely to be owned by upper-income households, especially Amazon Echo devices, whereas lower income households opt for Google Home speakers. Also, consumers own 1.8 smart speakers on average and the living room and kitchen are the most popular areas to place them.
The findings are based on a January 2018 survey of around 1,000 adults but were adjusted downward because the survey pool only accounts for 88.5 percent of the population.
These statistics are surprising even when you consider the commercial success of top smart speaker brands. Amazon CEO Jeff Bezos said before the 2017 holidays that the company sold "tens of millions" of Alexa products. A few months ago, Google said it was selling a Google Home every second, or about 7.6 million units between October and December of 2017.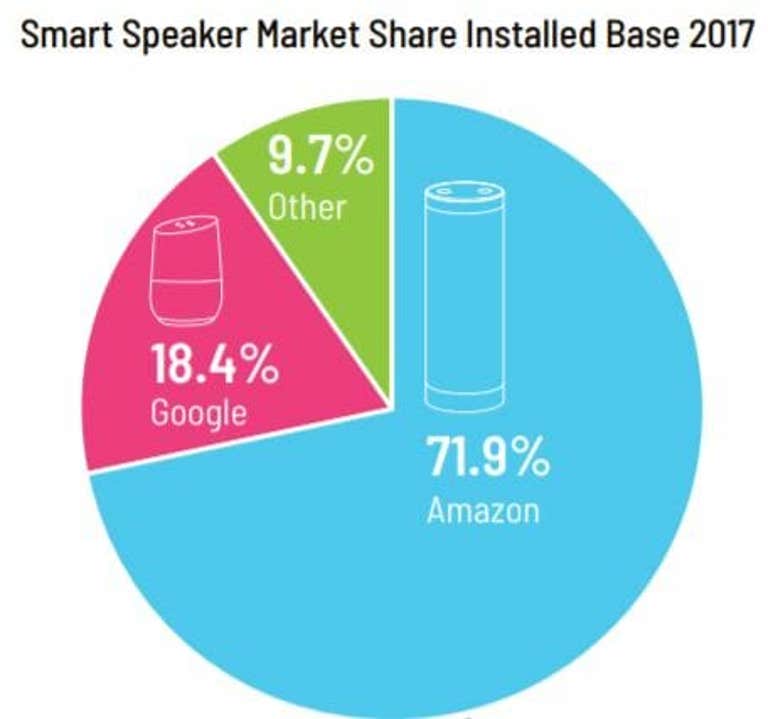 As expected, Amazon dominates with its Alexa-enabled Echo speakers, owning 72 percent of the market share. The Echo and Echo Dot alone make up 68 percent of the market. Far behind is Google with a respectable 18.4 percent. Other smart speaker players, including Apple and Microsoft, make up the remaining 10 percent. 
It will be interesting to see how these figures change in the coming months now that the HomePod has arrived. Apple's entry into a market typically spells disaster for competitors. But with a $350 price to entry, the HomePod will test our love for these always-listening robots.
H/T TechCrunch