Following reports last week of a next-generation surveillance network in Seattle, funded by the Department of Homeland Security and installed without much protest, review, or oversight, the city's police department promised to "deactivate" the controversial wireless mesh technology to allow for a public debate over the policies governing its use. 
That didn't happen. Or, at least, not right away, as an iPhone screenshot posted this weekend in the subreddit /r/conspiracy revealed. Walking past one of the networks nodes (a white box connected to a utility pole) one could still call up a Wi-Fi signal associated with that intersection—a signal that, at least in theory, could be used to trace a civilian's movements via their phone's unique media access control (MAC) address.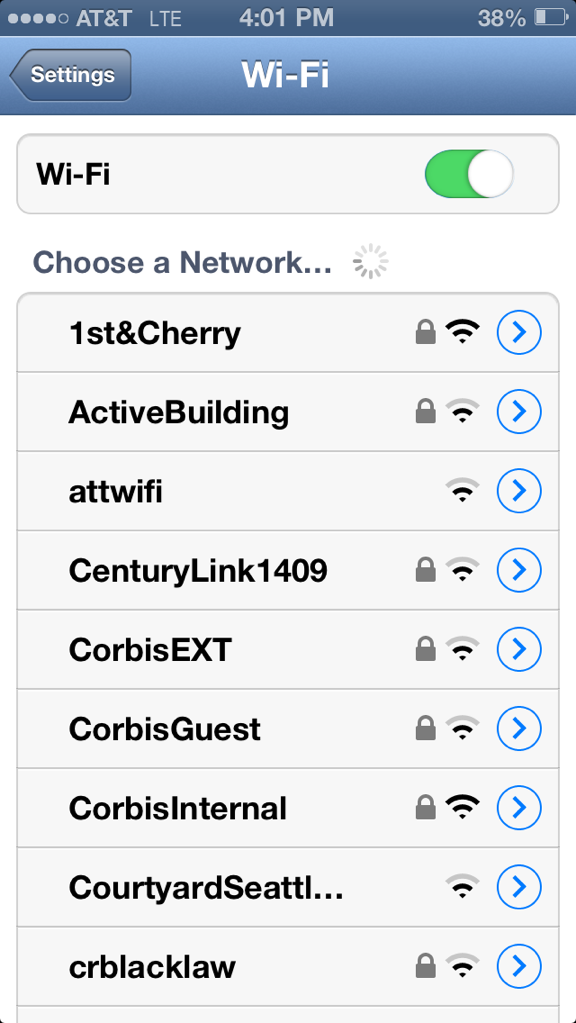 Now, documents associated with the 2012 proposal for the mesh network, first anonymously leaked in February of this year but also apparently available on the Seattle city government's website, have resurfaced. The diagrams and spreadsheets indicate the police's ability to stream video and control surveillance cameras from their squad cars, as well as the disseminating of that data (which can be retained for 60 days) between several agencies, including a Fusion Center, one of many information-sharing hubs created by the DHS and Department of Justice in the last decade.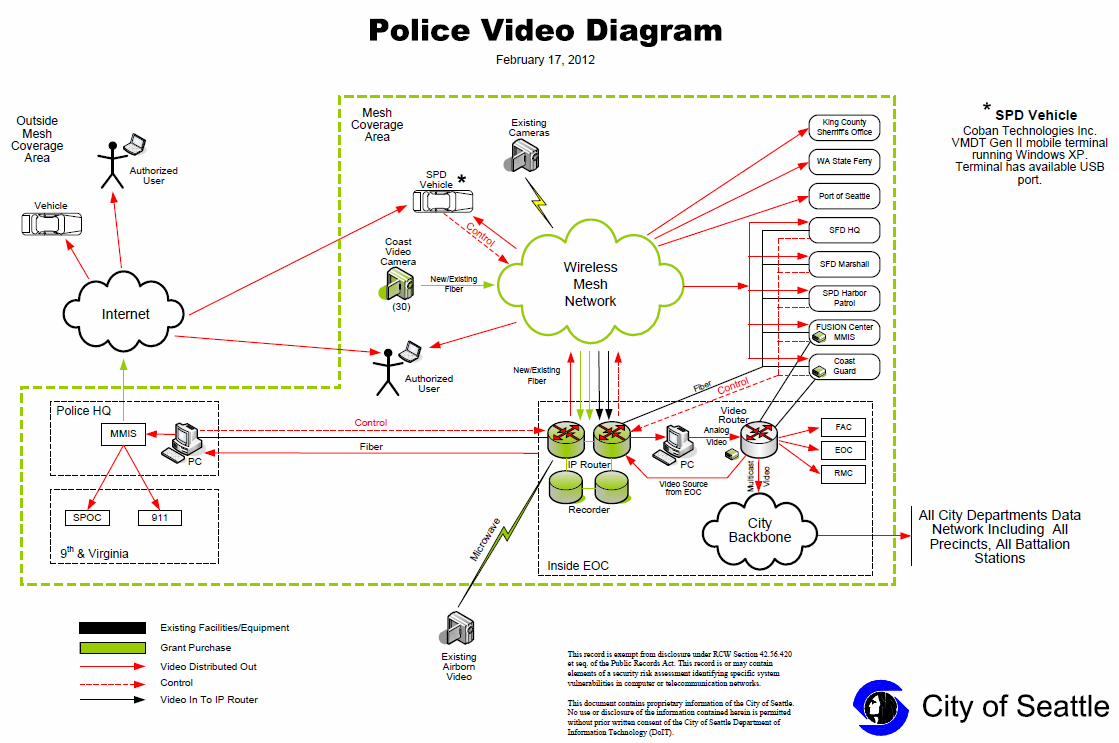 The ubiquitous white boxes are not cameras themselves, but previous projects have resulted in expansive observation of Seattle residents: Dozens of cameras have been installed around landmarks like the Space Needle and Safeco Field, as well as Columbia Tower, Chinatown, and stretches of shorefront, while the suburbs of Tukwila and Federal Way each operate public camera networks. The Port of Seattle alone is home to 30 cameras, which at one point were aimed in the "wrong" direction—back at the city, that is. They were nominally intended to "connect police vehicles to network when in coverage areas, allow responding officers to see live video from Port cameras before they arrive."
The SPD had looked to downplay concerns that civil liberties might be at risk by telling local alt-weekly The Stranger, which has reported extensively on the mesh network, that they were "collaborating" with the ACLU to determine appropriate privacy protections, but even that was a misleading statement.
"Jamela Debelak, technology and liberty director of the Seattle office, says the ACLU submitted policy-use suggestions months ago and has been waiting for a response," the paper reported.
H/T Storyleak | Photo by AJM Studios/Flickr