SureFire Intelligence, a bogus opposition research firm headed by right-wing Twitter troll Jacob Wohl appears to be continuing its march into ridiculousness, even if they're not going away.
On Wednesday, SureFire seemed to claim responsibility for the arrest of Michael Avenatti, writing on Twitter "Surefire Intelligence strikes again."
https://twitter.com/SurefireIntel/status/1062843160663998465
Avenatti shot back that he's coming for 20-year-old Wohl and SureFire:
First Mueller and now me. When we are fully exonerated I am coming for you Jacob Wohl aka Surefire.

— Michael Avenatti (@MichaelAvenatti) November 15, 2018
Wohl told NBC that he didn't send the tweet and that SureFire Intelligence played no role in Avenatti's arrest. 
Now, it appears that their "relocated headquarters" is just as fabricated as the rest of the enterprise.
SureFire's initial moment in the spotlight came a few weeks ago when they claimed to have conducted an investigation painting Robert Mueller as a rapist. In a press conference, Wohl's attempt to prove his claims crashed and burned. In his charging dossier, he didn't even manage to spell the accuser's name correctly.
At the time, SureFire Intelligence claimed on their website to have locations around the world, including in Tel Aviv, New York, California, and Washington. But, under scrutiny, the intelligence operation folded in hilarious fashion. The phone numbers listed on the company's website directed to Wohl's mother's voicemail and their list of employees on LinkedIn were obvious fake profiles, one of which used a photo of actor Christoph Waltz as the profile picture.
After that failure, it seemed that SureFire Intelligence would fade into obscurity. Wohl, who earned a bit of fame for being the youngest person to be banned for life from trading futures, was even suspended from his writing gig at the Gateway Pundit, a conspiracy site with a long history of peddling fake news.
Gateway Pundit initially ran with Wohl's accusations against Mueller but once they were shown to be completely unvetted, they backed off and distanced themselves from the young Trump fan.
But Wohl, it appears, has decided to plow ahead with his new make-believe role as the brains behind what he boasts on Twitter is "the most well-known opposition research firm in the world."
He scrubbed his website of the international locations and their "investigations." The new site lists only one location—1717 K Street NW, Washington D.C., Suite 900.
Here's a screenshot of the site's homepage from August, accessed via the Internet Archive's Wayback Machine: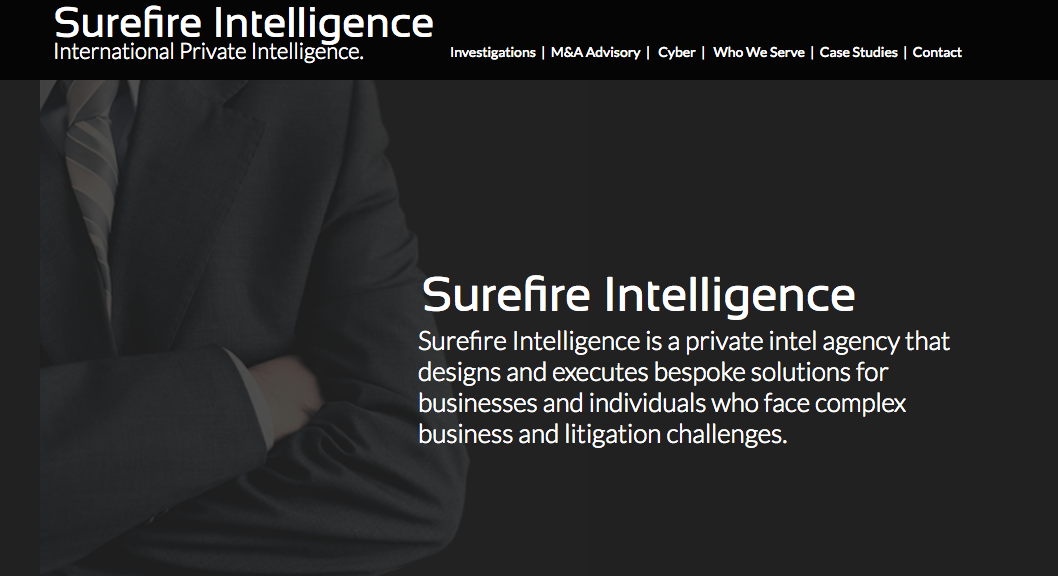 And here's what the site looks like today. The company pulled down the sections listed: "Contact," "Cyber," "M&A Advisory" and "Investigations."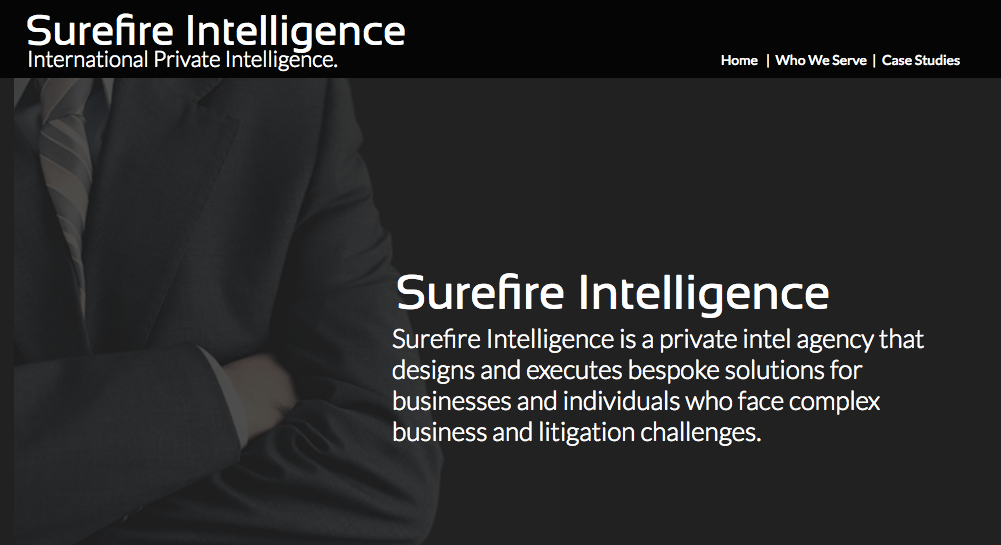 Previously, SureFire listed their address as 1750 K Street NW in Washington. But when the Daily Dot went to that location in October, it turned out the office doesn't exist.
The new address listed on SureFire's website is an address managed by Carr Workplaces but when the Daily Dot called that company, they told us that they had never heard of SureFire Intelligence and assured the Daily Dot that SureFire was not one of their tenants. They declined to comment further. On their website, Carr Workplaces lists their address as 1717 K Street Suite 900—the same location as Surefire Intelligence.
The Daily Dot went to 1717 K Street NW and asked the front desk about "SureFire Intelligence." They said that they'd never heard of the company and shared a directory of the companies with offices in the building. SureFire wasn't on the list. Here's the directory: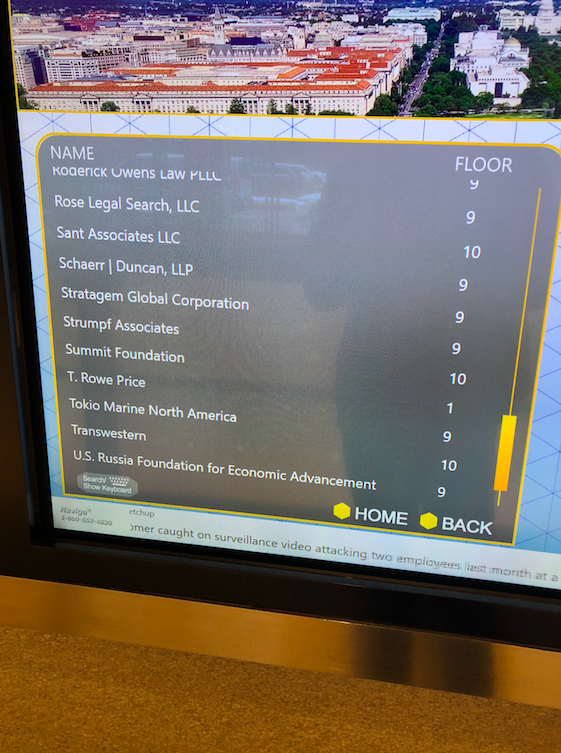 There's even a virtual tour of Carr Workplaces' K Street location. Here's that video:
Wohl previously listed workspaces that could be rented out temporarily. But Carr Workplaces told the Daily Dot that they had never rented any of their rooms out to a company calling itself SureFire Intelligence.
On their revamped website, SureFire lists a Washington, D.C. phone number, but the Daily Dot received no answer each time when called.
Wohl also got the company's email wrong in his redesign.
It's listed as SurefireIntelligence@ProtonMail,com. There are no active email addresses using commas instead of periods.
Wohl did not respond to a request for comment by the Daily Dot.