Every person born in the United States is an American citizen, but until you register to vote, you're not exercising the most important right granted by your citizenship. Today, in honor of National Voter Registration Day, the Daily Dot has created a citizen's guide to voter registration.
Registering to vote online
Only 20 of the 50 states allow you to register to vote online directly, according to the National Conference of State Legislatures. Check that page to see if your state is listed. If it is, all you have to do is click the link next to your state's name and complete a brief registration process. You may need to fill in your state driver's license number, so be sure to have your license with you.
Registering to vote by mail
If your state doesn't offer online registration, you can use the National Voter Registration Day website's registration tool to generate a PDF of the form you'll need to mail to your state's elections agency.
First, select your state, enter your email address, and click "Continue."


You will then be taken to a form with the information that your state requests. Fill it out and click "Register." You can uncheck the box to "Receive election information and reminders."

After you click "Register," Rock the Vote, the organization behind National Voter Registration Day, will generate a PDF of your state-specific registration form. The PDF includes information on your state's registration deadline and a link to view state-level eligibility requirements. (For example, some states allow felons to vote, while others do not.)
After you print out the PDF, sign the form and staple the second and third pages together. Fold the stapled pages in half so that the third page—with the address and stamp area—is on top. The result, as you can see in the diagram below, is a mailer that you can send directly to your state board of elections. (Don't forget a stamp!)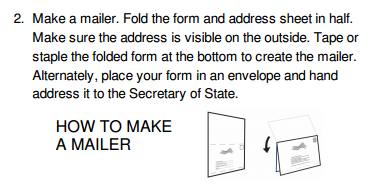 When you use Rock the Vote's National Voter Registration Day website to create a registration form, the website will send you an email with state-specific election information.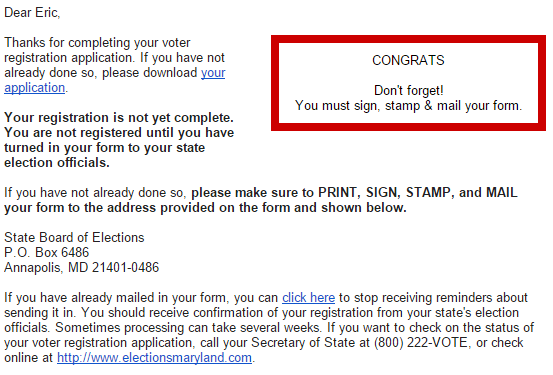 Verifying your registration
Each state has its own timetable for processing citizens' registration forms. The Maryland State Board of Elections' registration FAQ says that voters should expect a confirmation card in the mail within three weeks. Because registration is actually handled at the county level, different parts of the same state can have different registration processing times.
After your registration has been processed, you will be able to verify that the registration was successful by visiting your state's board of elections page and entering your information. The U.S. Election Assistance Commission maintains a helpful map with links to each state's elections agency.
Here, for example, is what the Maryland State Board of Elections' voter lookup tool looks like when a Maryland voter enters his information to verify his registration.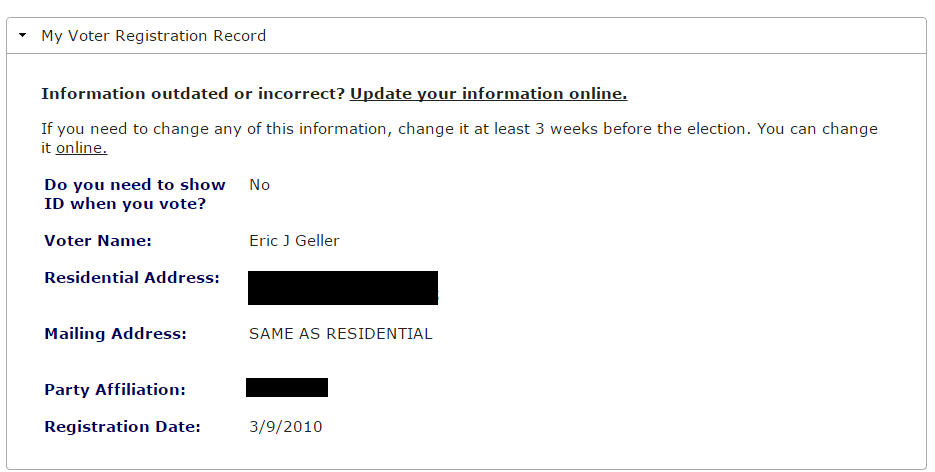 And that's it. You're registered. Be sure to check your state board of elections website for information on what you'll need to bring with you on Election Day. Some states have enacted voter ID laws that require you to present a driver's license or other accepted form of identification before you can enter a voting booth.
Photo via crownjewel82/Flickr (CC BY-SA 2.0)