The Facebook News Feed is, usually, an annoying pit stop you have to make on the way to actually utilizing the site. Between yet another scam video claiming to show a topless Rihanna (it's just malware… again) and the Nth ViralNova story make its way around the network, its a hive for clickbait.
Recently, Facebook announced it was going to do something about this. But just because Facebook is going to try and reduce the amount of "And you'll never believe what happened next" stories from News Feed doesn't mean that all the article overload you're feeling will be addressed. Our friends will continue to share links while websites will encourage more traffic by promoting their content multiple times an hour. Luckily, there's a way to banish all those unwanted posts.
If you're not in the mood to read yet another list of breathtaking places to see before you die or the latest deplorable aspect of human existence, simply click on the down arrow at the top right of a post. To remove the post from your News Feed, click "I don't want to see this." If the post comes from a page you have already liked on Facebook, you have the option to unfollow the page as well, which will remove content from that source from your feed.
In order not to point any fingers, we'll use our own page as an example (of course, you'd never want to do that).

So give your News Feed a good look, and then decide which news sites you follow are getting the boot; sick of listicles? Clickbait? Video teasers? Celebrity drivel? We won't name names, you know who to unfollow.
But after a moment's look, you're likely to notice that that's all not being driven to your News Feed by publishers alone. Oh no, your very own Facebook friends are just as (if not more) deserving of blame.
Of course you can unfollow a person in the same way you did a site's Facebook page. By unfollowing a person, Facebook will remove their current and future posts from your News Feed without having to unfriend them. So unless everything a friend posts makes you want to crush a pencil into your ear, it's not a great solution. Luckily, there's an option to "hide all" from the source of the link your friend posted. This way, you don't have to unfollow your friends… just the crap they post.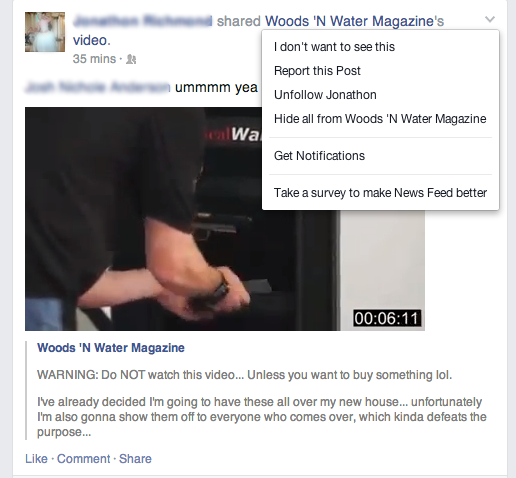 The same can be done for ads you find irrelevant if you really care that much about what ads you see. But don't get it twisted: You can't just banish ads by doing this.
Whether you're at a computer or using a smartphone, the same steps apply. Happy News Feed tailoring!
Les Haines/Flickr (CC BY 2.0) | Remix by Jason Reed