Google is reportedly creating its own ad-blocking feature for the mobile and web version of its Chrome browser, according to a report from the Wall Street Journal. The software would filter out advertisements deemed to cause users a bad online experience. The report cites "people familiar with the company's plans," who say the feature would be turned on by default.
Ads that wouldn't pass through the filter are based on a list created by the Coalition of Better Ads, a group created to help "improve the consumers' experience with online advertising." The coalition asked 25,000 to rate 104 different ads on both mobile and desktop. The survey identified four types of desktop web ads (out of 6) and eight types of mobile ads (of 12) that fell beneath the threshold for consumer acceptability.

The ad types that failed, and those Google would target with its feature, include: pop-up ads, auto-playing video with sound, prestitial ads with countdown, and large sticky ads.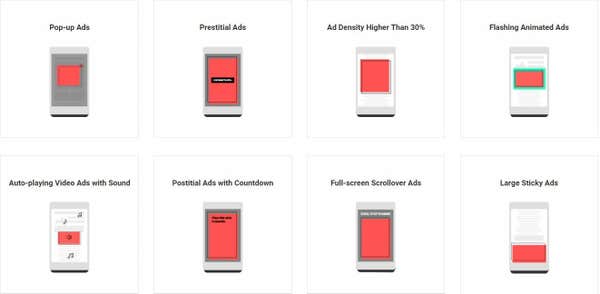 Mobile ad types include pop-up ads, prestitial ads, ad density higher than 30 percent, ads with flashing animation, auto-playing video ads with sound, postitial ads with countdown, full-screen scrollover ads, and large sticky ads.
Google is still working on the details of the alleged ad-blocker, and could unveil it in the next few weeks. It might also scrap the idea altogether. According to the report, one scenario being considered is to block all ads on a site if any of them don't pass. That would force all site-owners to work with advertisers to create ads that comply with the rules, or potentially face massive ad revenue losses.
"We hope these initial standards will be a wake-up call to brands, retailers, agencies, publishers, and their technology suppliers, and that they will retire the ad formats that research proves annoy and abuse consumers," said Randall Rothenberg, president and CEO of the Interactive Advertising Bureau. "If they don't, ad blocking will rise, advertising will decline, and the marketplace of ideas and information that supports open societies and liberal economies will slide into oblivion."
But why would Google, a company that relies so heavily on ad revenue, create an ad-blocker for its own broswer? To regain control from problematic third-party ad-blocking extensions like "AdBlock Plus," according to the Journal report.
Ad-blockers continue to gain popularity with 26 percent of U.S. users employing some form of the software, according to the Wall Street Journal. The add-ons have become so much of a threat that in March 2013, Google did its own blocking, and kicked AdBlock Plus from its Google Play Store for "interference with another service or product in an unauthorized manner." Later that year, Google reportedly paid AdBlock Plus to "white list" its page and get added to the "acceptable ads" filter. Pagefare, a service that monitors how much money is lost with ad blocking, said Google saved an estimated $887 million for paying AdBlock Plus.
Google could stop its third-party payments altogether with its own solution.
We have reached out to Google for comment and will update this article if we hear back.