The Federal Trade Commission has unleashed another salvo against companies that scam consumers into paying bogus charges on their cell phones.
In a report published Monday, the FTC called on cell phone carriers to do more to protect consumers from the fraudulent process. In what's known as "cramming," consumers uniwttingly provide their phone numbers to a service that sends daily horoscopes, weather reports, and other information by text message—for an extra charge.
Once someone is ensnared in a crammer's digital net, it is notoriously difficult to get out. The FTC's Mobile Cramming report asks the nation's largest wireless carriers, AT&T, Verizon, Sprint, and T-Mobile, to give consumers new tools for fighting back. These include the ability to easily unsubscribe from shady subscriptions and the right to be presented with an explicit request for consent before any of the premium fees are assessed.
This screenshot of a page from the FTC's report provides an example of the signup page and the subsequent premium text messages that consumers receive.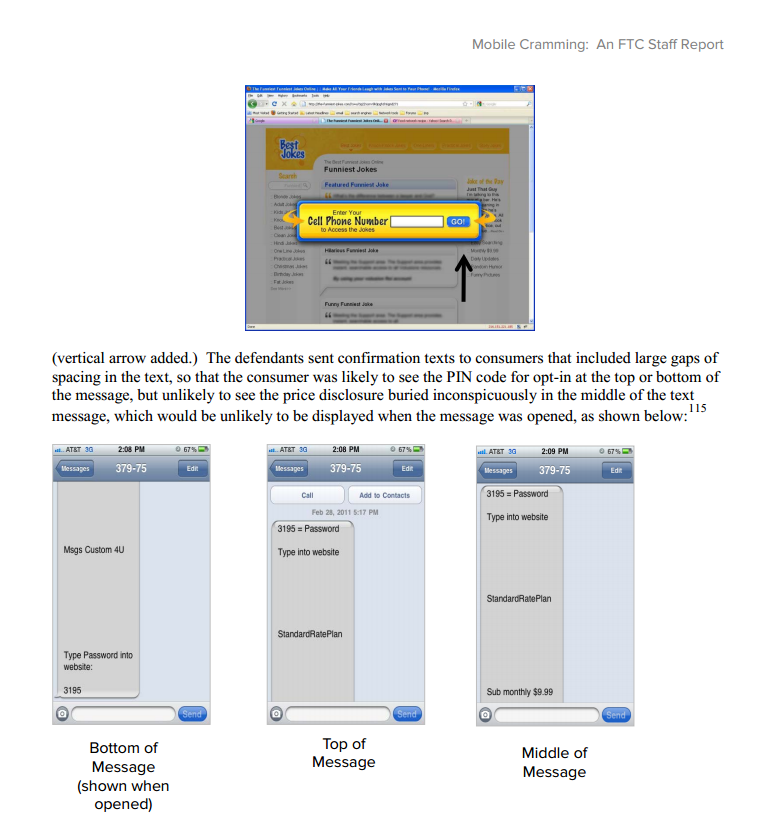 The FTC's 43-page report lists five "best practices" it expects cell phone companies to implement, including the recommendation that carriers "implement an effective dispute resolution process." Consumers often struggle to get refunds for services that they didn't know they had subscribed to, due to the phone companies' byzantine dispute-resolution processes.
The report comes on the heels of several recent court cases in which the agency reached agreements with alleged crammers to resolve consumer complaints. In November, as a result of an FTC lawsuit, a court ordered Wise Media LLC to pay more than $10 million to settle allegations of bogus charges.
"The company claimed that consumers signed up for the services by entering their information into websites, receiving PIN codes by text messages, and inputting the PINs into the websites," the FTC report explained.
"Consumers who discovered the charges, however, widely reported that they had never heard of Wise Media or signed up for the services, suggesting they were simply billed without authorization."
In another case involving companies called Tatto, Inc. and Bullroarer, Inc., the FTC extracted a combined settlement of over $150 million, although that judgment has been partially put on hold.
The FTC has been waging war against the practice of cramming since at least 1998, when it filed a comment with the Federal Communications Commission to support the FCC's proposed "Truth-in-Billing" rules. These regulations, which were extended to cell phones in 2005, require phone companies to clearly explain each charge on a consumer's bill. In 1998 alone, the FTC reported receiving more than 9,000 complaints from victims of cramming.
"Mobile billing offers a promising option for consumers," the just-released FTC report concludes, "but industry participants must recognize that innovation goes hand-in-hand with longstanding consumer protection principles."
Image via info_grrl/Flickr (CC BY-SA 2.0)