Facebook is adding a new status update feature called Lists, its latest attempt to spark meaningful conversations among friends.
The tool, which starts rolling out Tuesday, lets users create customized lists and post them to their News Feed. Of course, you could always manually create lists, but this new tool packages your opinions up in one tidy colorful graphic. The first major update of its kind in over a year, Lists comes as Facebook tries to get more people to share personal content instead of viral videos and news article.
How to post Lists on your Facebook News Feed
Once you receive the update, you can access Lists by pressing on "What's on your mind" to post your status. After you've opened the dialogue box, press "Add to your post," swipe up from the bottom and find Lists. It should be next to other options like Check In, Photo/Video, Tag Event, and Support Nonprofit.
Users can create any bulleted or numbered list they want and change its color or add emoji. While your friends couldn't care less about what chores you have to complete today, there are a number of reasons why someone would format their opinions in a list.
Here are some suggestions for list topics you might want to post on Facebook: Best memes, your personal workout regime, 10 places you want to visit, and best free Netflix movies. Or if you really want to rile up your friends, rank DC Comics movies with Green Lantern at the top.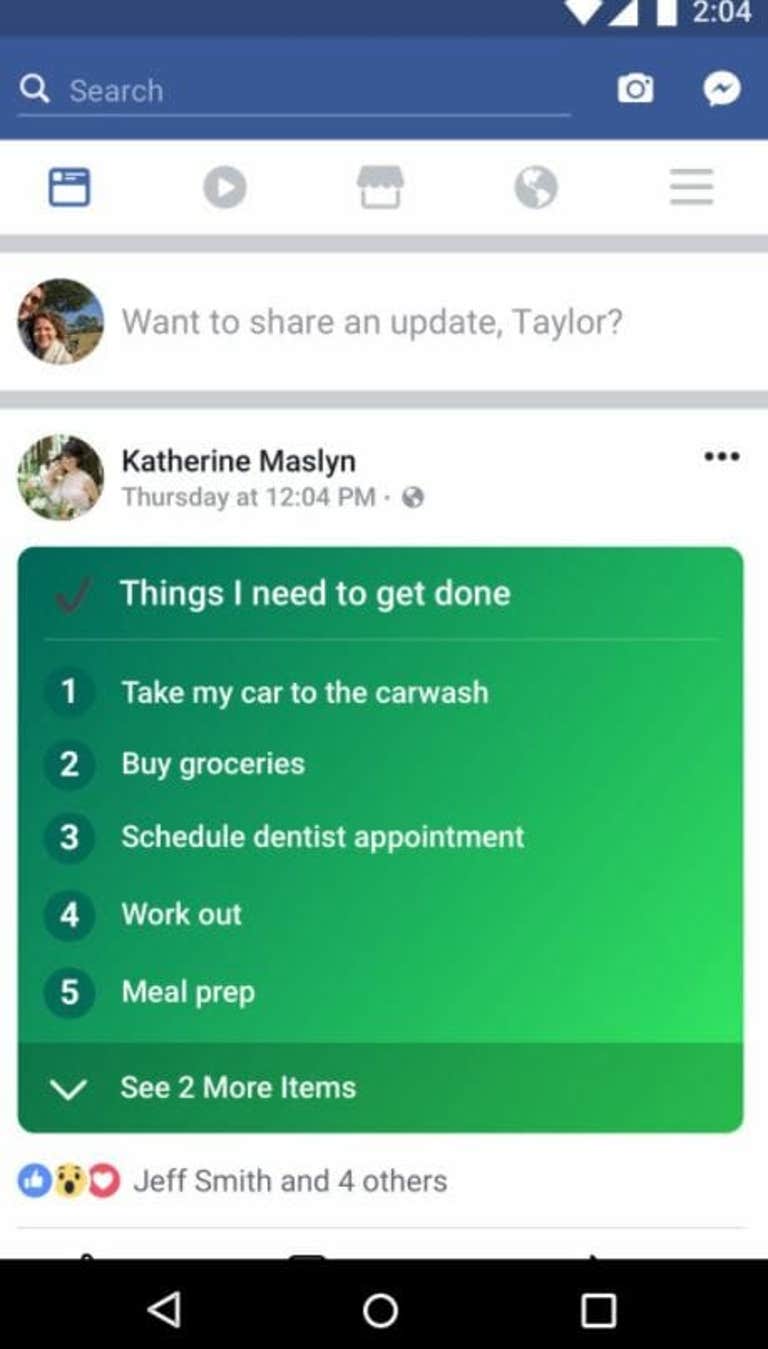 To encourage constructive conversations, Facebook makes it easy for friends to copy each other's lists and offer their own opinions on the rankings via the comments section. Like other recent additions and changes to the News Feed, Lists was designed to encourage "meaningful connections between people rather than passive consumption of content," Facebook said.
In January, Facebook reprioritized the News Feed to show more posts from friends and family instead of brands and publishers. A month earlier, it had promised to demote posts that beg for likes or comments. So far, the changes have resulted in users spending less time on Facebook, a trend Mark Zuckerberg says is good for business.
If people make lists as much as they did on Myspace and early versions of Facebook, Zuckerberg may not only stimulate better interactions among users but also get them to spend more time on the platform.
For now, the list feature is only available for users on Android. iPhone users will be able to view lists but can't create them yet. Facebook has not said when it expects all users to gain access to the feature.
We have reached out to Facebook and will update this article if we learn more.