Facebook is littered with spam, but none is worse than those obnoxious posts that beg users to engage with them by liking, commenting, or sharing. We've all seen them and their outlandish claims like, "heart this post and you'll find love," or "like this post and you'll get a free iPhone X." They've stolen valuable space on our News Feeds for years and sent unknowing users to potentially harmful sites. Fortunately, those posts may soon be a thing of the past.
Facebook described on a blog Monday how it will penalize posts that classify as "engagement bait," or anything that tries to take advantage of its News Feed algorithm to boost engagement. The company says it taught its machine learning model how to detect these posts after feeding it hundreds of thousands of examples.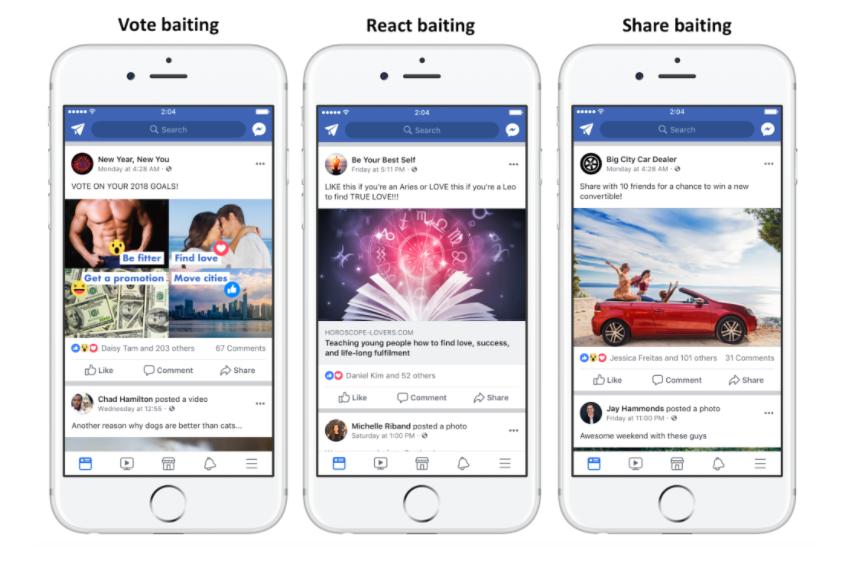 The improved algorithms will clamp down on pages and profiles that "systematically and repeatedly use engagement bait" to boost their followers and artificially spread their reach to the site's more than 2 billion users. Posts from those accounts will be shown less on News Feeds.
There are some exceptions. Facebook gave examples of posts that ask for engagement but won't be demoted, including "circulating a missing child report, raising money for a cause, or asking for travel tips."
Facebook says it will roll out the changes over the coming weeks to let publishers adjust their content so they don't inadvertently use engagement bait. Having posts show less prominently on Facebook could have devastating effects on some publishers who rely on the service to reach their audience. Facebook was recently slammed for testing new algorithms that shifted the focus of posts from publishers to friends. User engagement on certain posts fell anywhere from 60 to 80 percent, enough to put small publishers out of business within months. Facebook later clarified it had "no plans" to release the changes globally.
The company, which was recently criticized for its impact on society, has made several changes designed to clean up the News Feed. In May, the social giant said it would start cracking down on clickbait by looking at individual posts, not accounts or domains. That same month, the company started demoting links that directed users to "low-quality web pages" in an effort to reduce spam accounts.