Facebook is gunning for Twitch with a new streaming platform dedicated to gaming.
A part of its Live video feature, Fb.gg will give gamers their own space to follow and discover streamers. Before, people watched video game streams on Facebook as they appeared on their News Feed, Groups, or Pages. With Fb.gg, there is now one central hub that houses live and prerecorded gaming sessions. For those who aren't hardcore gamers, gg stands for "good game," a customary message sent at the end of a match.
Facebook will attempt to lure personalities in the space by offering them more prominent placement on its site. While the social network isn't known for hosting video game streams, its 2.2 billion users could entice streamers who may be finding it difficult to stand out on other crowded platforms.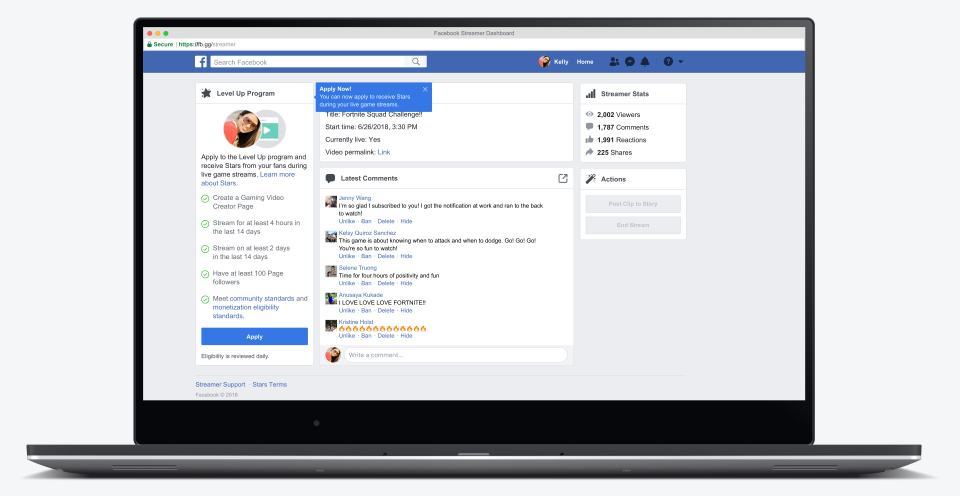 The social giant also announced a Level Up program designed to help up-and-coming gamers quickly post high-quality content and earn money for their efforts. In January, Facebook announced it would establish a way for creators to be financially rewarded for their livestreams. Now called Facebook Stars, the feature lets popular streamers monetize videos from the support of their fans. Level Up gamers will also get early access to upcoming livestream features. It is expected to launch in the coming months.
Dominating the Fb.gg gaming hub's main page are ongoing streams, including a large autoplay video that appears front and center. Below, users can filter by games, suggested streamers, recently live videos, and clips watched by friends. Facebook says Fb.gg will help fans discover new videos based on the creators and games they follow, pages they like, and groups they belong to. Let's Play walkthroughs, esports competitions, and other industry content will be streamed exclusively to the site.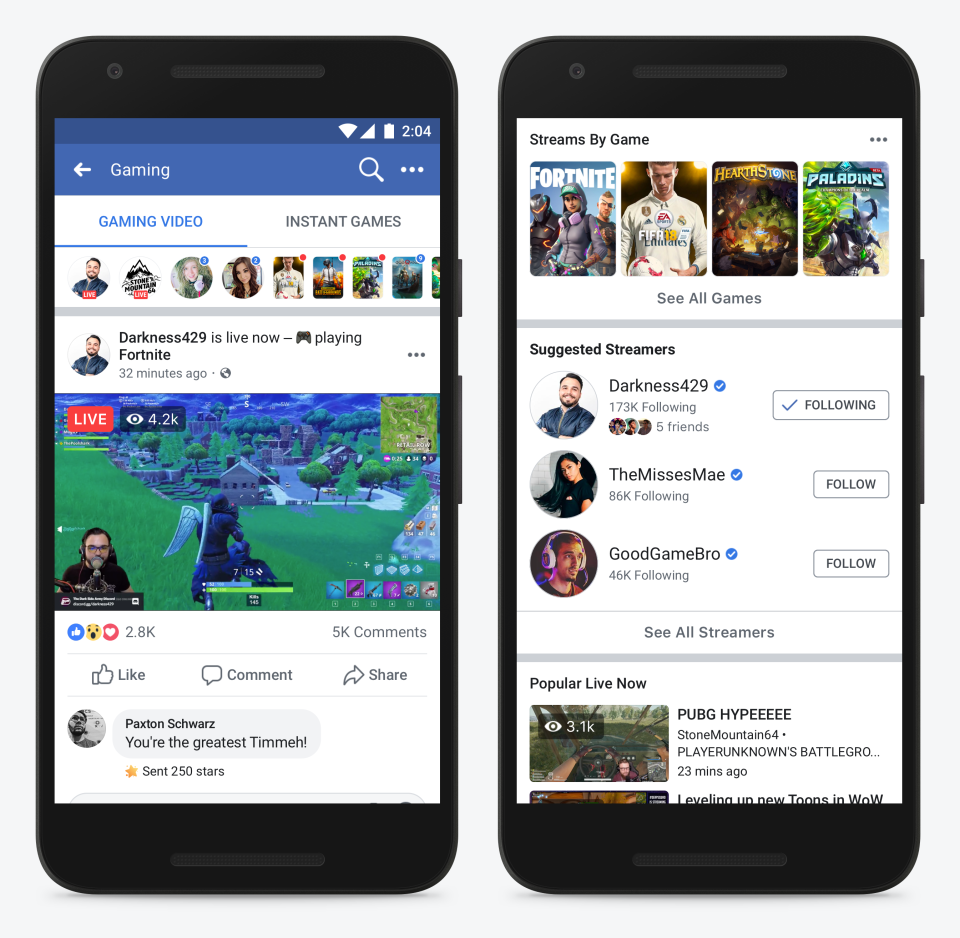 For now, Fb.gg is populated almost entirely of livestreams from the popular game Fortnite. The shooter exploded onto the scene late last year after it released a battle royale mode similar to PlayerUnknown's BattleGrounds. It now has a user base of more than 40 million and is already gearing up to become a major player in esports.
As of writing, there are about 2,800 people actively streaming Fortnite and 214,000 tuning in. That is, rather surprisingly, more than twice the number of users viewing Fortnite on Twitch, the largest video game streaming service on the internet. Whichever service wins the hearts of Fornite players could be rewarded with huge payouts. Earlier this year, Twitch broke its record for most views from a single stream when gaming personality Tyler "Ninja" Blevins played Fortnite alongside an all-star cast of celebrities. At one point, the stream had more than 630,000 concurrent viewers. 
Facebook says its new platform is in the "experimental phase" and that it will continue to test new features, like a feed where people can explore relevant gaming content. It also promises improvements to recommendations, an expanded gaming video inventory in more languages, and integration of an Instant Games tab on mobile.