How can Bitcoin convince more Americans to buy in?
Over two-thirds of Americans say they are "very unlikely" to ever use Bitcoin or technologies like it, according to a new study from the Conference of State Bank Supervisors. The study, first highlighted by CoinDesk, delves into attitudes and awareness surrounding the increasingly well-known virtual currency. About 3 percent of those surveyed said they'd ever bought or used Bitcoin.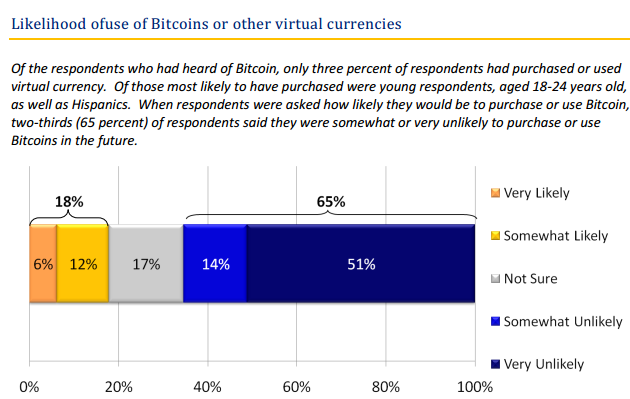 Just over half (51 percent) of all people surveyed said they'd heard of Bitcoin, most of whom said they learned about the virtual currency from the Internet and television.
The group by far most likely to know about Bitcoins were adult white male college graduates making over $100,000 a year. By contrast, 38 percent of women, 51 percent of hispanics, 37 percent of African Americans, and 43 percent of those making less than $100,000 per year have heard of Bitcoin.
Younger people showed a far greater willingness to purchase Bitcoins; but even among the 18-24 year old demographic, only 43 percent said they were "very likely" or "somwhat likely" to ever purchase the currency. Just 8 percent of respondents over 55 years old said the same.
Although the cryptocurrency is only five years old, this survey reinforces the fact that if Bitcoin's backers want it continue to grow, the key is to reach new and diverse demographics.
Of course, Bitcoin is far from stuck exclusively in the hands of rich white men. On Tuesday, for example, a group of jihadist hackers solicited donations in Bitcoin. For the past several months, Islamists have outlined how the cryptocurrency could benefit their cause.
While the white people who were surveyed tended to know more about Bitcoin, they were actually less likely to want to purchase bitcoins. Twice as many hispanics and African Americans said they were "somewhat likely" to purchase Bitcoins compared to 14 percent of white people. That's an opportuntiy that Bitcoin backers cannot afford to squander.
Around the world, digital currencies other than Bitcoin have made significant strides. In Kenya, the mobile phone-based M-Pesa digital currency is supported by all of the country's largest cell phone operators.
"M-Pesa showed me a new world of possibility brought by that great piece of technology, the mobile phone," Bill Gates wrote earlier this year. "A recent study found, among other things, that M-PESA allows users to maintain steady levels of consumption, particularly of food, through shocks such as job loss, illness, harvest failure, and livestock deaths."
M-Pesa is a mobile phone-based system for carrying and spending money, usually the Kenyan shilling. It is so popular that M-Pesa transactions (approximately 80 per second) provided $10 billion of Kenya's gross domestic product last year, according to Quartz.
Bitcoin, which is currently selling at around $512 on major markets, has a total market capitalization of $7.5 billion dollars and clocks about one transaction per second.
Three quarters of Americans surveyed said Bitcoins' security was an important concern to them. A lack of insurance, regulation, taxation, and bank access also ranked high among concerns for potential users.
H/T CoinDesk | Illustration by Max Fleishman