There's nothing more frustrating than forgetting the name of a tune that's stuck in your head, but thankfully, there's a song identifier app for that—several of them actually. Whether you're curious about what's playing in the background of a commercial or identify the song you just heard on your favorite TV show, a song identifier can tell you what you need to know in seconds.
Music identifier apps were among the earliest services to hit app stores. At the time, there was something magical about early smartphones identifying the names of songs from fringe music genres just by listening to them for a few seconds. Those early versions were great at identifying songs by listening to official recordings. But you'll need a different service if you don't have the track on hand.
We're going to look at free song identifier services that help in both situations: apps that recognize songs by listening to them, and others that do so retrospectively for music you have stuck in your head.
Whether using your laptop, iPhone, Android, or your smart watch, here are the best free apps that identify songs.
The best song identifier apps
1) Shazam
Once a top downloaded mobile app, Shazam's dominance has declined in recent years. That said, it's still, by far, the most well-known song identifier app on the market. When Apple purchased it in late 2017, Shazam was used 20 million times a day.
Its exceptional ease-of-use makes it a clear front-runner in the space. It's the sort of app you can give to your grandparents and not have to explain a thing. To use it, just download the free app from the Google Play Store or Apple App Store. After you tap the giant "S" logo from the home screen, it'll start listening for a few seconds and identify the song you're looking for.
Shazam worked reasonably well in our testing. It was able to identify From Indian Lakes' "Sunlight" in about three seconds, but only after I blasted my speakers. Other apps identified songs at lower volume levels. Once it pulls up a track, you can select tabs to read lyrics, watch music videos, learn more about the artist, or find related music.
Where Shazam stands out is its integration with music streaming services. It'll offer you links to Apple Music, Amazon Music, and Google Play Music. You should be aware that the future of this integration has been in question since Apple purchased the app.
For now, Shazam is available on all major mobile platforms. There is also an ad-free version called Shazam Encore for $3.00. Best of all, if you're an iPhone user, you probably don't need to download Shazam since it's already integrated into Siri.
READ MORE:
2) Genius
A dark horse in the song identifier app space, Genius is a very good app for figuring out unknown music. The interface is a bit more cluttered than Shazam's, and it focuses less on music recognition than song lyrics, but it did a reasonably good job of identifying tracks nonetheless.
Genius is among the most popular websites for song lyrics, so it's no surprise they're the first thing that pops up. From there, you have the option to watch the song's music video and see a tracklist of the album it's on. Genius is more sparse than its competitors, but if you like reading lyrics, we strongly recommend it.
3) Soundhound
Shazam's biggest rival over the years has been the song identifier app Soundhound. It includes a lot of the same features as Shazam, like its integration with Amazon Music and Spotify.
Some people swear by the underdog, but we didn't find it to be any more accurate or feature-packed to warrant a glowing recommendation compared to the others. While we prefer the main page of Shazam, the song details are better presented in Soundhound, where users can scroll through a single page to see more about the artist, their top songs, and music videos.
Founded in 2005, Soundhound has focused in recent years on its Hound voice assistant, which uses artificial intelligence and voice recognition to answer questions. Soundhound believes it can compete against Alexa or the Google Assistant.
READ MORE:
4) Google Assistant
OK, it's technically not a standalone app on Android, but the Google Assistant is free and works really well as a song identifier. It took about eight seconds to identify music, making it among the quickest on this list. It's also the newest, having been released in 2017, years after the others.
If you're an iOS user, you can still use it, but you'll have to download the Google Assistant app first. If you're on Android, everything is already set up for you. Just press the microphone icon in a Google search or say "OK, Google" to launch the Google Assistant. Then tell it to "listen/recognize/identify this song" and it'll start doing its thing.
The assistant won't offer you as many fancy features as the other apps, but you'll have quick access to YouTube, Play Music, and Search. When it identifies a song, it includes the artist, album, lyrics, release date, and genre.
5) AHA Music
Another great option for quickly identifying the name of a song is AHA Music. The service can be accessed directly from its website or as a browser extension for both Microsoft Edge and Google Chrome.

AHA Music works by using your computer's microphone to determine what music is playing in the background. After selecting "Identify Songs By Recording," AHA Music will listen for 10 seconds before providing you with an answer.
A section option allows users to have a song identified by either humming or singing instead. Like the previous option, users must click the "Identify Songs by Humming / Singing" button and allow AHA Music to analyze your voice for 10 seconds.
In testing by the Daily Dot, the first option quickly identified a song being played from Spotify. The second option, however, did not appear as accurate. After humming and singing the melody to two songs from the British rock band Oasis, decently well I would argue, AHA Music responded with what appeared to be Chinese-language song titles.
When translating the text, the songs named were not the song that had been hummed either. Multiple tests from numerous people also produced similar results. So while the second option may not be reliable, AHA Music's "Identify Songs By Recording" tool still remains a viable option for song identification.
6) Beatfind
For Android users, Beatfind is a free app that not only identifies songs but offers a unique visualization feature as well. Like many other apps, Beatfind works with just a single click of the search button.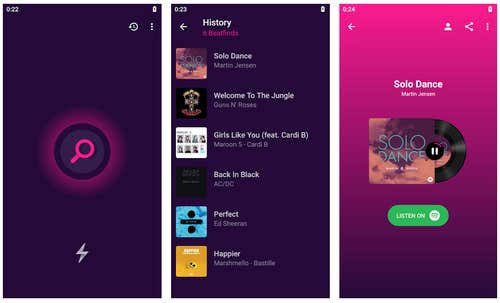 But unlike many other apps, Beatfind will actually sync up with the music you are playing and display animations on the screen. Not only that, your phone's flashlight may join in on the fun and temporarily turn into a strobe light.
The one major downside to Beatfinder is the ads, which are often cumbersome and slow down the overall experience. Either way, many swear by the app given not just its unique features but its ability to store search history and identify songs on a range of other apps including Spotify and YouTube.
READ MORE:
The best apps to identify music that isn't playing
1) Midomi
The Midomi app was rebranded to SoundHound in 2010, but the website lives on. It identifies music from voice samples, so you can hum or whistle a song using your computer's built-in microphone. Just press on the large microphone icon next to the search bar and come to terms with your impending humiliation.
Midomi accurately matched my tone-deaf rendition of Foster the People's "Pumped Up Kicks," and Fun.'s "Some Nights," popular songs with distinct melodies. The open-source website is helped by a large library of songs that continually grows as users add to it.
2) Musipedia
This website takes the format of Wikipedia and turns it into a music search engine. It calls itself a "searchable, editable, and expandable collection of tunes, melodies, and musical themes." Like Midomi, Musipedia is crowdsourced so anyone can add and edit information.
Musipedia offers several different methods to identify music. You can whistle or hum the tune into your microphone, but we wouldn't count on it. We didn't have any success in our tests. It wasn't able to identify popular new songs or one of the most recognizable pieces of classical music in Beethoven's "Für Elise."
Musicians should have an easier time using Musipedia because it also offers a virtual piano to play out different melodies. There's also a rhythm feature where you can tap out beats using your keyboard. We gave "Für Elise" another shot, but it pulled up Simon & Garfunkel's "America" instead. Not quite.
It's all somewhat clunky, but if you're desperate to figure out a piece of classical music, give Musipedia a try.
3) WatZatSong
Look away from WatZatSong if you're wanting instant gratification. This website lets you record clips of music and post them to a message board where others help you identify them. You can record an official audio clip or, if you have the confidence, upload yourself humming or whistling a tune. Users post new tracks regularly, and a decent percentage of them get answered with the correct artist.
WatZatSong isn't going to give you music streaming integration, lyrics, or music videos, but if you've tried everything else and that elusive song title is still haunting you, WatZatSong is a reliable last resort.