Andy Ngo is drawing criticism for his "independent journalism" once again, this time in relation to the Wednesday night Minnesota protests.
The right-wing media personality has grown a large following for his coverage of protests, most often those involving antifa. In summer 2019, Ngo himself became the story, when he was assaulted and milkshaked at a protest.
Ngo has been heavily criticized for posting hateful content and doxing a minor on social media. He has also been accused of ties to far-right groups, and for editing or reframing his protest coverage to promote a misleading narrative.
In this case, Ngo gained attention on Twitter for chronicling the second night of demonstrations in Minneapolis, Minnesota to protest the death of George Floyd in police custody. The gathering grew violent, with reports of arson and looting at multiple locations.
Ngo shared a curated selection of videos from the scene of the chaotic evening from reporters and others on the ground with his 346,000-plus followers. At one point, he tweeted about Rep. Ilhan Omar's (D-Minn.) teenage daughter, who retweeted a call for supplies for protesters by the Twin Cities chapter of Democratic Socialists of America.
But it was a thread he posted of a woman in a wheelchair that received the most attention.
"At the Target in Minneapolis that was being looted tonight during the BLM riot, a woman in a wheelchair was attacked," he wrote first, followed by, "Video captured earlier of the elderly wheelchair-bound woman who was attacked at the Minneapolis Target during the BLM riot. In a later interview, she said she was trying to do her part in stopping the looting. She was beat on the head & sprayed in the face w/a fire extinguisher."
Except, if you watch and listen to the video, it's clear Ngo's remarks don't describe the full story. As people on Twitter quickly pointed out, the video itself notes the woman was "stabbing people," and users have since pointed to a number of inconsistencies in Ngo's narrative.
Others, like Nathan Bernard, pointed to Ngo's track record of similarly misleading posts, noting this "isn't Andy Ngo's first rodeo."
Bernard included a screenshot of a tweet from Ngo that purports to show "Antifa attacks people on a bus," compared to a photo from another angle to reveals far-right protesters were the ones wielding weapons.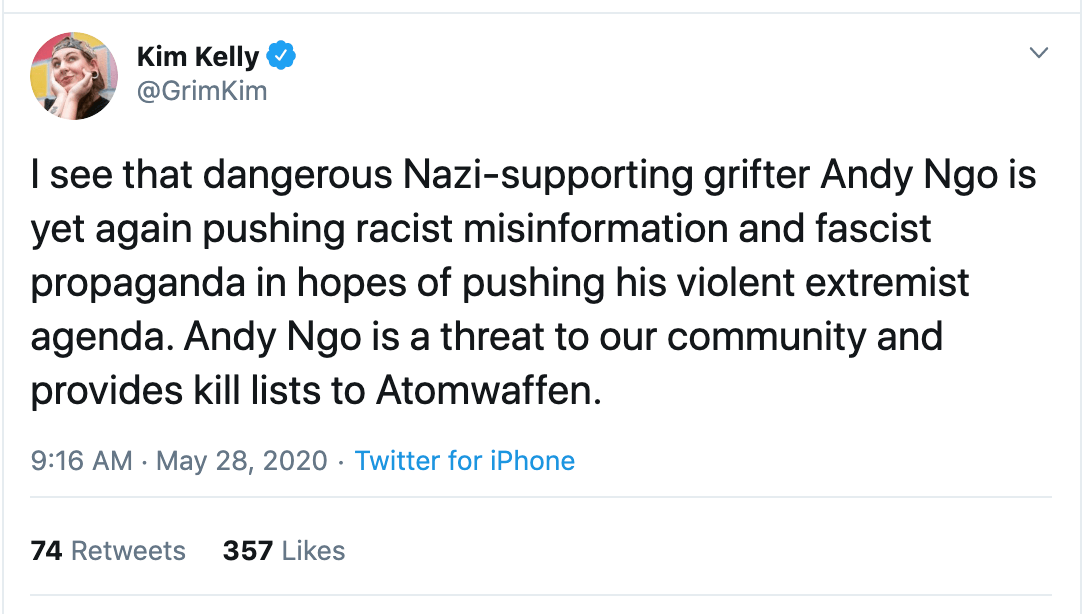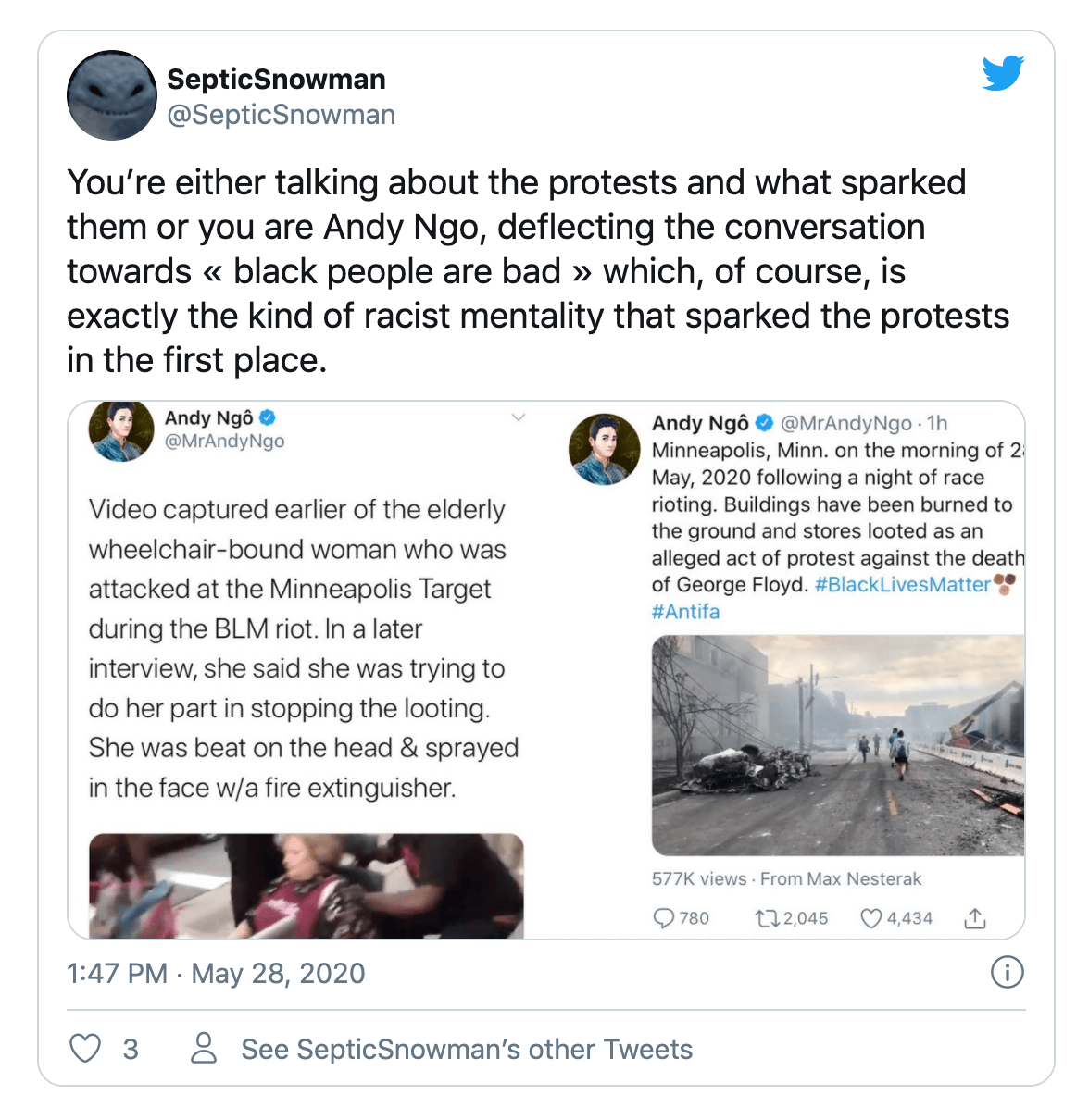 Ngo seemingly was not bothered by the pushback, retweeting his own post of the video hours later and standing by his framing in an interview the following afternoon with Michelle Malkin, during which he called the Black Lives Matter movement a "monstrous ideology."
READ MORE: