Last night, police in Minneapolis, Minnesota used tear gas and rubber bullets on protesters demonstrating over George Floyd's death at the hands of police.
People immediately began comparing law enforcement's violent response in Minnesota to that given to heavily armed lockdown protesters who have stormed government buildings in recent weeks. The former protests were Black-led; the latter, mostly white.
Floyd, a Black man, died on Monday after a white officer knelt on his neck for more than seven minutes as he begged and pleaded, saying "I can't breathe," over and over until he lost consciousness. Floyd was handcuffed at the time.
Other officers nearby did not intervene, even as bystanders urged the officer to get off Floyd. All four officers present were later fired.
Video of Floyd's death sparked fresh outrage over the centuries of violence committed against Black people, many unarmed, under the color of law. Floyd's death bore horrifying resemblance to that of Eric Garner, a Black man who died in 2014 after a New York City Police Department officer put him in a chokehold and refused to let go even as Garner also pleaded for his life.
Last night, thousands gathered in Minneapolis to protest and grieve over Floyd's death. They also demanded that the four officers be charged with murder.
A local CBS affiliate reported that the protesters chanted "I can't breathe" and "It could've been me." Though organizers had urged a peaceful protest, and protesters were reportedly unarmed, when a smaller group began breaking windows and spray painting police cars at the precinct where the officers were believed to have worked, police in full riot gear shot flash grenades and tear gas into the crowd, the CBS affiliate reports.
The scene turned chaotic, with some protesters throwing rocks and water bottles as police continued shooting gas and flash grenades.
Images of the violence that circulated on social media were immediately compared to those from recent lockdown protests, where mostly white people, many heavily armed, stormed government buildings and aggressively confronted police, who did not strike back.
"When armed militias stormed State Capitols & threatened the life of Kentucky & Michigan Governors—police stood still b/c that was 'free speech,'" tweeted Qasim Rashid, a Democratic candidate for Congress in Virginia. "But when unarmed Americans protest the brutal murder of an unarmed Black man—police bust out the mace & riot gear."
Some also noted that Colin Kaepernick's kneeling during the national anthem to protest police brutality against Blacks was seen by some as more of an outrage than an officer kneeling onto Floyd until he died.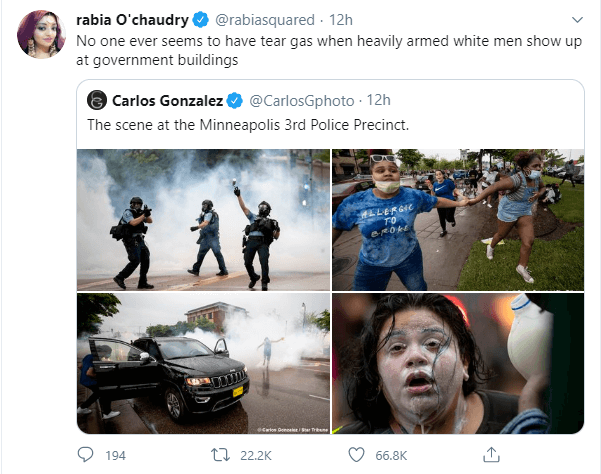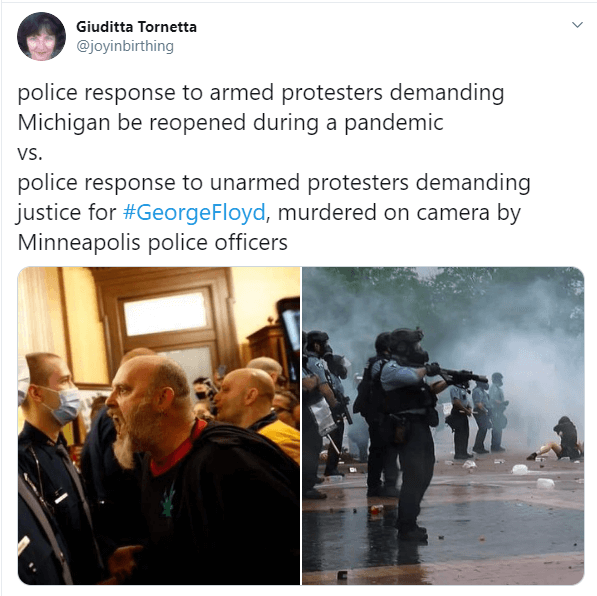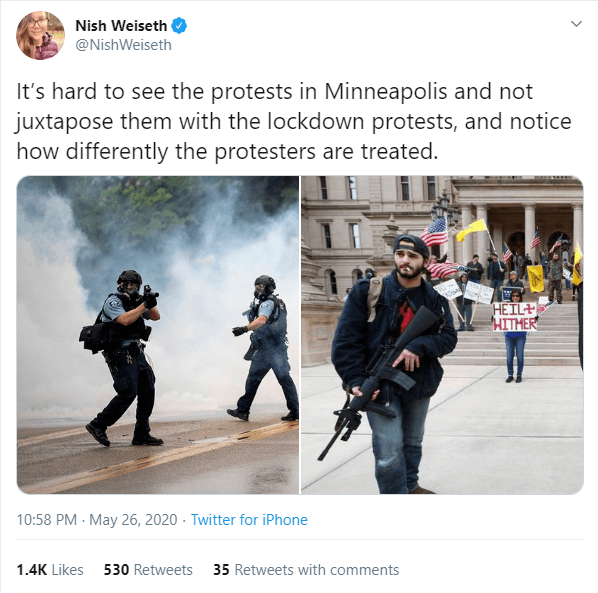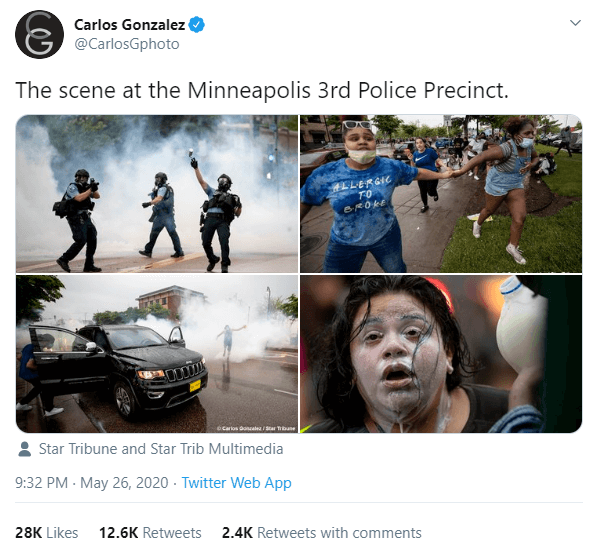 Charges have not been filed against the officers involved in Floyd's death. The FBI and the Minnesota Bureau of Criminal Apprehension are investigating.
READ MORE: