Self-proclaimed journalist Andy Ngo doxed a minor after they sent Ngo a photo of him doused in milkshake.
Ngo posted a photo of the 17-year-old to his Instagram. He included the minor's name and their location in the caption.
The teen, along with friends, found Ngo's phone number and texted Ngo a photo of him covered in milkshake. Getting "milkshaked" is a form of antifascist activism where protesters will either hurl a milkshake at or pour one on right-wing figureheads. The photo was from a June incident, in which demonstrators pelted Ngo with milkshakes.
The 17-year-old told the Daily Dot they did not intend for their text message to be perceived as a threat.
"We sent him a photo that he himself circulated," the teen said. "We really just wanted to mess with him. You know, teenagers just goofing around."
They further claimed that they "weren't even sure it was his phone number."
"We hoped it was but really doubted it," they said. "He never texted back so I assumed it wasn't his."
In screenshotted messages posted to Twitter by a user who knows the teen, the teen claimed Ngo "reverse number searched us."
"Did investigating & found out the harassing text I received is connected to phone # linked to [redacted] aka [redacted]. I recognize name because he produced a list of @ICEgov employees for comrades to stalk—the same list shared by Dayton antifa mass killer," Ngo wrote, tagging Twitter Support.
Ngo included the handles to both the teen's main Twitter account, which uses their real name, and a secondary account of theirs.
"I took my Twitter down as fast as I could," the teen said.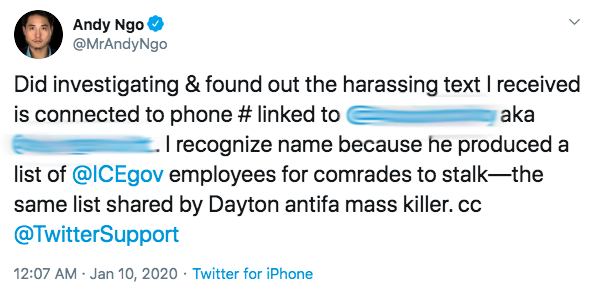 On Instagram, Ngo similarily boasted about finding the teen's identity and posted more of the teen's personal information.
"I found the identity of the person who sent me a harassing phone text. [redacted] is a [redacted] in the [redacted] area and antifa ideologue linked to a mass killer," Ngo wrote.
The user who posted the screenshots also tweeted that the teen "had to deactivate for his own safety because Andy Ngo has doxxed him on his Instagram. And yes [redacted] is a minor."
The 17-year-old said they believe it would not be hard for some "right-wing people" to find out their exact location based on the information Ngo posted.
"I haven't seen any specific threats against me, but it's definitely put me on edge. It's one of those things that just sits in the back of your mind, you know?" the teen said.
The teen said their secondary Twitter account was suspended for "unrelated reasons."
Ngo might be in violation of Instagram's terms of use regarding exposing private information. Posting private and confidential information, like "location information" is in violation of its terms, according to Instagram.
A spokesperson for Facebook, the company that owns Instagram, told the Daily Dot that it is looking into whether the content violates Instagram's terms of use.
The Daily Dot has reached out to Andy Ngo.
This story has been updated. 
READ MORE: