A California Highway Patrol car on Wednesday drove through a crowd of protesters in Los Angeles who gathered to protest for George Floyd, the unarmed Black man who died after a police officer in Minneapolis knelt on his neck;' on Monday.
Floyd died after a police officer knelt on his neck for more than seven minutes after handcuffing him. He begged the police to let him go and repeatedly said, "I can't breathe." All four officers involved in the arrest were fired on Tuesday.
Los Angeles protesters gathered on the 101 Freeway during rush hour, prompting the California Highway Patrol to come to break up the crowd. Video from the scene shows the CHP car driving through a swam of protesters, several of whom were standing in front of the car or hanging onto the sides.
One protester fell and hit his head as the car drove away. A second highway patrol cruiser parks alongside him, at which point other protesters kick in the car's body panel and smash the rear windshield.
The Black Lives Matter-LA group organized the Los Angeles protest, which drew hundreds of people at its peak, NBC Los Angeles reports. Protesters continued moving through downtown Los Angeles after gathering on the freeway.
Los Angeles County Sheriff Alex Villanueva called for peace among protesters on Twitter last night, writing, "Peaceful demonstrations are a hallmark of our country. Violence is unwarranted and takes away from the message. I urge all of us to protest peacefully for the sake of everyone's public safety."
In a separate statement, Villanueva disavowed police brutality while also condemning the attacks on the California Highway Patrol.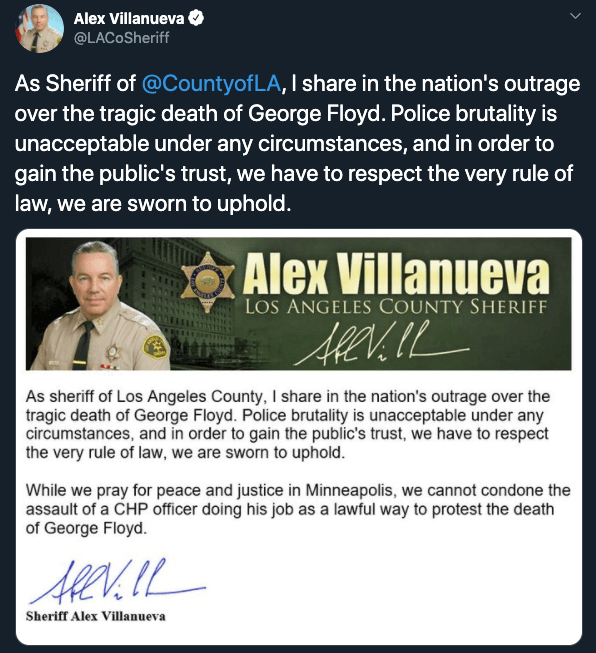 Similar protests broke out in Minneapolis on Tuesday and Wednesday; they reportedly looted a Target last night, and an AutoZone also caught fire. Police were criticized for using tear gas, flash bombs, and rubber bullets on the reportedly unarmed protesters Tuesday. Social media users pointed out that the police did not strike back against recent lockdown protesters who stormed government buildings with weapons.
READ MORE: