Amazon has launched Local Register, a mobile card reader and payment system in direct competition to offerings from Square and PayPal. In order to compete with the already established offerings, Amazon is significantly undercutting both of its competitors when it comes to transaction fees.
The online retailer's latest venture will allow small businesses to take payments at a lower transaction rate than the competition. While Square and Paypal offer the industry standard of 2.75 percent and 2.7 percent per swipe respectively, Amazon Local Register is offering 1.75 percent per swipe until January 1, 2016 for customers who sign up for Local Register before October 31, a steep discount. 
After the promotional period, the rate will increase to 2.5 percent per swipe, still a notable discount if a large number of transactions occur per month. For card numbers that are manually entered, a  2.75 percent fee is charged, far below the 3.5 percent fee charged by Square and Paypal.
"We understand that every penny and every minute counts, so we want to make accepting payments so easy and inexpensive that it no longer gets in the way of a business owner doing what they love—serving their customers and growing their business," said Matt Swann, vice president of Amazon Local Commerce.
The card reader, which works by being inserted into the headphone jack of your phone or tablet, is officially supported on iOS devices running iOS 7, the Kindle Fire HD and HDX, and the Samsung Galaxy S3, S4, and S5. The Local Register card reader may work with other Android devices, but Amazon says you may "encounter issues that make it impossible to use key parts of the app."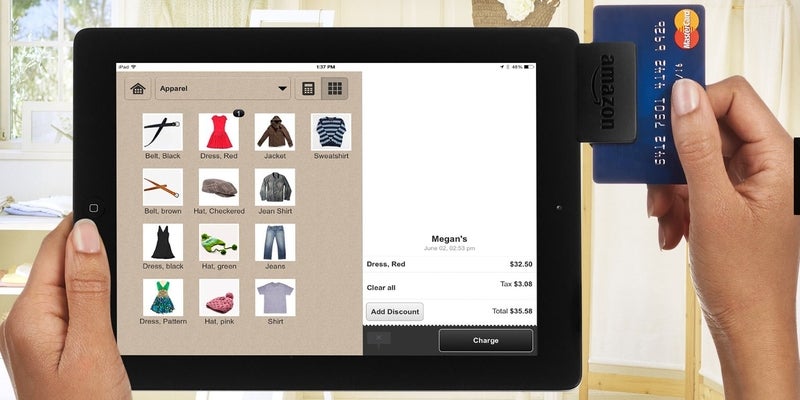 Unlike Square and Paypal who offer customers free card readers once they sign up, Amazon Local Register will make you pay $10 for their card reader, a fee that will be reimbursed. The company says that every customers first "$10 in transaction fees will be credited back to the customer's account once Amazon Local Register is in use."
For your first $363 in swiped transactions, Amazon Local Register will not charge you any fees. It may seem nice, but it's just a way for Amazon to get instant revenue from Local Register without having to wait for customers to actually use the service. 
The Amazon Local Register app is available on the Amazon Appstore, Apple App Store or Google Play. You can purchase the card reader through Amazon.com, or in Staples stores beginning August 19.
Photo via Amazon