The protests for George Floyd have sparked an incredible wave of online activism, from streaming YouTube fundraisers and calling out public officials to an outpouring of bail fund donations and an overwhelming amount of Instagram posts. Over the past two days, a new hashtag has started spreading across social media: #8CANTWAIT.
It stands for eight policies, which purportedly will help decrease police violence if enacted by municipalities.
Here's who is behind it, what it means, and some additional context on how it fits into the larger movement taking place across the country.
8 Can't Wait was created by Campaign Zero
Campaign Zero was founded in 2015 by prominent activists including DeRay Mckesson, Brittany Packnett, and Samuel Sinyangwe. The platform endeavors to leverage data and analysis to propose policies that can end police violence in the United States.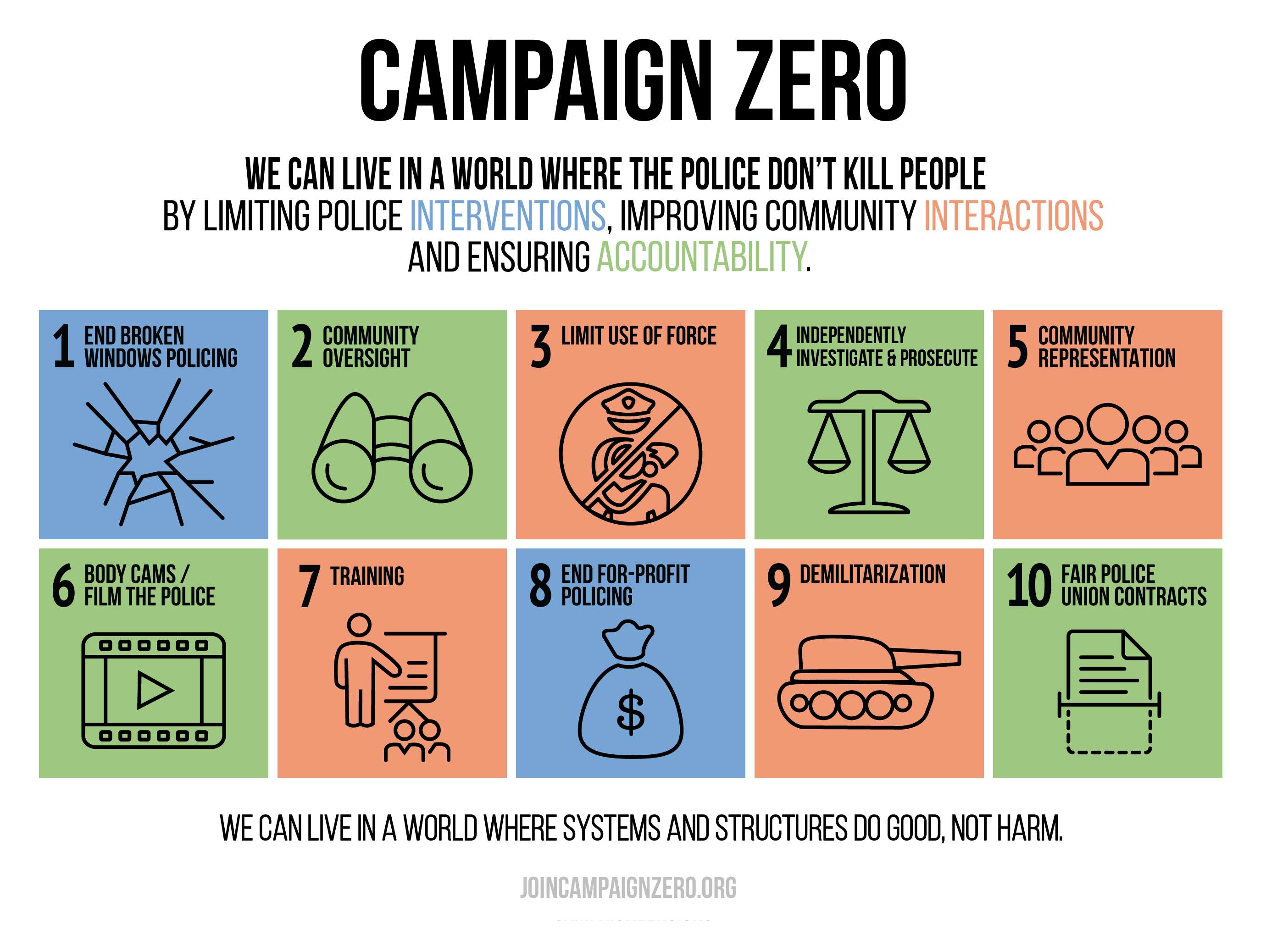 As described on its website: "Over 1,000 people are killed by police every year in America. We are calling on local, state, and federal lawmakers to take immediate action to adopt data-driven policy solutions to end this violence and hold police accountable."
Over the past five years, Campaign Zero has published studies and built tools to track police violence across the country, which informed the eight points of their new push.
The "eight" in #8CANTWAIT
Though the ideas have been around for some time, the campaign was launched online at the beginning of June. In it, "8 Can't Wait" points to eight concrete police force policy changes for local governments to enact. They are:
Ban chokeholds and strangleholds
Require de-escalation
Require warning before shooting
Exhaust all other means before shooting
Duty to intervene
Ban shooting at moving vehicles
Require use of force continuum
Require comprehensive reporting
Campaign Zero points back to its own research to support these measures, claiming municipalities can expect to see a marked decrease in police violence in response to each policy change.
"Our analysis finds that each additional use of force policy was associated with a 15% reduction in killings for the average police department," the organization's 2016 Police Use of Force Policy Analysis reads. "Even after taking into account the number of arrests made, assaults on officers, and community demographics, police departments with all eight of these use of force policies implemented would kill 72% fewer people than departments that have none of these policies in place."
Response to the campaign
Campaign Zero has positioned "8 Can't Wait" as an actionable step for people who want to see life-saving changes made "right now."
"Together we CAN END police violence in America," declares the Campaign's Instagram post, encouraging people to tag friends, use the website to see how many of the policies their cities are lacking, and push for their mayors to fill in those gaps. In just one day, it received more than 175,000 likes, and more than 23,000 other posts have been tagged with the #8CANTWAIT hashtag.
"8 Can't Wait" was quickly boosted by high-profile figures on Twitter, including Ariana Grande, former presidential candidate Julián Castro, and Crooked Media co-founder Jon Lovett.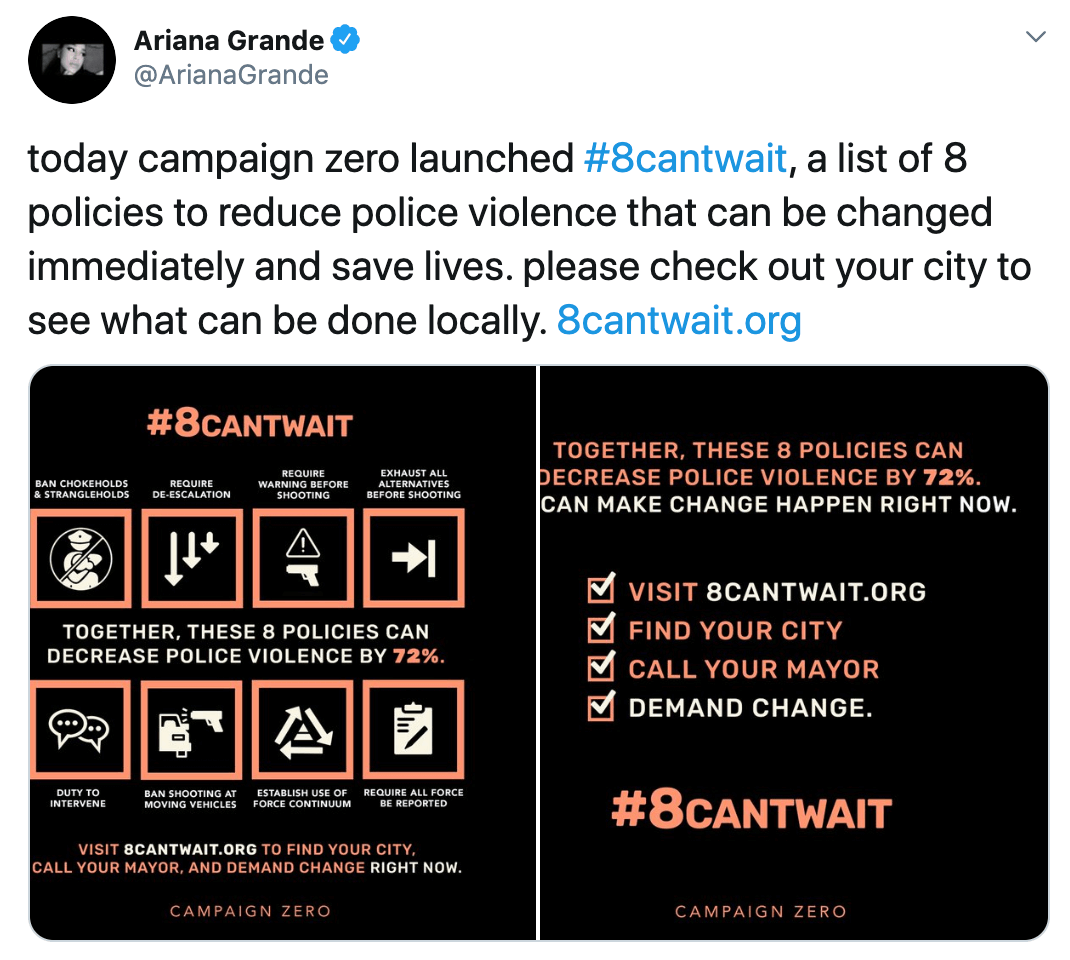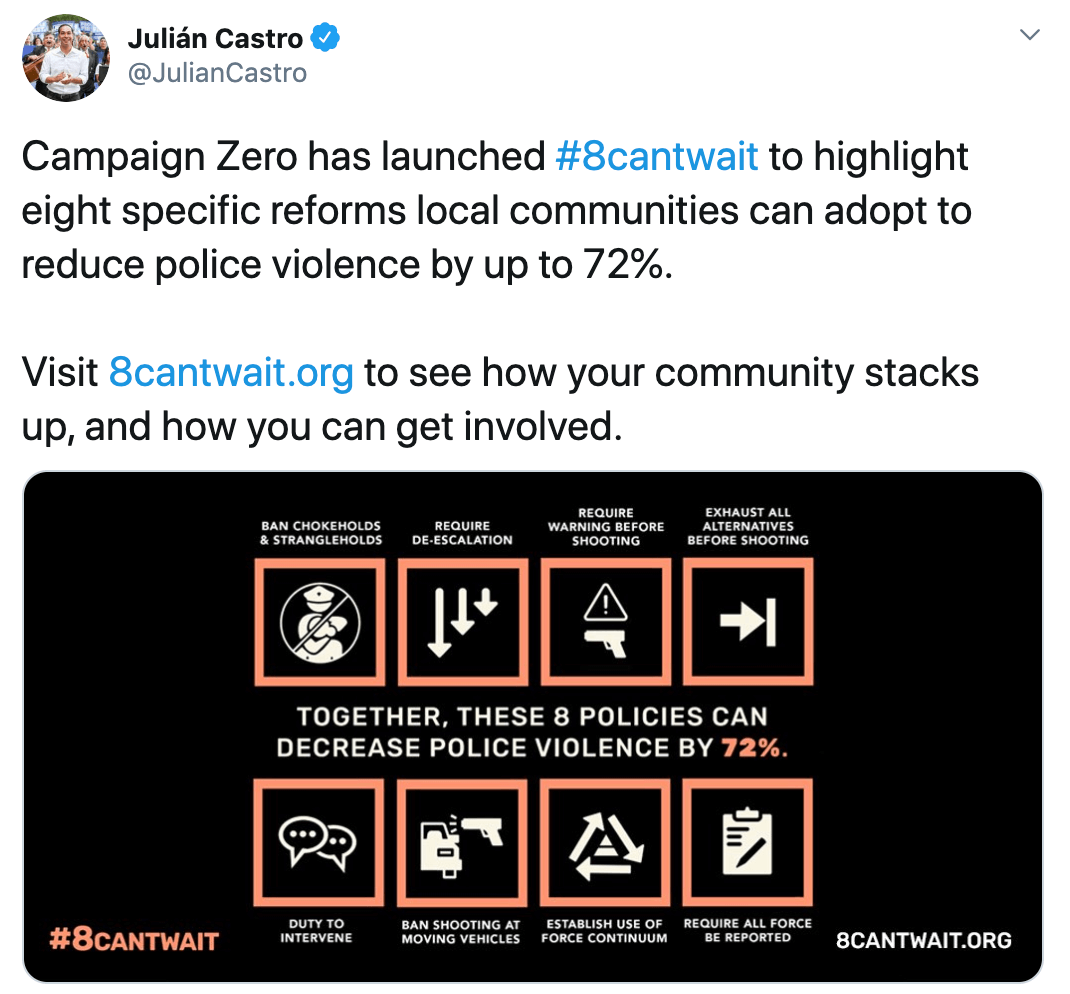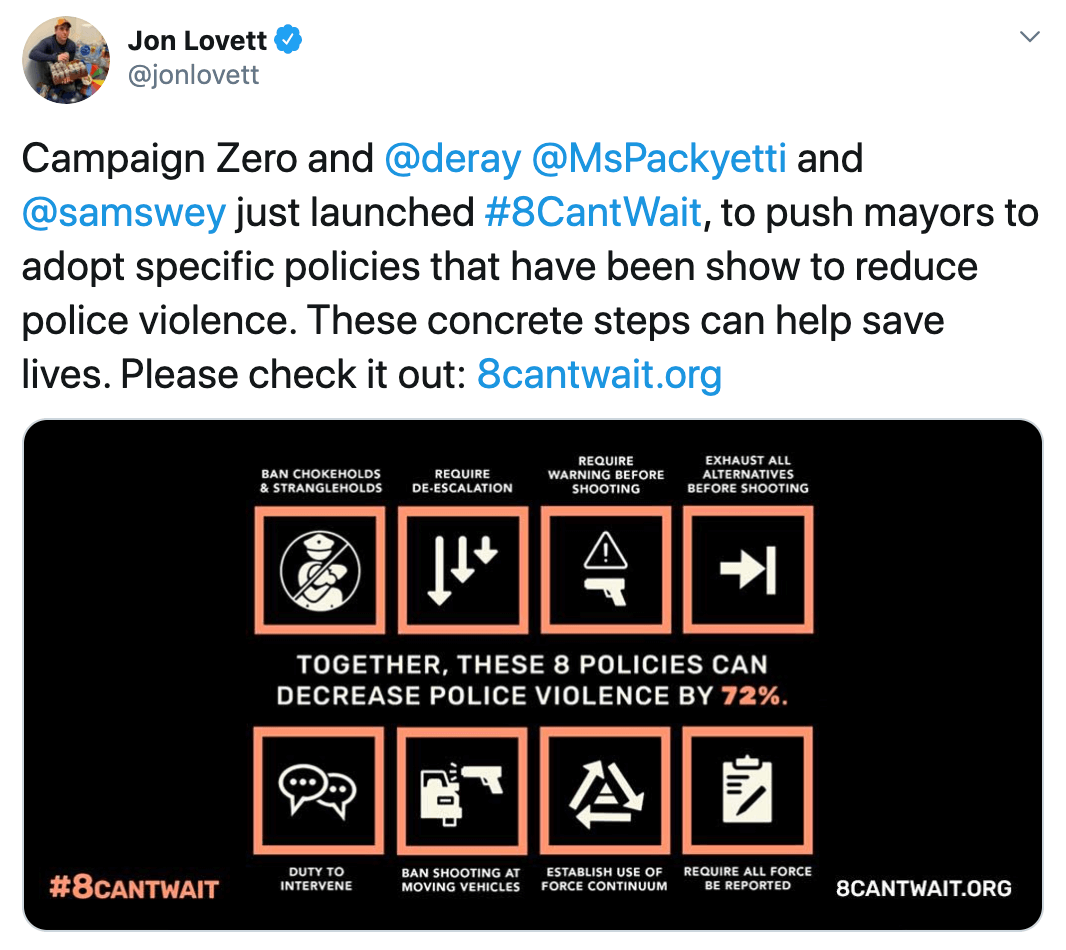 The campaign has already influenced change in multiple cities, with the Mayor of Pittsburgh announcing his endorsement of all eight policies "in order to begin reform today."
Los Angeles County Supervisor Janice Hahn also nodded to the initiative, saying she has filed a motion "urging the Sheriff's Department and all 46 local police depts to adopt #CampaignZero's 8 Policies for reducing police brutality."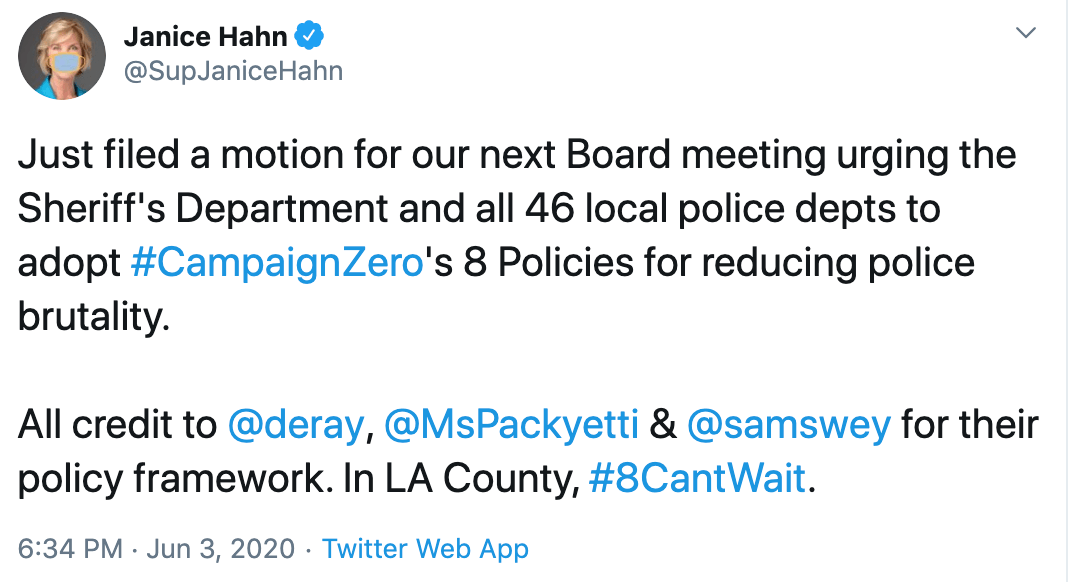 But critics of the plan point to Los Angeles as a perfect example of why they don't believe adopting "8 Can't Wait" policies will actionably reduce police violence.
"The policy effectiveness of #8cantwait is disproven by their own website. As if people can't realize the historic & contemporary abuses of the LAPD… this is embarrassing," posted Twitter user @videodante, pointing to the fact that Los Angeles has already adopted five out of the eight policies and still sees high reports of police violence.
As reported by the Los Angeles Times, shootings by L.A.P.D officers have decreased consistently in recent years, though incidents of "less lethal" force are up.
Others noted that, despite the past relationships of Campaign Zero founders with the Black Lives Matter movement, "8 Can't Wait" has not explicitly been endorsed by the groups or activists currently leading the nationwide protests.

Sinyangwe seemingly responded to some of these comments on Twitter, noting that the eight policies are "a first step" and that, "this work is not in conflict with the goal of shrinking the role of the police and their budget," which has been a consistent demand of many protesters over the past week.
READ MORE: