As the protests sparked by the death of George Floyd continue across the nation, more and more people are raising bail money for those arrested while demonstrating.
People are donating to the Minnesota Freedom Fund, which pays "bail for low-income individuals who cannot otherwise afford it."
Celebrities are showing their support for the fund by posting their donations. Steve Carell, Jameela Jamil, Rico Nasty, Noname, Lauren Jauregui, and RuPaul's Drag Race stars Trixie Mattel and Miz Cracker are just some of the big names donating to the cause.
"Just gave $1000 to @MNFreedomFund," Noname tweeted. "Celebrity accounts that follow me… match."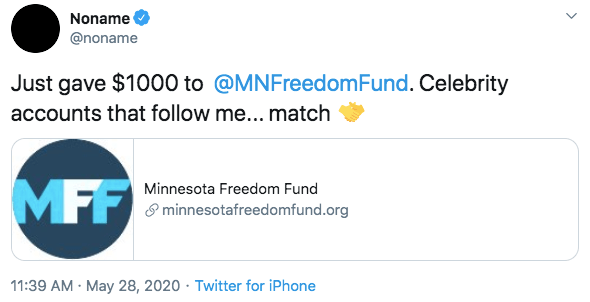 "Matched," rapper Rico Nasty replied, along with a screenshot of her donation of $1,069. 6LACK, Kehlani, Kali Uchis, and Jamil also matched Noname's donation.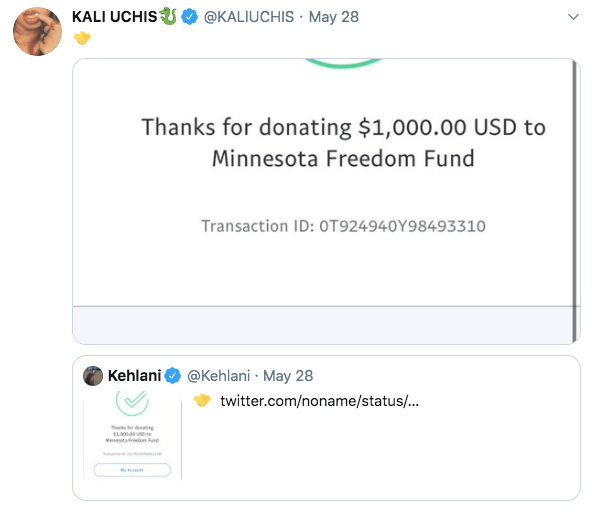 Carell, Seth Rogen, and Patton Oswalt later all matched a donation of $50.


The executive director of the Minnesota Freedom Fund, Tonja Honsey, spoke with Rolling Stone about the amount of support the nonprofit has been getting the past couple of days.
"Black brown and indigenous communities have been terrorized by the system and brutalized and murdered, and there has been no justice. Now we can see there is support coming from everywhere," Honsey told the magazine. "There are some people who won't agree with [the rioting] and that's fine, but this isn't the first time this has happened in this community. There's been a long line of state-sanctioned terrorism on communities and people have been waiting for justice for a long time and haven't seen it."
READ MORE:
H/T Complex