Undercover video trickster James O'Keefe appears to be back at it with another "timely" video from his group of well-known fraudsters at Project Veritas.
The video, published Thursday morning, attempted to "expose" Rose City Antifa, a left-wing Portland group.
But the video fails to give a date it was filmed, which happens to be important. The bookstore it was supposedly located in, In Other Words, in Portland, Oregon, closed in June 2018.
The closed store was first noted by Media Matters Matthew Gertz.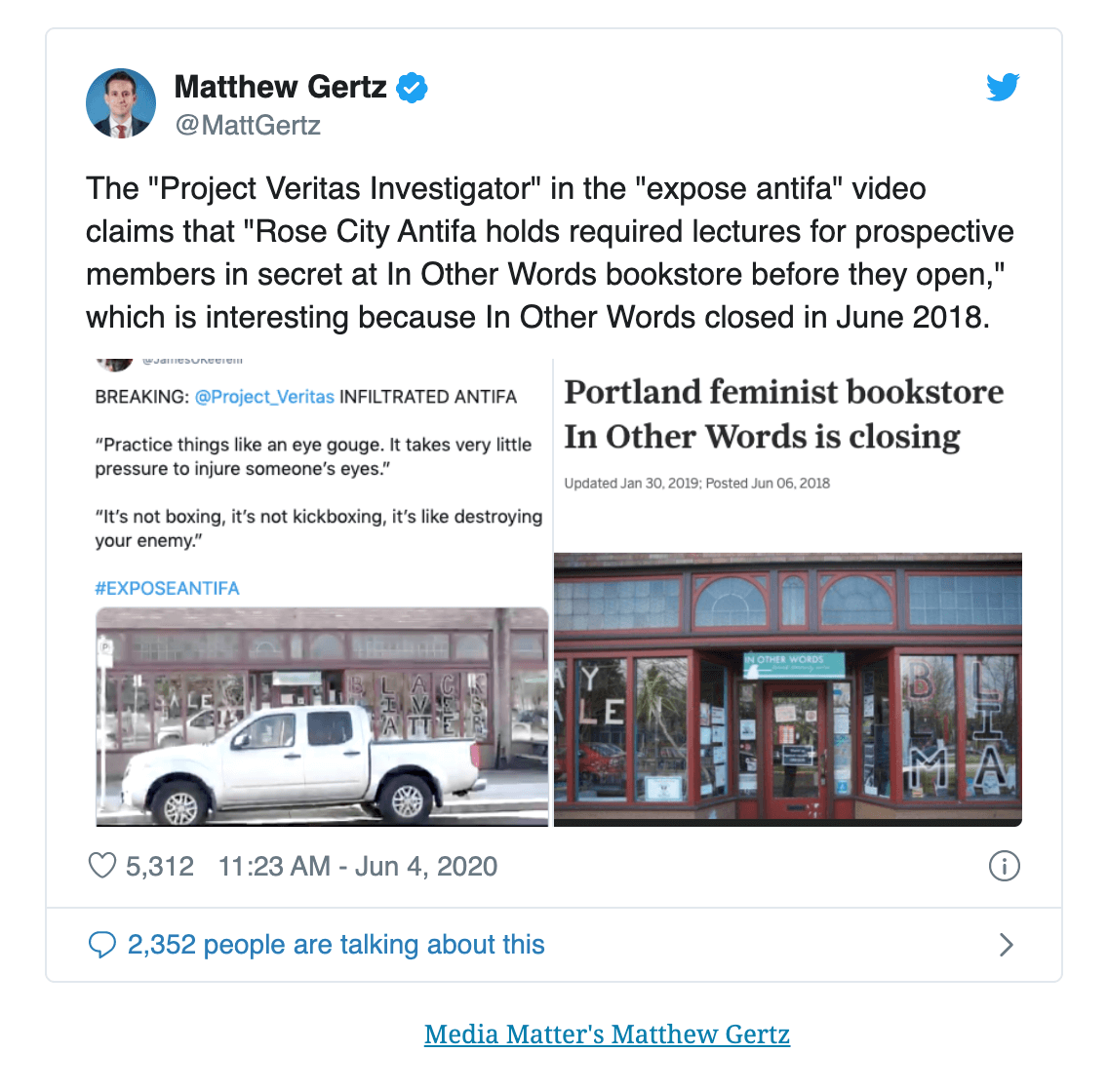 It remains unclear as to when the undercover video was filmed.
O'Keefe, no stranger to inaccuracy, dubbed the video "BREAKING" in announcing Project Veritas had infiltrated antifa, framing it as a response to protests over George Floyd that have broken out across the country.
But it couldn't have been filmed at any point in the past two years.
The bookstore in the undercover video has served as the backdrop for the TV show Portlandia, which features the bookstore under the name "Women and Women First."
Whether a purported antifa meeting was really filmed there is unclear. O'Keefe is no stranger to deceptively edited videos.
Right-wing outlets, including sites run by Fox News contributors Sara A. Carter and Dan Bongino, ran stories never mentioning the inconsistencies regarding the bookstore—or questioned when the video was produced.
It was similarly touted by the Daily Wire's Michael Knowles.
Furthermore, Fox News' digital news coverage neglected to question the bookstore or look into the timeline of the questionably edited video when it ran a piece.
Since the video was published, parodies of it have begun circulating online.
In response to an inquiry by the Daily Dot, Project Veritas said O'Keefe was "jammed out" because Dennis Prager shared his video.
READ MORE: