There are two reasons VR why hasn't been a massive part of the cord-cutting revolution thus far: access to apps and bulky hardware. Most VR setups of the recent past required you to be connected to a computer or to put your phone into a headset that's frustrating to control. Even if managed to find a comfortable set up, apps for streaming media were once rare. But thankfully, those problems are a thing of the past, particularly in the Oculus ecosystem.
Oculus has two models on the market, the Go and Quest, each of which is an ultra-portable system perfect for relaxing with on the couch. For movie, TV, and sports fans, that's a big deal. Here's every you need to know about cord-cutting with Oculus Go and Quest.
Oculus models for cord-cutters
Cost: 32GB model is OUT OF STOCK 64GB model is $199

Oculus Go is currently the best model for cord-cutters. It's significantly cheaper and supports every single app on this list and more. Its small profile and comfortable headset make it ideal for long-term viewing sessions, an important feature when you're watching a movie. Using the Go requires either an iPhone or Android, plus the Oculus App and 802.11 b/g/n wireless internet access. Utilizing the Oculus App, users download their favorite apps and games to the Go device. While streaming media requires wireless access, the device itself works on the go.
The headset's battery lasts for 2.5 -4.5 hours depending on what you're using for. Gaming online is more intensive than streaming media. In my testing, Oculus Go was responsive, comfortable, and fun whether I was playing a game or watching a video. Looking around during a VR video is an invigorating experience, thanks in large part to the Go's beautiful screen. There's some grain, but considering everything that's built into the device, it's remarkable.
You control navigation with the Go using a single remote control. While it's not as complex as other Oculus controllers, particularly when it comes to games, it's enough for the average cord-cutter to be happy. The Go also features 3D sound via a built-in audio system and a headphone jack if you'd like to watch in privacy.
Cost: 64GB model is OUT OF STOCK 128GB model is OUT OF STOCK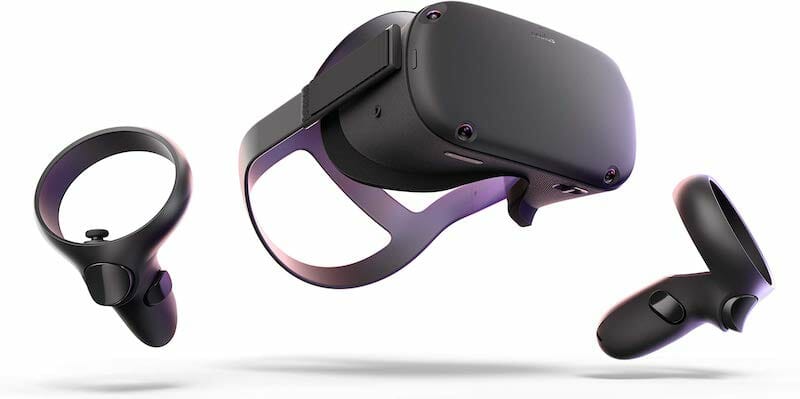 On May 21, Oculus released the Quest, its next-generation portable VR headset. Designed as a gaming device first, Oculus Quest doesn't support as many streaming media services as the Go currently. However, it's still early in the device's life cycle, so that will get better over time. Out of the box, Oculus has promised support for three services: Netflix, Oculus TV, and YouTube TV.
Beyond its larger storage capacity, the Quest has one notable feature that might be attractive to cord-cutters: a slider to make it fit more comfortably on your face that also adjusts the distance between its lenses. The Go doesn't. If you have a uniquely shaped head, that could make the Quest a more comfortable option.
At launch, the Oculus Quest is reported to have a 2-3-hour battery life during use. I've been unable to test out a Quest model, but given the device is mainly designed for gaming, I wouldn't be surprised to see better battery life on less resource-intensive streaming media apps. The Quest comes with two interactive motion controllers, which can be used to navigate around during some VR streaming media content. YouTube VR users, in particular, will find these useful.
Quest comes with 3D sound via a built-in audio system. You can also use your own personal headphones via the auxiliary jack if you'd like to keep what you're watching private.
There is now an Oculus Rift as well.
The best cord-cutting apps for Oculus
Cost: $30-$45 per month (after a 7-day free trial)
Supported by: Go and Quest. Quest users will need to use the Oculus TV app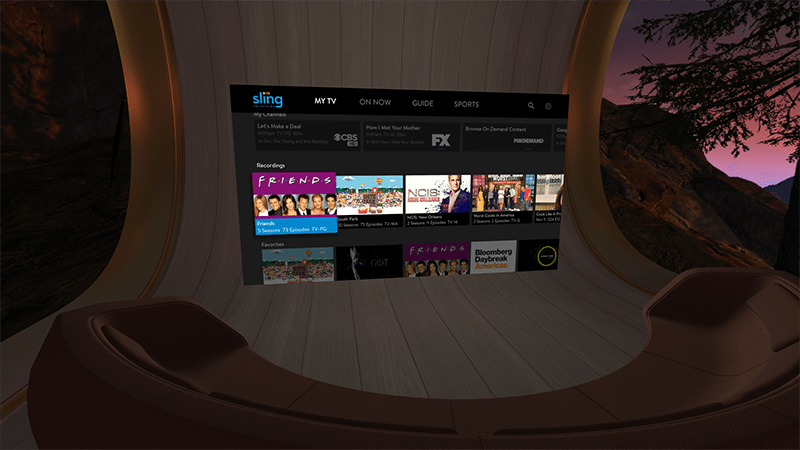 Watching TV on Sling TV on Oculus is an experience the first time you do it. Viewers are dropped into a virtual space-age living room out of Star Trek, with the TV screen floating in front of you. Sling TV brags that its virtual screen is 180-inches wide, and while I don't know how to do that math on that, it feels that big when you're watching. Sling TV still requires a traditional subscription to use on Oculus, so make sure you're signed up before logging on. Sling TV offers three different channel packages and a ton of different add-on collections. (Here's a complete guide to Sling TV channels and our Sling TV review.)
---
Cost: Free
Supported by: Go and Quest
Oculus' own Oculus TV app is a video catch-all, a hub that allows users to access content from different streaming partners in one place. Aggregating content from Facebook Watch, Fox Now, Red Bull TV, and live TV from Sling TV, Oculus TV is a handy app when you don't want to search through your programs. Oculus TV drops you in the same living room as Sling TV, so you'll have plenty of time to get used to the virtual space.
---
Cost: $8.99-$15.99 per month
Supported by: Go and Quest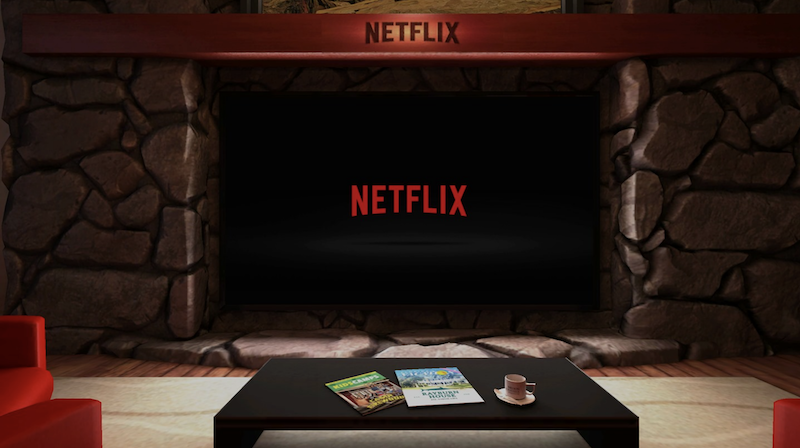 Netflix works the same on Oculus as it does any other streaming device, the only difference is the space you watch it. When you fire up the Netflix app, you get dropped into a beautiful living room with a large TV in the fireplace. You still navigate through menus and watch content the same way. Want to watch while lying down? Select the Void Theater mode in the upper-left corner of the screen to turn off the living room environment. Remember, you still need a Netflix subscription to watch its content on Oculus.
---
Cost: Free
Supported by: Go and Quest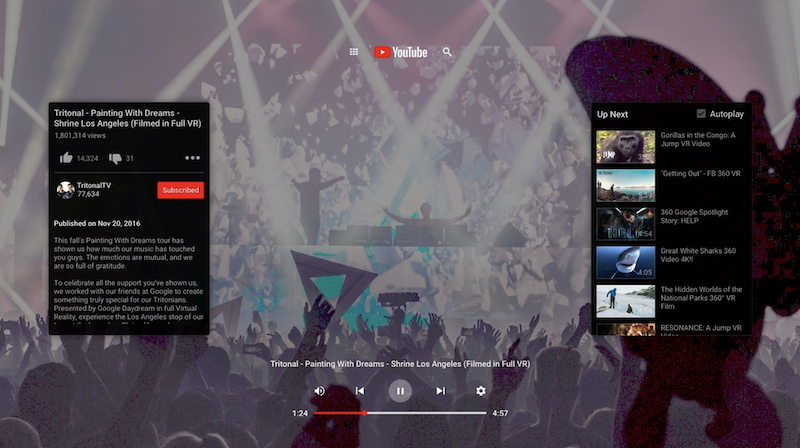 If there's one killer app to sell cord-cutters on Oculus VR it has to be YouTube VR. Beyond bringing you all the great YouTube content you've come to love from the service, YouTube VR has the largest collection of free 3D VR videos on Earth. Best of all, the Oculus interface makes it easy to find them. Experience going surfing, moving through dancers, or even sitting by while someone fights a monster. It's incredibly easy to get lost in the vivid and beautiful 3D worlds of YouTube VR. And you don't need a subscription to access most of it. Enjoy full 360-degree videos complete with spatial audio thanks to the Oculus' built-in 3D sound.
---
Cost: Free
Supported by: Go and Quest via the Oculus TV app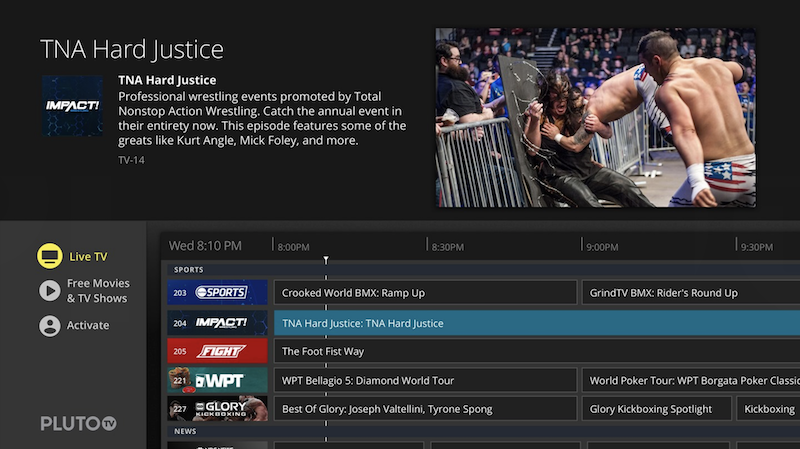 Pluto TV is a 100% free streaming TV solution gives users 100-plus channels of TV and movies, with thousands of other titles on-demand. There's pro-wrestling, anime, movies, Food TV, channels with Comedy Central and MTV content, news, and more. I pay for a streaming TV package and still regularly end up watching Pluto. There's just one catch: If you want to watch on Oculus you'll need to use the Oculus TV app with it. For free live streaming TV, that's a small price to pay.
---
Cost: $5.99-$11.99 for Hulu | $54.99-$$60.99 per month for Hulu with Live TV
Supported by: Go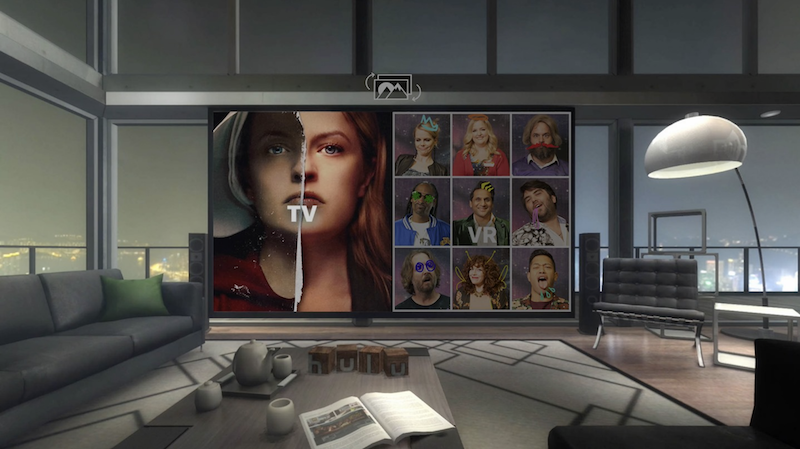 Hulu's embrace of Oculus and VR has been passionate and also a little inconsistent of late. Users can watch all their favorite Hulu programming directly from their Oculus headset, choosing from a wide range of rooms and locations (unlike Netflix's setup). It adds a fun bit of interactivity to watching standard 2D shows.
Hulu has also invested in VR specific programming, 3D 360-degree programs that put you into live concerts and even interact adventure shows. At the moment, Hulu has more than 100 pieces of VR content for you to explore. While that's vastly more than any of its competition has done, Hulu seems to have slowed on developing new VR content recently. I hope that changes, but in the meantime, Hulu is still one of the best apps for cord-cutters using Oculus.
---
Cost: $11 per month
Supported by: Go
Showtime Anytime offers a simple, no-frills app that makes it easy to jump right in and start streaming. Users with a pre-existing Showtime or Showtime Anytime account just need to log in to start watching their favorite movies and original series. Showtime has a similar simple 3D VR viewing room like Netflix and Sling TV, but outside of that, it doesn't utilize any 3D or VR features. Still movies and shows sound incredible with the Oculus' 3D audio.
---
Supported by: Go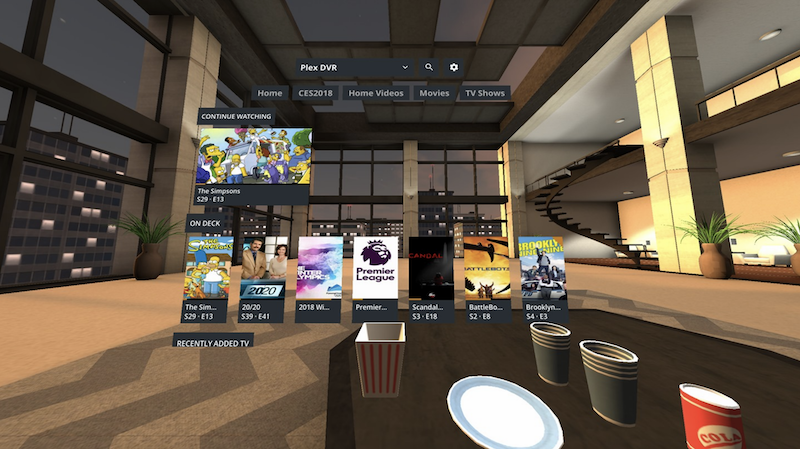 Oculus users with large media libraries should make time to set up Plex. Simply set up a Plex media server on your home PC, log in to the Plex app, and start streaming. Plex is the easiest way to stream downloads of adult VR content to your Oculus without taking up a big block of your storage. The only downside is Plex doesn't currently have plans to bring its app to Oculus Quest.
---
Cost: Free to download but requires cable or live TV subscription credentials
Supported by: Go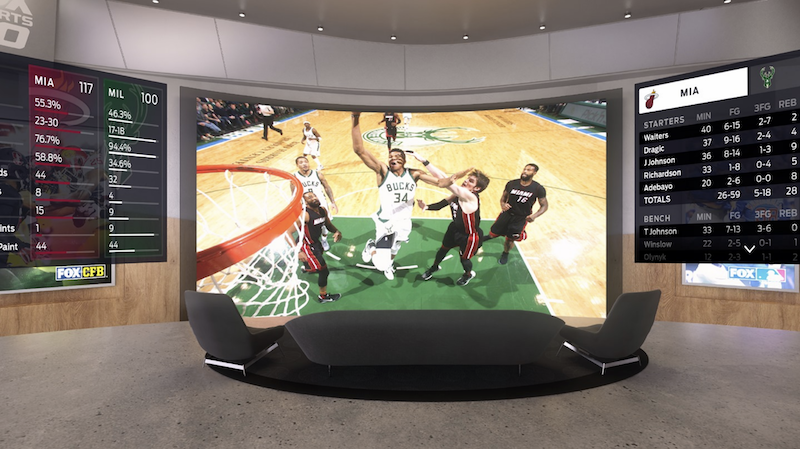 Sports fans with an Oculus Go should run, not walk, to download the Fox Sports VR app. During supported live games, the app takes to straight to the event, offering multiple camera views from around the stadium. Or if you'd rather soak in all the details, enjoy the game from the virtual stadium suite. This centers the game on a TV in the middle of the room while flanking you with information and stats about the teams. There's even a social feature that lets you talk to friends using the Oculus app who are watching the same game.
---
Cost: Free to download but requires cable or live TV subscription credentials
Supported by: Go and Quest (Quest users will need to use the Oculus TV app)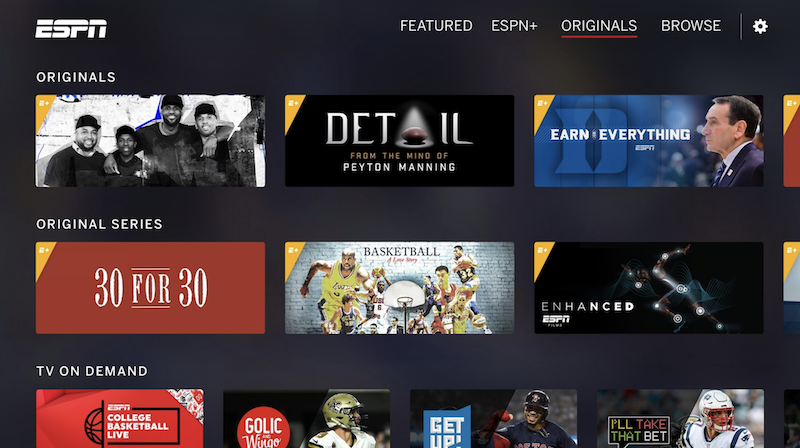 Viewers looking for an in-depth 3D VR experience from ESPN will be disappointed, but that doesn't mean the ESPN app isn't incredible. Using the app—and your cable log ins, you'll be able to watch live games and shows from ESPN, ESPN2, ESPN3, ESPNU, ESPNews, ESPN Deportes, SEC Network, SEC Network+, Longhorn Network, ACC Network Extra, ESPN Goal Line, ESPN Buzzer Beater, and ESPN Bases Loaded. Don't have a cable package? Don't worry. The app also supports ESPN+, bringing with it hundreds of live sporting events and original programming for your viewing pleasure. The only real VR feature is the virtual viewing room, but this quick and responsive app makes finding your favorite games and shows simple.
The Daily Dot may receive a payment in connection with purchases of products or services featured in this article. Click here to learn more.