It's Sunday season. The first few months of every year are littered with cultural events, from the Super Bowl to award shows, leading up to the three-day Easter weekend. The religious among us may be accustomed to making plans on Sunday, but for everyone else, these months unfold into a myriad of watch parties, meticulously crafted snacks, and drinking games on what is typically the chillest day of the week. Sometime between Kacey Musgraves, Cardi B, and the Lord (not to be confused with the singer Lorde), Hasan Minhaj slipped through the cracks on Grammy Sunday to premiere the second volume of Patriot Act with Hasan Minhaj.
Patriot Act with Hasan Minhaj Volume 2

RELEASE DATE:
2/10/2019
DIRECTOR:
Richard A. Preuss
STREAMING:
Netflix
The first two episodes of 'Patriot Act' volume 2 prove Minhaj's aptitude for turning boring and unsexy news headlines into digestible comedy.
Unlike a majority of Netflix's content, episodes of the Patriot Act arrive weekly on the streaming site. The show is a clear descendant of John Oliver's topical, award-winning HBO show Last Week Tonight. But as he transitions into his second volume, Minhaj proves he's no clone. Watching him skillfully tackle one subject per episode, it's no surprise Netflix tapped the 33-year-old to become the leading face of its own comedy/journalism mashup.
Minhaj cut his teeth at The Daily Show, like so many newsy comedians before him (including Oliver). After rising to national notoriety thanks to his hosting gig at the 2017 White House Correspondents' Dinner during President Donald Trump's first year in office, Hasan's own show—like Oliver's, Trevor Noah's, and Stephen Colbert's—seemed inevitable. In the fall of 2018, the show arrived with a more modern look and tone than its contemporaries. Like those before him, Minhaj turns serious journalism into punchlines, though his fast-paced delivery and interactive visuals can make one feel like they're being plopped into a frantic Google or Wikipedia search. Like other dystopian series from the Trump era—such as the podcast-turned-HBO show Pod Save America—Patriot Act with Hasan Minhaj can sometimes feel too earnest, too concerned, too "can-you-believe-this-is-happening." But it's certainly not devoid of critical content.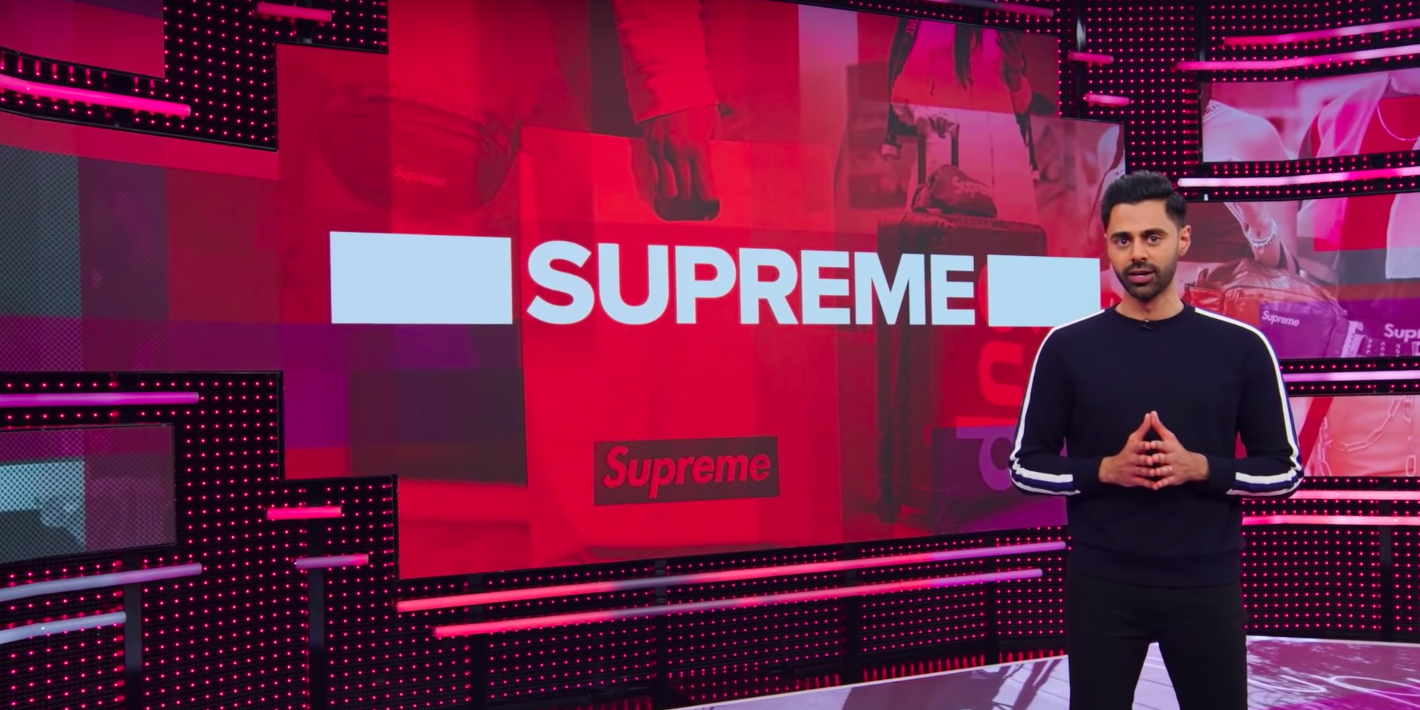 The first episode of volume 2 showcases Minhaj's ability to turn boring and unsexy headlines into digestible comedic bits. Even an active media consumer will have a hard time casually stumbling across the human rights crisis impacting Uighurs in China, an ethnic group currently being corralled into concentration-like "vocational camps." Minhaj's criticism of China's "crackdown" against this Muslim minority is both educational and encouraging. It's not often someone with Minhaj's platform uses it to address an underreported crisis instead of, say, digging at Trump's State of the Union for clicks. 
Despite the volume and variety of Netflix's library, the first volume of Patriot Act managed to stand out from the competition. Minhaj's episode about Supreme streetwear and the sneaky forces of capitalism that drive the brand drew the attention of hypebeasts across the internet with coverage from outlets like HighSnobiety—all while making former hypebeasts like myself once again regret dropping $200 on a Supreme waffle thermal (even though I live in Texas). He went as far to release his own limited-edition box logo tees with text like "Barbara Kruger Was Right" and "Private Equity," which quickly sold out and were being resold at 1500 percent of their original price. (They've since been restocked.)
But it was Minhaj's episode about Saudi Arabian Crown prince Mohammed Bin Salman that pushed him into the international spotlight. The comedian criticized Mohammed Bin Salman for his alleged connection to the murder of Washington Post journalist Jamal Khashoggi. Netflix was forced to remove the episode in Saudi Arabia, and Minhaj's visibility skyrocketed. As he points out in the first few minutes of his volume 2 premiere, everyone from CNN to Fox News to alt-right trash heap Breitbart sided with Minhaj.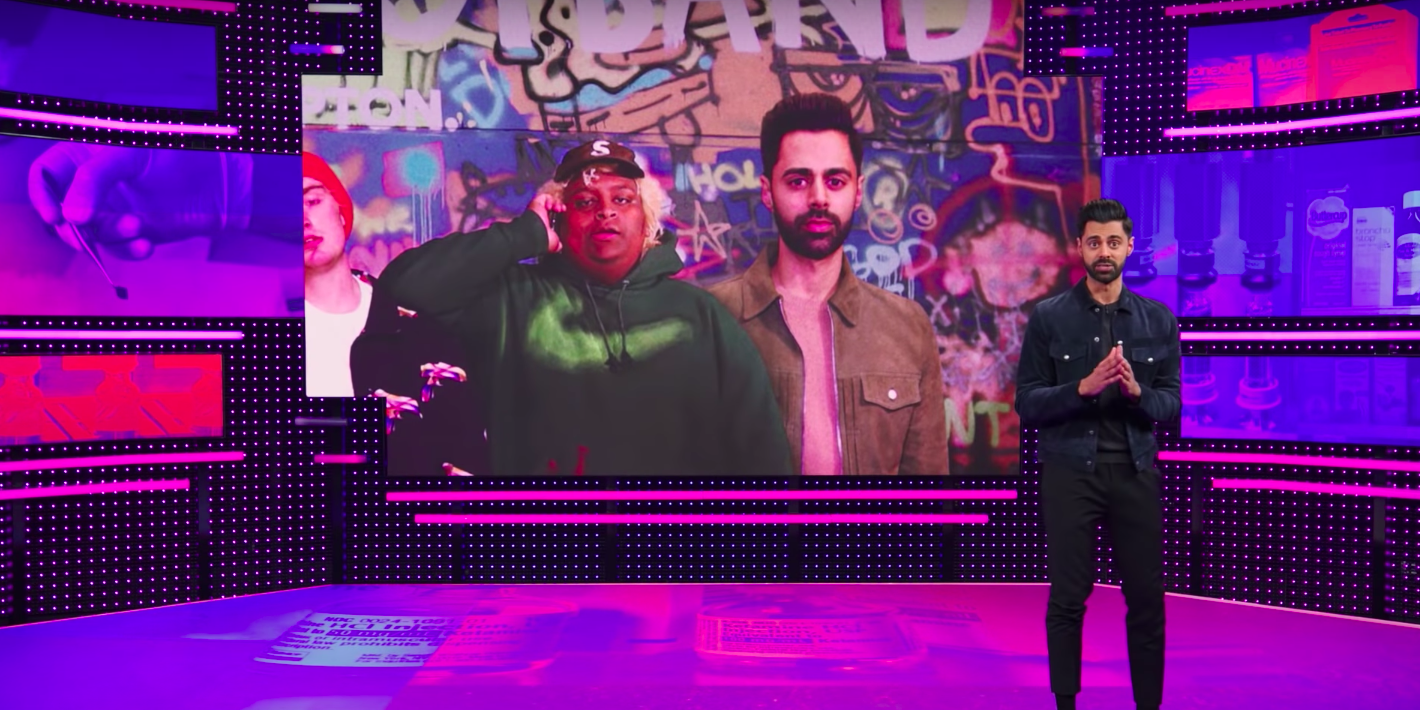 While other talk shows hem and haw at the week's trending Twitter topics, Minhaj takes a deep dive into the headlines we might have glossed over. In the second episode of the new volume, released last Sunday (the same day as the NBA All-Star game), Minhaj zeroes in on the complicated and dull crisis of outrageous prescription drug prices. His compelling performance forces viewers to look deeper and consider the less trendy news du jour in a more critical light.
In Patriot Act with Hasan Minhaj, Netflix has found a host to compete with, and stand apart from, the likes of Oliver or Noah. The interactive visuals on Patriot Act, which Minhaj also used during his comedy special Homecoming King, give him a more physical and animated presence than his desk-sitting counterparts. But the show still conforms to the script-driven style of its predecessors—the result of a room full of writers trying to strike a formulaic balance between comprehensive and comedic. Still, in this era of apathy, with every news show, website, and social media platform competing for our eyes, ears, and clicks, Patriot Act makes a compelling argument for us to surrender our attention to Hasan Minhaj. At least for the next 30 minutes. 
Still not sure what to watch tonight? Here are our guides for the absolute best movies on Netflix, must-see Netflix original series, documentaries, docuseries, and movies.
Need more ideas? Here are our Netflix guides for the best war movies, documentaries, anime, indie flicks, true crime, food shows, gangster movies, Westerns, and movies based on true stories streaming right now. There are also sad movies guaranteed to make you cry, weird movies to melt your brain, and standup specials when you really need to laugh. Or check out Flixable, a search engine for Netflix.