In documentary Parchís: El Documental, Netflix explores the rise and fall of Spain's most popular kid musical group—and the lasting effect it left on the six kids who were blasted into stardom.
Parchís: El Documental
RELEASE DATE:
7/10/2019
DIRECTOR:
Daniel Arasanz
STREAMING:
Netflix
The rise and fall of Spain's most popular kid musical group—and the lasting effect it left on the six kids who were blasted into stardom.
Beloved by Spanish and Latin American fans, Parchís was originally assembled by Belter Records in 1979. Thanks to unprecedented access to entertainment ushered in by the invention of the television, the group comprised of kids experienced a swift rise in popularity that resembled Beatlemania. (In fact, Parchís actually outsold the Beatles in Peru.)  Like the Beatles, Parchís' lifespan was also fairly short, with the group disbanding in 1985. Parchís: El Documental attempts to explore the psychological and emotional effects the viral fame had on its young members, and whether or not it had a positive or negative effect on their livelihood in the long run.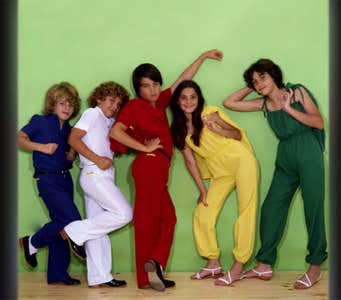 Parchís: El Documental features intimate interviews from the band's members—Yolanda, David, Oscar, Gemma, Tino, and Frank—decades after the demise of the group that sold millions of albums, completed dozens of worldwide tours, and seven films. It also includes interviews from some of the members' parents, managers, tutors, and fans to complete the story and offer a wide range of perspectives. These interviews are accompanied by footage from Parchís concerts and films, as well as photographs. 
The interviews with each member are incredibly raw and honest; no one appears to hold back about their experience of growing up in the spotlight. The six members talk openly about what it was like to obtain fame and power in their adolescence, how spending five years on the road affected their childhood, and how they felt about one another at the time. Throughout the film, interviewees reveal one troubling fact after another—that the kids lived like rock stars behind the scenes without consequence, they were exploited by their label, their parents were largely absent, and they rarely attended school. 
In fact, it's surprising to see the former members talk so openly about certain issues, like the sexual tension in the group and the on-tour relationships. Multiple people share that Tino—who was the eldest member of the group at age 15 and considered the leader—"took advantage" of his power as a good-looking celebrity and had sex with both fans who were his age and adult women. Their manager at one point shrugs off Tino's behavior as a coming-of-age phase "all men" experience—and no one pushes back. It's a prime example of how getting away with anything and being given everything as a young celebrity can lead to feelings of entitlement as an adult.  
The documentary explores a few other problematic issues surrounding Parchís, especially concerning money. The members say that as kids, they had no clue what happened to the money they supposedly earned on tour and the parents say Belter Records pocketed most of the earnings. Belter Records reps, in turn, says they had a hard time getting payment from venues in Latin America. The documentary also shows that Belter Records engaged in pay-for-play methods and paid thousands of dollars to TV personalities and media members to push Parchís to the forefront. 
The documentary fails to establish an argument that the members' childhood had a lasting effect on their lives. While the members talk both wistfully and with frustration about their upbringing, they don't delve into how the rest of their careers unfolded after the disbandment. 
The members of Parchís are certainly not the first young teens to experience a large level of fame before coming of age. In the U.S., actors who play a part in kids TV shows on Disney and Nickelodeon have shared their own stories about how growing up in the spotlight changed their childhood. But Parchís: El Documental provides a classic case study of the consequences of teen stardom, and how that experience shapes a young person's perspective of the world.
Still not sure what to watch tonight? Here are our guides for the absolute best movies on Netflix, must-see Netflix original series, documentaries, docuseries, and movies.
Looking for something more specific? Here are our Netflix guides for the best war movies, documentaries, anime, indie flicks, true crime, food shows, rom-coms, LGBT movies, alien movies, gangster movies, Westerns, film noir, and movies based on true stories streaming right now. There are also sad movies guaranteed to make you cry, weird movies to melt your brain, old movies when you need something classic, and standup specials when you really need to laugh. Or check out Flixable, a search engine for Netflix.