Content warning: this review contains mentions of suicide.
Rarely do stories about teenage strife remind me of my own time navigating life a decade ago, but Netflix's I Am Not Okay With This does a damn good job at making my depressed self feel seen.
Yes, I imagine this TV-MA series pegged as a YA sci-fi coming-of-age story probably feels less relatable than other contemporary titles—few people can understand the strife of semi-superhero Sydney (Sophia Lillis) coming into her erratic powers. But Syd's supernatural abilities assist the realistically-rooted tragedy and comedy of I Am Not Okay With This—Syd reckoning her feelings for her best friend, her father's suicide, and her desperate desire to fit in in high school—to serve larger reflections around discomfort in friendship, the grieving process, and feeling "not normal."
I Am Not Okay With This

RELEASE DATE:
Feb. 26, 2020
CREATOR:
Jonathan Entwistle and Christy Hall
STREAMING:
Netflix
'I Am Not Okay With This' brings together two of Netflix's strongest cult-conjuring series and calls back to classic coming-of-age films to create an enthralling tale of a girl and her relatable hero's journey.
From the producers of Stranger Things and director/EP of The End of the F***ing World, I Am Not Okay With This, based upon the Charles Forsman graphic novel of the same name, brings together two of Netflix's strongest cult-conjuring series and calls back to the nostalgia of classic coming-of-age films to create an enthralling tale of a girl and her genuine and relatable journey towards better understanding herself and the forces seemingly out of her control.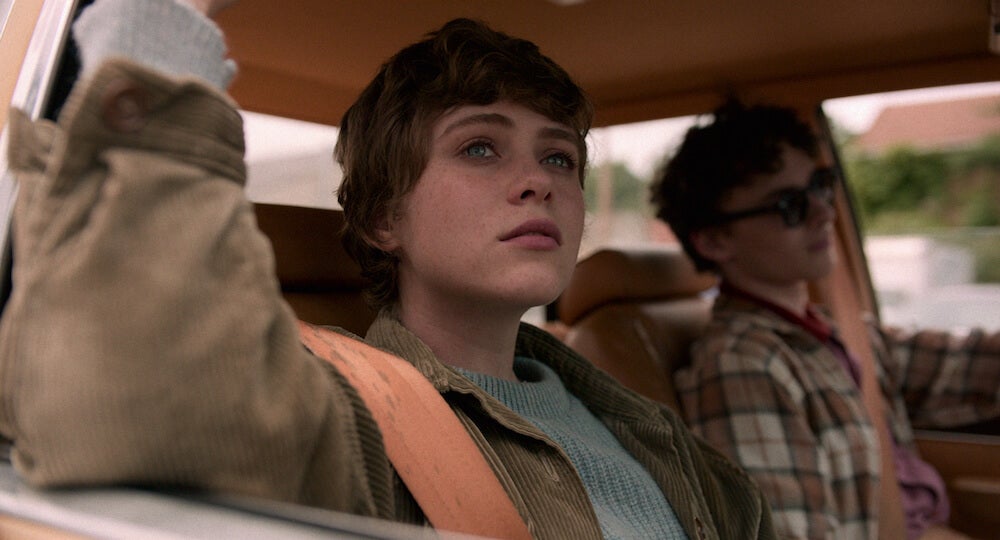 Syd is pissed, and her high school guidance counsel wants her to journal about it (her story is partially told through her narration of her journal entries). About half a year after Syd's father commits suicide, the high schooler, depicted as a reject whose best friend is a gorgeous, smart, outgoing foil of herself, begins to notice her anger manifesting physically. After her BFF Dina (Sofia Bryant) begins dating Brad (Richard Ellis), an asshole of a jock who teases Syd without reason, Syd makes Brad's nose bleed. Her anger over her overworked mother Maggie (Kathleen Rose Perkins) and her lack of validation causes a gash in the drywall in her room, and her inability to pay for groceries with the $50 her mom gave her causes a massive snack food pileup when she rushes off in embarrassment.
Syd's problems are real, but I Am Not Okay With This gives audiences a reason to be mad with her, going beyond the easy but surface-deep motives of feeling misunderstood to give her struggles depth and nuance—when Syd's mom blows up at her for insisting it's unfair that she take care of her little bother Liam (Aidan Wojtak-Hissong) while she works, we all know Syd's in the wrong, but the buildup to this scene and others makes you pull for her nonetheless. Isn't she a victim here, too?
Whereas the series explores Syd's powers and her father's death, Syd's other interpersonal relationships leave something to be desired. Her male best friend Stanley (Wyatt Olef) is on a quest to help Syd control her powers while seeking her romantic attention, and Syd comes to terms with her love for Dina as her friend pulls further away into her relationship with Brad. It's only at the end that Syd and Dina try to navigate what a stolen kiss means for their friendship, and the moment is cut short at that. Whereas Syd's story is exciting in that it doesn't fixate on the classic '90s rom-com goal of "getting the guy," I Am Not Okay With This would have done right to further explore Syd and Dina's relationship during the series itself instead of focusing on Stan's unrequited lust for Syd.
I Am Not Okay With This has a relatively short first season—seven episodes, under 30 minutes each—making it easy to binge-watch. The plot itself is both quick-paced and slow-burning, a mystery punctuated with action and devastation, though some of its longer, montage-y scenes are clearly pulled straight from the coming-of-age rulebook and could have used another edit. But the series is nonetheless entertaining. The climax, which builds toward the homecoming dance, caused me to elicit several "oh holy fuck"s. I am Not Okay With This is absolutely far too short, and it definitely deserves a second season.
Still not sure what to watch tonight? Here are our guides for the absolute best movies on Netflix, must-see Netflix original series, documentaries, docuseries, and movies.
Looking for something more specific? Here are our Netflix guides for the best war movies, documentaries, anime, indie flicks, true crime, food shows, rom-coms, LGBT movies, alien movies, gangster movies, Westerns, film noir, and movies based on true stories streaming right now. There are also sad movies guaranteed to make you cry, weird movies to melt your brain, old movies when you need something classic, and standup specials when you really need to laugh. Or check out Flixable, a search engine for Netflix.