The legacy of Camp Jened, the summer camp at the center of Crip Camp, has been largely lost to history until now. Running from 1951 until its closure in 1977, Camp Jened was for teens with disabilities and was run by counselors, some of whom were also disabled. Summer after summer, Camp Jened ran with a very simple and radical code—especially in the mid-20th century—to treat everyone like people.
Crip Camp

RELEASE DATE:
March 25, 2020
DIRECTOR/CREATOR:
Nicole Newnham and Jim LeBrecht
STREAMING:
Netflix
'Crip Camp' showcases just how life-changing and radical a summer camp for people with disabilities was for those who attended it, many of whom became major figures in the disability rights movement. An unknown part of history brought to life, it's told in their own words and doesn't veer into inspiration porn territory.
But, as Crip Camp demonstrates in its striking and eloquent telling (without veering into inspirational porn territory), Camp Jened was always much more than a camp to those who went there. It was also a central location that sparked a revolution for so many of the campers and counselors to demand equality for people with disabilities over several decades that can be traced all the way to the passage of the Americans with Disabilities Act (ADA).
If Crip Camp solely focused on Camp Jened itself and the life-changing summer that co-director Jim LeBrecht (who was born with spina bifida) spent there at age 15 in 1971, it would still be a very fascinating documentary. The first third of the documentary focuses almost solely on the camp and the people who were there: LeBrecht, his fellow campers, and the counselors recount their own Woodstock-esque utopia in upstate New York (once located just down the road from the actual Woodstock) with memories of first loves and sexual awakenings, playing sports, and even the quieter moments where they were able to bond and vent to one another, are looked on fondly with hints of nostalgia.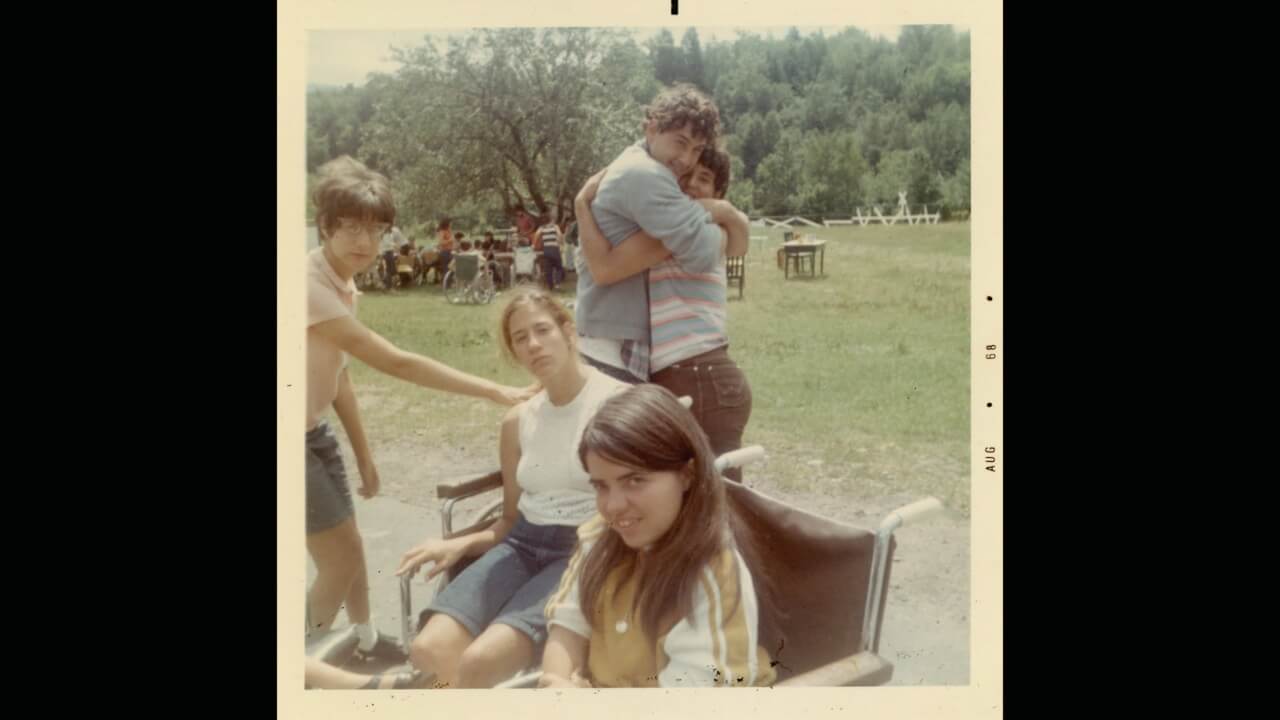 In archival footage, courtesy of an old documentary crew that visited when LeBrecht was a camper, and in interviews with surviving campers and counselors, their personalities shine through, and at times, it's incredibly funny. It's also easy to see just how their activist roots sprouted here. "What we saw at that camp is that life could be better," LeBrecht said. 
Chief among those activists is Judy Heumann, who was at Camp Jened as both a camper and a counselor and emerged as one of the disability rights movement's most visible voices. As Crip Camp leaves the camp, it splits the narrative between LeBrecht's own story and Heumann's activist efforts, which include a 1977 sit-in at the U.S. Department of Health, Education, and Welfare's San Francisco office that lasted 25 days as they demanded that Secretary Joseph Califano sign regulations that guaranteed nobody could be discriminated by a program that received federal funding. During that time, they received support from unlikely places, and thanks to a technicians' strike, one journalist's reports on the strikes ended up being broadcast in houses all over the country instead of just a local news station, bringing it further.
Crip Camp doesn't shy away from the kinds of horror stories that the campers have experienced, but with LeBrecht as one of the directors and the documentary letting them tell their own story, it's never set up as a story about overcoming a disability, although it's certainly inspirational as it relays the kind of history not taught in history classes. And while it ends with a victory in the ADA being passed, it's a bittersweet one. As Denise Sherer Jacobson—one of Crip Camp's many standouts—put it bluntly, "You can pass a law, but until you change society's attitude, that law won't mean much."
Crip Camp is screening at the Sundance Film Festival and will be available to stream on March 25. 
Still not sure what to watch tonight? Here are our guides for the absolute best movies on Netflix, must-see Netflix original series, documentaries, docuseries, and movies. 
Looking for something more specific? Here are our Netflix guides for the best war movies, documentaries, anime, indie flicks, true crime, food shows, rom-coms, LGBT movies, alien movies, gangster movies, Westerns, film noir, and movies based on true stories streaming right now. There are also sad movies guaranteed to make you cry, weird movies to melt your brain, old movies when you need something classic, and standup specials when you really need to laugh. Or check out Flixable, a search engine for Netflix.