Netflix's latest standout standup special, Mo Amer: The Vagabond, features the emergent Palestinian-American comedian (full name: Mohammed Amer) in full bloom and in full command of his talents. In a breakout performance filmed at Austin's Paramount Theater, Amer—born in Kuwait and raised in Houston—tackles identification, code-switching, "Mohammed" keychains, and contingency plans, with the observant nuance of a man who's lived two lifetimes.

Still improving his chops and his fashion aesthetic, Amer continues to flex his gift for conversational comedy, which has come to the fore since he began opening for Dave Chappelle in 2015. (The comedy legend even introduces his mentee.) In The Vagabond, the 37-year-old locks onto an open societal vein by using his own stories of traveling abroad with a refugee travel document. He revisits his viral run-in with Eric Trump—which resulted from a flight upgrade—saying he couldn't mistake him for anyone else because he had his name on his clothing. "That's what you do to a slow kid in your family when you go to a theme park," Amer quips, before saying he told Trump, "As-Salaam-Alaikum, Eric!"
Amer proves his penchant for nuance and mastery of vernacular in a bit about a Latino gang member who mistook him for being Mexican. A young Amer tells him his name, and the Vato is taken aback, telling his friend, the ubiquitous Hector, "We found your doppelgänger! Te lo juro (I swear)!" Amer jokes that he learned Spanish as an exit strategy; if something goes wrong, he can "jump over that unfinished fence" and "start selling falafel tacos."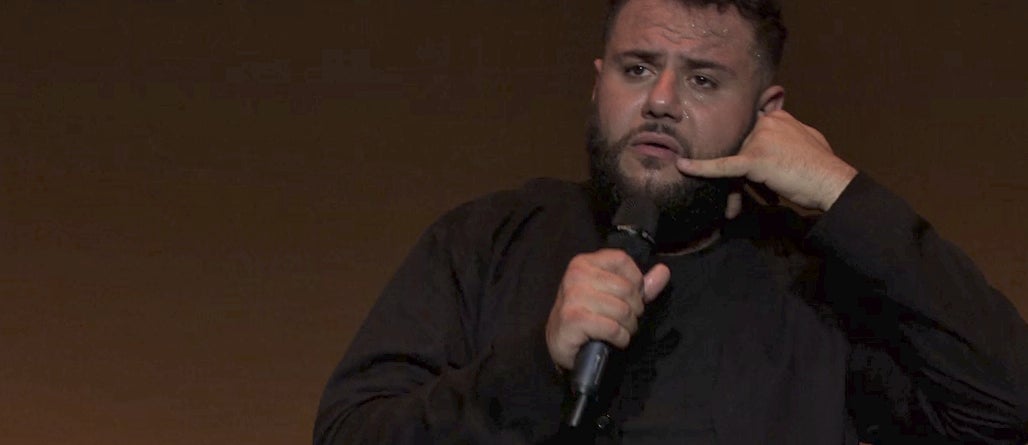 Amer says it took him roughly 20 years to gain U.S. citizenship, and he ended up traveling extensively ("as a refugee free agent") to places where he could get pre-arranged temporary visas. He cleverly ruminates on international/intranational politics with a variety of accents, putting every joke in proper, easy-to-digest contexts. The comedian even dips into his time visiting Kuwait and Iraq as a member of the USO tour.
The special's concluding credits offer several treats for viewers, including footage corroborating a hilarious USO story and something of a theme song featuring rapper Black Thought. Ultimately, The Vagabond features a rising comedian who's put in the work and pulled through the Chappelle finishing school. Mo Amer is ready for the bright lights.
Still not sure what to watch tonight? Here are our guides for the absolute best movies on Netflix, must-see Netflix original series, documentaries, docuseries, and movies.
Need more ideas? Here are our Netflix guides for the best war movies, documentaries, anime, indie flicks, true crime, food shows, LGBT movies, gangster movies, Westerns, film noir, and movies based on true stories streaming right now. There are also sad movies guaranteed to make you cry, weird movies to melt your brain, old movies when you need something classic, and standup specials when you really need to laugh. Or check out Flixable, a search engine for Netflix.