From indie darlings like Little Miss Sunshine to bro-out comedies like Road Trip, we've seen this movie: a group reunites for one last road trip, which becomes an adventure where hijinks ensue and there's inevitable self-discovery and forgiveness. That's pretty much the basic plot of 4L, the latest Spanish film to join Netflix's catalog.
4L
RELEASE DATE:
7/12/2019
DIRECTOR:
Gerardo Olivares
STREAMING:
Netflix
Y'all like road trips?
In the film, alcoholic Tocho (Hovik Keuchkerian) discovers that one of his oldest friends, Joseba (Enrique San Francisco) is dying in Mali. He enlists his fellow old friend Jean Pierre (Jean Reno) and Joseba's estranged daughter Ely (Susana Abaitua) to join him on a road trip from Spain to Mali, through the Sahara Desert, in a Renault 4 car (popularly known as a 4L) owned by Joseba.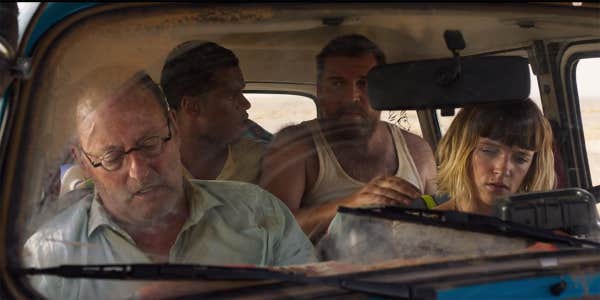 As the three people make their journey, they inevitably run into quite a few issues with both their physical surroundings and with each other. On their route, they fight each other and their inner demons; break down in the Sahara a considerable number of times; come across new friends, bandits, and old enemies; and not everyone in the film survives the journey to Timbuktu. Unfortunately, car trouble and thieves add little to the ride, making 4L just another derivative film about a long drive.
The character development lacks throughout the film, as well, and makes the drama between the main characters feel forced. It's difficult to understand their thought processes at times and why they react the way they do. Tocho, for example, very quickly displays a great deal of animosity toward Ely—after he was the one who invited her to join him. It becomes a half-baked attempt to add more drama to the plot. 
Clocking in at 100 minutes, 4L could be cut down at least 20 minutes if the crew experienced one or two fewer breakdowns in the Sahara. By the time they make it about halfway through the trip, the film begins to drag and feel repetitive. It does, however, wrap up nicely in Timbuktu and doesn't rush through or over-do the conclusion like so many other road trip-centric films.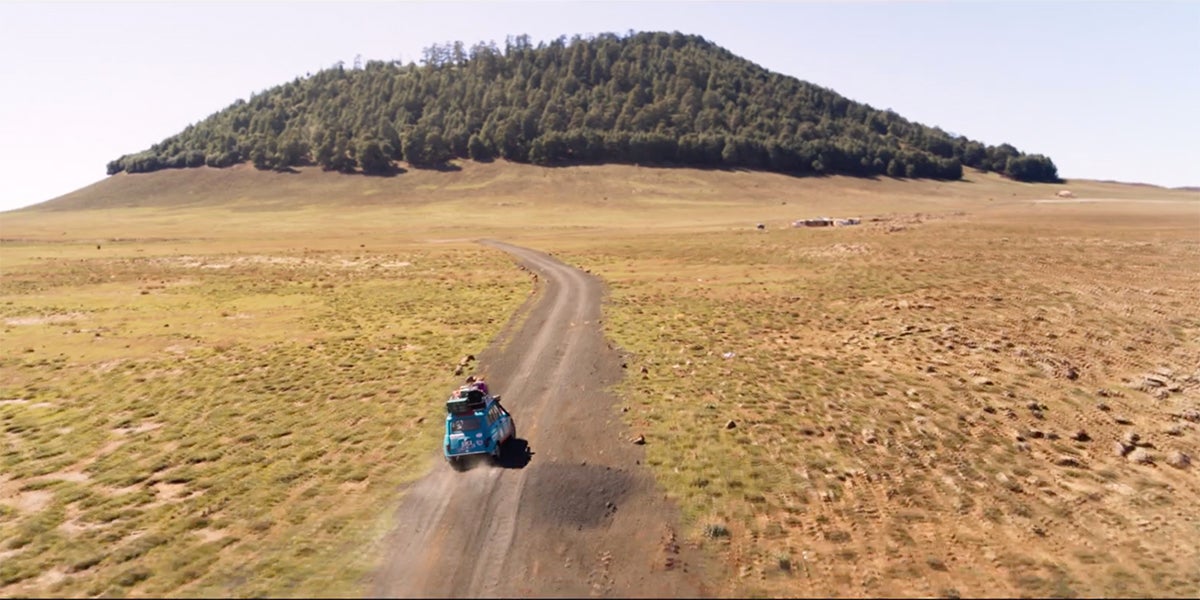 There was one arena in which this road trip stood out: its setting and jaw-dropping views of the Sahara Desert. As the trio and the strangers they pick up along the way go off-road speeding through the Sahara, the film features impressive drone images of the vast desert—which is the largest hot desert in the world, comparable to the size of the United States—and its diverse landscape. Admittedly, however, the route the group supposedly takes is hard to track, since online maps cannot provide a route suitable for driving from Spain to Mali. 
With better character development and more creative plot twists, 4L could've made an invigorating and innovative addition to the road-tripping genre. Instead, viewers might find themselves asking, "Are we there yet?" throughout the film. 
Still not sure what to watch tonight? Here are our guides for the absolute best movies on Netflix, must-see Netflix original series, documentaries, docuseries, and movies.
Looking for something more specific? Here are our Netflix guides for the best war movies, documentaries, anime, indie flicks, true crime, food shows, rom-coms, LGBT movies, alien movies, gangster movies, Westerns, film noir, and movies based on true stories streaming right now. There are also sad movies guaranteed to make you cry, weird movies to melt your brain, old movies when you need something classic, and standup specials when you really need to laugh. Or check out Flixable, a search engine for Netflix.