It's easy to feel like everyone is out for themselves and only themselves, especially the way things have been going lately. Some days it seems like every news story is just yet another indication that there are too many people in the world who don't seem to care if anyone else lives or dies.
Fortunately, there are still plenty of stories to remind us that those jerks, as loud as they may be, are in the minority, and there's still plenty of faith to be had in the whole of humanity.
YouTuber Casey Neistat, who was known for his popular daily vlogs, shared a small moment following a car accident that helped remind him of that very fact, and it's resonating with people across the internet, as we all search for some positivity to brighten up our day.
This morning, Neistat accidentally hit somebody's car while he was parking. He left a note on the windshield offering to pay for the damages.
"Hello. I scratched the hood of your car while parking mine," he wrote. "Please call/text so I can pay for the repair. My sincerest apologies for the trouble."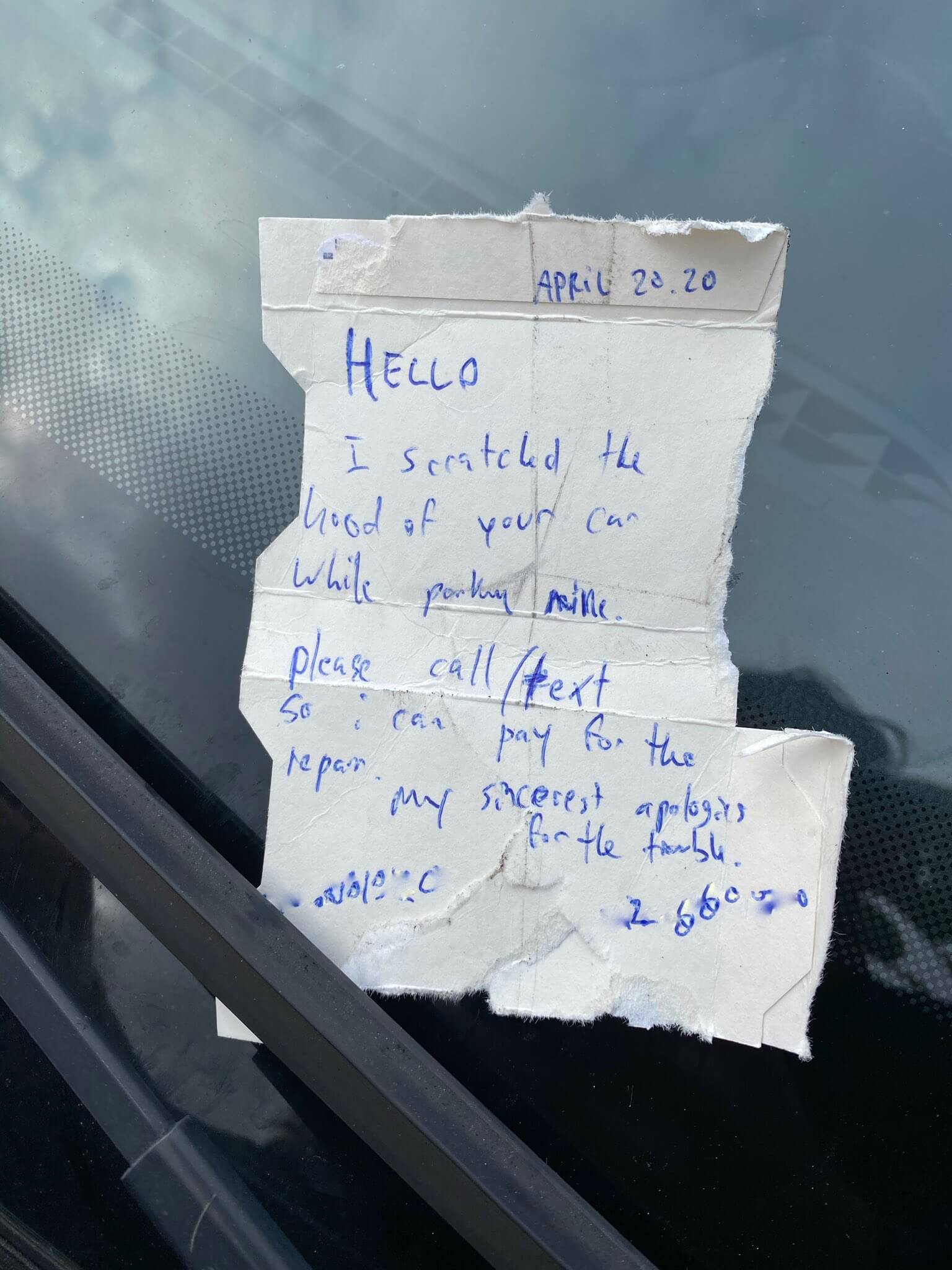 To start with, if you've spent a lot of time parking your car in public spaces in big cities like Los Angeles, you know there's maybe a 50/50 chance that somebody will leave you a note if they scratch your car when you aren't around. So Neistat not slinking away and shirking responsibility is, sadly, in and of itself a pretty good deed.
But things got way more awesome when the driver of the truck got back in touch with him.
"Hey thank you so much for the note," they texted. "Please don't worry about the scratch. Any money you had to put towards my car feel free to please donate to a local Venice food bank. Have a great week!"
Neistat shared on Twitter the whole text exchange between them, which ultimately resulted in him sending a receipt for a $250 donation to the Los Angeles Regional Food Bank in honor of "Mr. Scratched Car" and offering yet again to Venmo the mystery driver, but they declined.
This series of fully positive interactions really struck a chord with folks on Twitter, many of whom are just so rung out by the state of the world right now.
Stories of people being kind always come as a welcome respite from what often seems like a constant barrage of bad news, but to see people prioritizing the needs of their neighbors who are struggling through the coronavirus outbreak is pretty great.
And hey, it certainly isn't every day that a story that begins with a minor car accident eventually turns into a heartwarming tale about people being good.
READ MORE:
H/T BuzzFeed