This article contains spoilers.
The seventh season of Voltron: Legendary Defender debuted on Netflix last week, giving fans plenty to pour over. But one of the show's creative choices has also led to an instant backlash from many of its fans, resulting in accusations of queerbaiting and leaning into overused tropes, explanations, conversations about representation, and an apology from one of the showrunners.
Voltron is a reboot of the '80s children's cartoon, which centers around five pilots, or Paladins, who control five lion mechas that can form a giant mecha known as Voltron to fight against the Galra Empire. With a focus on its characters and serialized storytelling, Netflix's Voltron (which is made by Dreamworks TV) has found an audience in its own right.
It's also a series ripe for shipping—one of the pairings between two of its characters was the most popular ship on Tumblr in 2017 while a second ship made the top 20—something that can sometimes turn contentious among fans. Amid those conversations have been calls for better LGBTQ representation from many Voltron fans, and at San Diego Comic-Con, the showrunners confirmed that one of its main characters was gay. In season 7, the showrunners told the audience, we would meet Adam, the ex-boyfriend of Takashi Shirogane (who's better known as Shiro). The excitement was infectious.
However, that excitement quickly cooled once fans saw season 7 for themselves. Adam only appeared in two episodes. He's in the season 7 premiere, where he and Shiro argue about a mission Shiro is about to go on despite Shiro's illness. Adam gives him an ultimatum, telling Shiro that he won't be around when Shiro gets back if he goes on the mission. He also shows up later in the season when the Galra Empire attacks Earth; like the other pilots in that fight, Adam doesn't make it.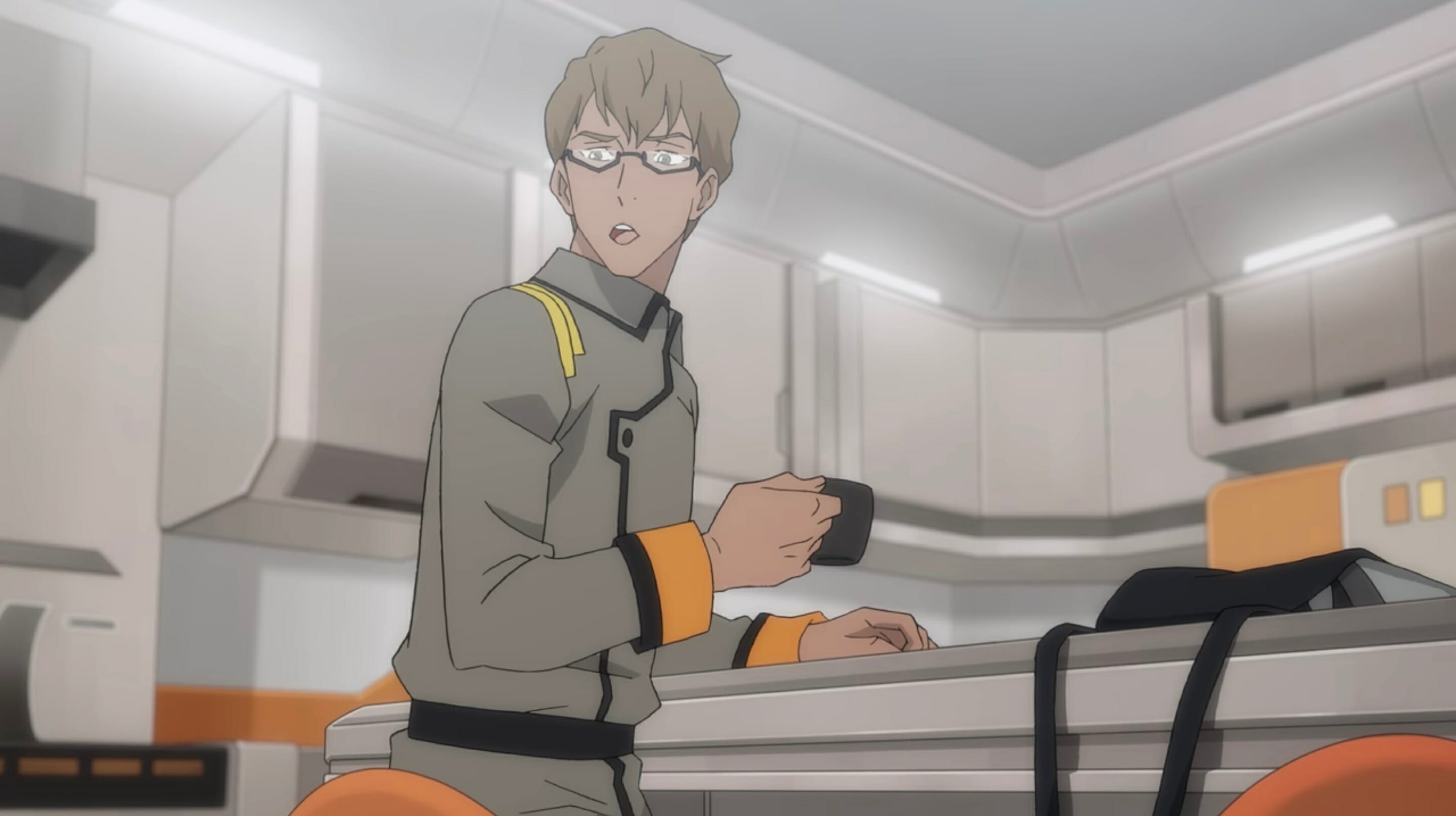 The backlash swiftly followed. Fans called out Executive Producer Joaquim Dos Santos Dos Santos and showrunner Lauren Montgomery for queerbaiting (teasing a same-sex relationship that will never appear on-screen) and playing into the "Bury Your Gays" trope, which won't allow two people in a same-sex relationship to be happy in the rare instance that one is depicted on-screen. That particular trope usually plays out with someone's telegraphed death.
This is vile @Voltron
You cannot use them for advertisement if you didn't do anything with them and they aren't even explicit.
This is queerbaiting. It's cruel and heartless and a disgusting way to treat your LGBT audiences pic.twitter.com/vRnYBKbwmd

— VOTE BERNIE 2020 (@galofotias) August 10, 2018
It spoke to a much bigger problem, one that's existed long before Voltron's reboot debuted.
Animation's representation issues
Adam is far from the first person introduced as one part of a same-sex relationship—in this case, a past one—who was killed soon after. The Bury Your Gays trope has gotten more attention in recent years with the fallout from the death of Lexa on The 100 and the deaths of several other queer characters on TV, which speaks to the larger problem of representation on television: Characters are killed to highlight the stakes, but if leads, which tend to be straight white men, cannot die (or writers choose not to kill those characters), that fate often falls to supporting characters, who are often more diverse.
While that representation on television has improved in recent years (but is still not great), it's even more difficult in animation, which can sometimes have an additional hurdle. Same-sex relationships are either alluded to with the vaguest of subtext or not included so that those shows can air in countries that have strict regulations on what makes it to air or have banned LGBTQ depictions in media. And sometimes, those efforts from creators are thwarted by higher-ups. According to Gravity Falls creator Alex Hirsch, his attempt to feature two older women appearing in love with each other in a background shot (who were both under the effects of a love potion), was removed by Disney, which feared the backlash from conservative parents.
Fans saw that first-hand with the series finale of The Legend of Korra in 2014, which ended on a close-up of Korra and Asami, two of the show's main female characters that formed one of the show's biggest ships, embracing as they prepared to enter the spirit world. The scene, from the music to how the characters were positioned, appeared to signify a Korra and Asami romance. But it remained ambiguous until co-creator Bryan Konietzko confirmed that Korra and Asami were in a relationship on Tumblr a couple days later while noting that he and fellow co-creator Michael Dante DiMartino had the support of Nickelodeon but "there was a limit to how far we could go with it." The Legend of Korra Dark Horse comics, a continuation of the series, was allowed to depict Korra and Asami's new relationship more plainly.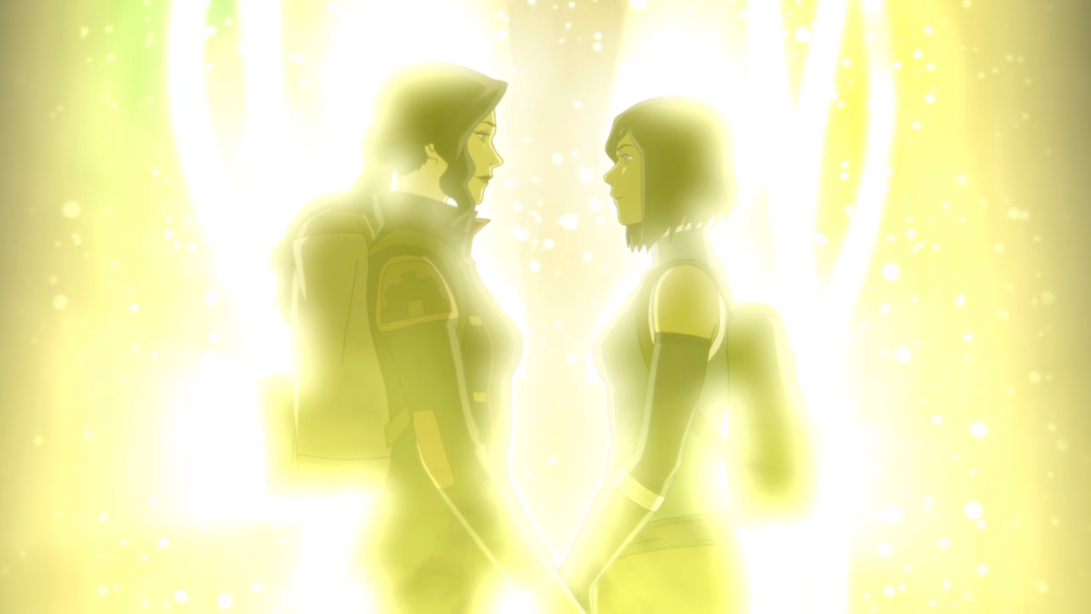 Progress, when it happens, is slow. It took until 2017 for Disney to include a same-sex kiss in one of its animated shows. And it took until July 2018 depict the first same-sex proposal and marriage. The two events occurred on Steven Universe between the gems (who are technically genderless but are voiced by women and are usually identified with female pronouns) Ruby and Sapphire,. It made headlines and was praised by critics and fans alike, but even then, those events were still censored in several countries.
So when Dos Santos and Montgomery revealed at San Diego Comic-Con that Shiro was gay—and previously dated another man—it was a huge deal for many Voltron fans. And according to Josh Keaton, who voices Shiro, it almost didn't happen.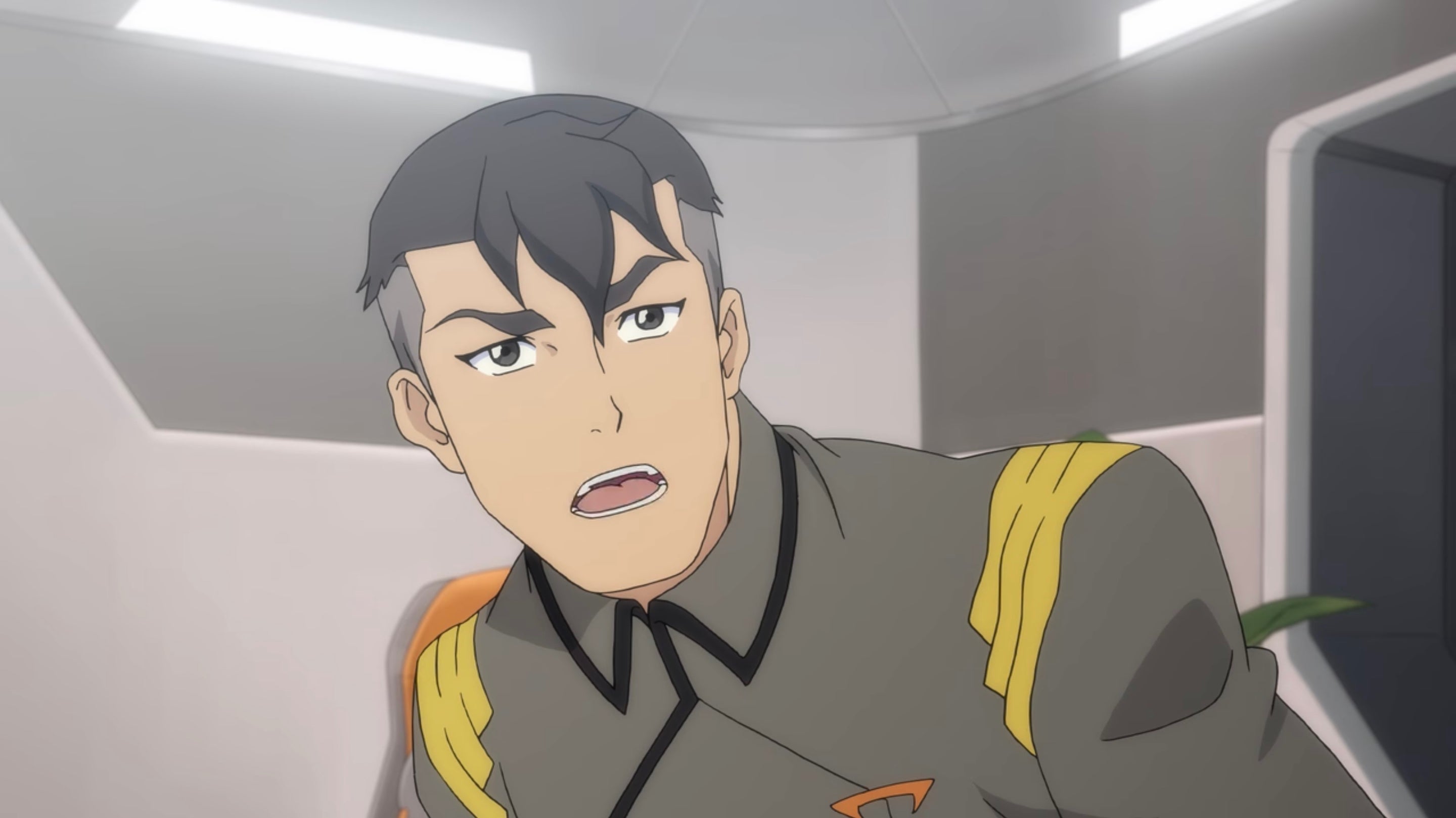 "It was exciting. The idea of having this character, who had been so much to so many people. And none of that was based on his sexual orientation," Montgomery told Hypable in July. "And just to reveal that he is a gay man, and that in no way changes his relationships with any of these people, anything that he's done. Sometimes it's amazing to have the stories where the character is finding themselves, but then it's also incredibly important to have the stories where this character is fully formed, and he's a gay man, and he's doing amazing things. And he's flawed, and he has his own problems. That was why I loved the idea of having Shiro be our representation."
The limits of LGBTQ storytelling
Since Voltron season 7 was released, several interviews with Dos Santos and Montgomery explaining the motives behind the new season have made their way online, which included the show's LGBTQ representation in revealing that Shiro was gay—something they figured out several seasons before viewers saw it—and the decision to kill Adam. But soon, there was a backlash.
Montgomery is aware of the Bury Your Gays trope and held off on revealing Shiro's sexuality when they were considering killing him, a plan the show has since abandoned. But for her and Dos Santos, Adam's death was "something that happened purely because of the story that was built."
"We wanted people to know that there would be a legitimate sense of loss with this invasion," Dos Santos explained to Hypable.
"I think the biggest takeaway for us as far as Adam is concerned is how much he didn't even question going out into that fight," Montgomery told Polygon. "When the call was made that we need to defend Earth, he and the rest of his squadron went out and did exactly what they were gonna do, exactly the same way that Shiro would have done."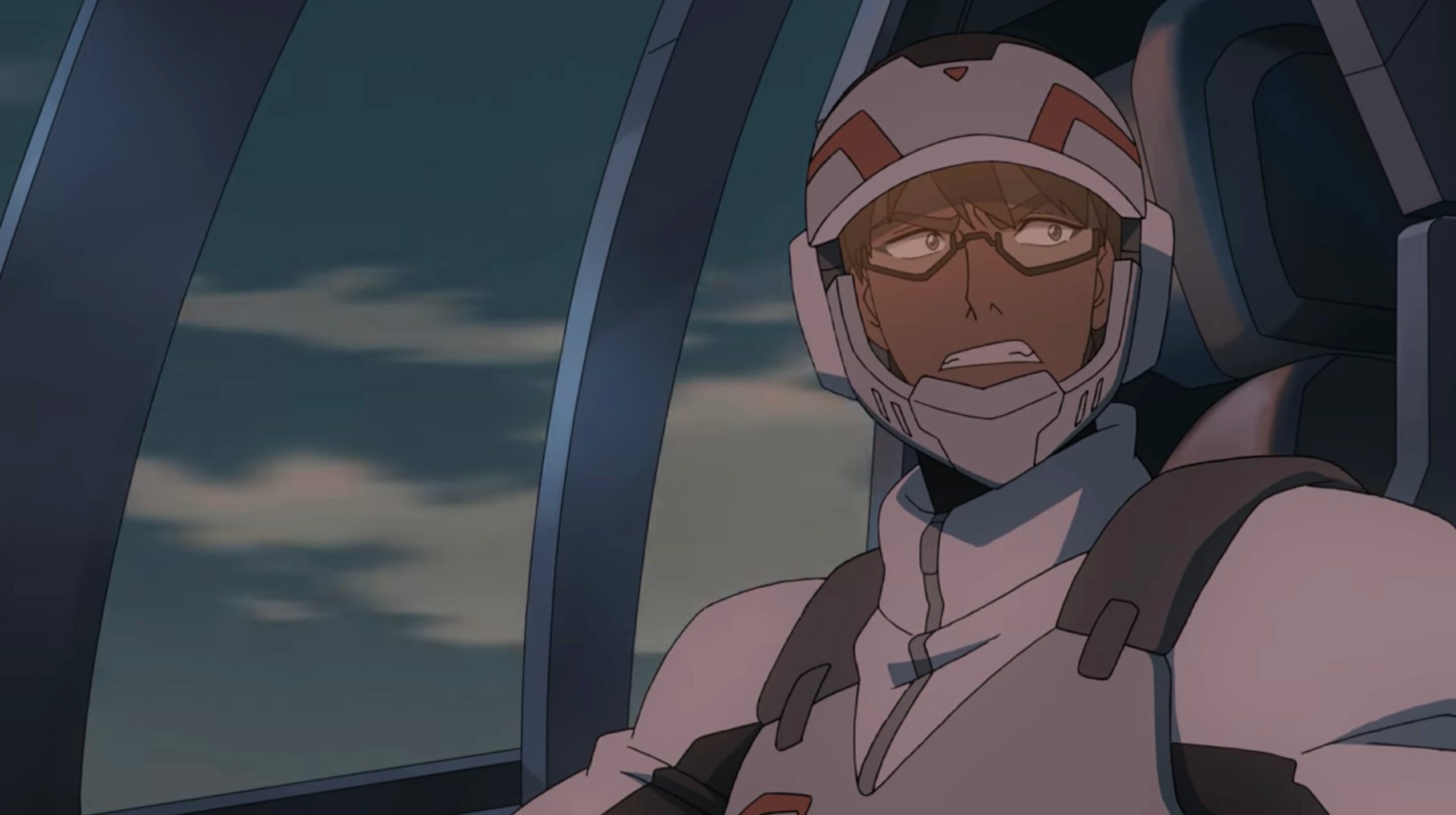 Adam dies during Galra's invasion of Earth as he and his fellow pilots fly out to face the fleet. The showrunners compared his push to head into the fight to Shiro's and pointed to him as a representation of "the loss that our characters feel with what Earth is going through in battling with the Galra."
Within the context of the show, Montgomery and Dos Santos' explanations for how events played out were plausible. But it didn't sit well with some critics, who had hoped that Adam was being introduced to reconcile with Shiro or were tired of seeing yet another LGBTQ character die on-screen.
"Both Montgomery and Dos Santos seem aware of what Shiro means to audiences, and of the trope itself; this is why they decided against killing off Shiro seasons before," the Mary Sue's Kate Gardner wrote. "However, despite their good intentions, it is still hard to reconcile that all the happy, alive couples are heterosexual and the only gay couple ended tragically. It's a harmful narrative and promotes the idea that all LGBT+ stories end tragically."
The frustration comes from the lack of LGBTQ representation on TV (both live-action and animated), but it also stems from the kinds of stories that are often told about LGBTQ characters: tragedies.
After days of receiving comments and complaints from fans, Dos Santos addressed the response to Voltron's seventh season in an open letter posted to Twitter. In it, he discussed the original intents for Adam on the show (he wasn't meant to be a recurring character), apologized for potentially queerbaiting any viewers, and acknowledged his own mistakes in handling the aftermath. But he also called out the fans who harassed the show's cast and crew after Adam's death, noting that "aggressive behavior (verbal or otherwise) is just not doing anyone any good." And as far as romance on the show is concerned, he added that it was only a small part of Voltron is trying to do.
"There is no way for me to take away the hurt some of you have felt with the loss of Adam and from a bigger perspective how we fumbled a potentially larger positive social message," Dos Santos wrote. "What I can say is that we're riding an ever moving, fine line here and trying to navigate as best we can while still moving the conversation forward. We are incredibly proud of the strides we were able to make thus far. The fact that there is a vocal audience demanding for the conversation to be pushed farther and faster is ultimately an incredibly positive thing and a lesson we'll take moving forward."
An open letter to the VLD fandom RE: Season 7. pic.twitter.com/S4Ram1Mxm1

— Joaquim Dos Santos (@JDS_247) August 14, 2018
August 14, 2018
Voltron's eighth and final season is set to drop later this year.