The gameplay trailer for The Last of Us Part 2 made waves when it dropped during E3 not just for its playable female protagonist, but also for the remarkable kiss between its protagonist and another female character. And while the game won't be released for months, fans are already worried about overused tropes surfacing in the game.
Speaking to Waypoint's Danielle Riendeau, Neil Druckmann, the creative director for The Last of Us Part 2 and Halley Gross, who co-wrote the game, discussed the dynamics (and the mechanics) between Ellie and Dina, the two women at the center of the gameplay trailer. But as monumental as their scenes are together in the trailer, Riendeau asked Druckmann and Gross about the concern some fans have about Dina getting fridged (in which a female character is killed off in order to motivate the main—usually male—character).
Druckmann, who tackled the question, remained cryptic in part because giving a straight answer would spoil the story. He did say that the creative team was aware of tropes like fridging when crafting the game, and while they would play against some tropes, they leaned into other tropes. But he also noted that The Last of Us Part 2 is a zombie apocalypse game, one where characters are constantly in danger.
Sometimes we lean into tropes where they're best for the story and sometimes we want to subvert them in interesting ways. So I can tell you, especially with that stuff, there's a lot of conversations about—not only that trope [regarding fridging] but other tropes that come from that kind of relationship.

 

And ultimately what wins out is what's best for the story.

 

So, for example, if we're going to have a lead female gay protagonist in the zombie apocalyptic genre, that means the protagonist will be in really violent situations, both that she's perpetrating and that's done to her. And sometimes there are certain tropes that might have negative connotations, but we just have to own it if that's part of the genre. Again, without spoiling who lives, who survives, because so much of the story is about the stakes of the people you care for.

 

We're aware of it, but we're making the best decisions for the story.
The response from Druckmann is open to interpretation—and the fact that he and his team are aware of tropes like fridging is certainly a step up from the Deadpool 2 screenwriters' apparent lack of awareness on the topic—but it's not leaving fans confident about Dina surviving the game. Even if the game's creative team acknowledges that they may lean into some tropes because of the violent nature of the game, they feel that the tropes are still harmful.
https://twitter.com/lesbiankosm/status/1009944459663020032
If Dina is fridged in The Last Of Us 2 I'm gonna be SO MAD. If you take on the responsibility for creating one of the first queer triple-A protagonists, you really need to be thoughtful in how you handle that. Given the history of fridging… that'd be an offensive move.

— Liam Esler (@liamesler) June 22, 2018
like i get they're not going to spoil the game in an interview like this but when being asked about the bury your gays trope, saying "we've had many discussions about it" and "we may lean into certain tropes if they feel right for the story" is not a reassuring answer

— Bobby Schroeder (@ponettplus) June 22, 2018
On top of fridging, Dina's potential death would also play into "Bury Your Gays," another trope where queer characters are often killed instead of being allowed to be happy or in relationships. (It's also called Dead Lesbian Syndrome.) It's made a resurgence—and a controversial one at that—in media recent years as more LGBTQ characters are included in film, TV, and even video games. It's not necessarily something that creators purposely mean to do, but it's a byproduct of the sometimes non-inclusive fictional worlds they've created.
They want to enforce the idea that anyone can be killed, but because they often can't kill their main character (usually a straight white man), they're left with killing off their supporting characters, who are often women, people of color, and LGBTQ. (This rule doesn't seem to apply if your lead is a woman.)
Because there's some speculation about how Joel—the main playable character from The Last of Us who took Ellie under his wing—will appear in The Last of Us Part 2, Dina is the other main character she cares about that she could lose. It would also play into two problematic tropes at once.
On top of Druckmann's comments, in the trailer, another detail could hint at Dina's demise—or possibly a couple of different outcomes. As Dina and Ellie dance, you can see a bracelet worn by Dina on her right wrist. But when it cuts to Ellie slashing a zombie's throat, she's now wearing the bracelet.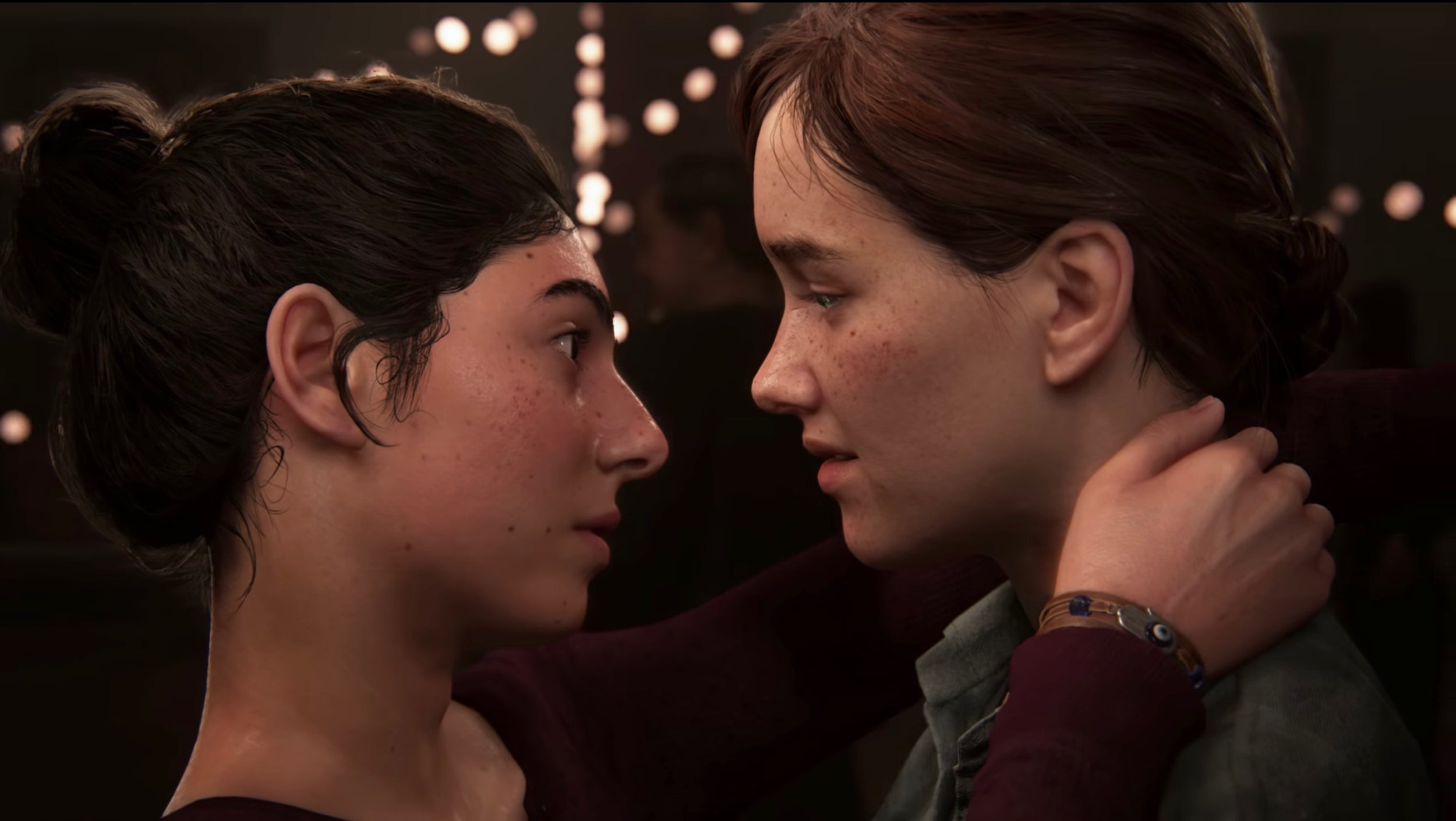 We don't know how Ellie got the bracelet, so the possibilities both support and disprove theories that Dina will die. It could be as innocent as a gift Ellie receives after their kiss, but it could also be one last memento Ellie holds onto after losing the woman she's "had a crush on for years."
But as Druckmann noted, "so much of the story is about the stakes of the people you care for," so even if Dina isn't killed to motivate Ellie, she probably still isn't safe. If Dina lives, it will still likely be nerve-wracking as the threat of death looms over her for much of the game.
We won't truly know about how it plays out until the game is released, but for some fans, that possibility of those tropes surfacing might be enough to turn them away.
H/T Waypoint