On Friday, it was announced that new downloads of WeChat and TikTok will be prohibited after Sunday, Sept. 20. That doesn't mean the app is actually banned yet, but #tiktokban still trended, and so did Flappy Bird.
By taking TikTok out of the App Store, that means existing users won't get new updates, which improve security—the very thing Trump alleged this "ban" was about. But the looming disappearance of the app brought back memories of Flappy Bird, the addictive mobile game that was removed from the App Store by its creator in 2014. In its wake, phones including Flappy Bird were allegedly sold on eBay.
Is that where we're going with TikTok?

Again, if you have TikTok on your phone already, this won't be an issue, but others pointed out the cognitive dissonance of Trump trying to control TikTok when Facebook is much more egregious with its data harvesting.
And, you know, there's also a nationwide pandemic to worry about.
Others made jokes about teens in "collab" houses having to move back in with their parents, or get a job at McDonald's, which is currently selling Travis Scott meals, though many of those creators already have connections in Hollywood or brand deals.
Of course, as several security advocates advised, a Virtual Private Network (VPN) might help.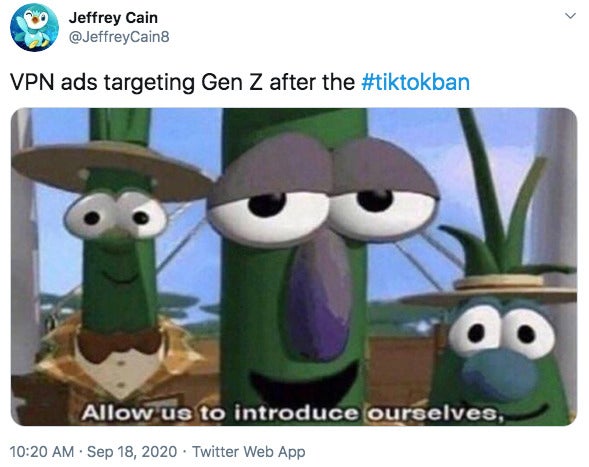 Earlier this week, Oracle announced it's the "trusted technology partner" of TikTok in the U.S., but no one really know what the means either. If Oracle purchases TikTok, then downloads will ostensibly be allowed to resume. Still, as usual, Trump's interference made everything way more confusing. And others pointed out why we might be in this mess in the first place.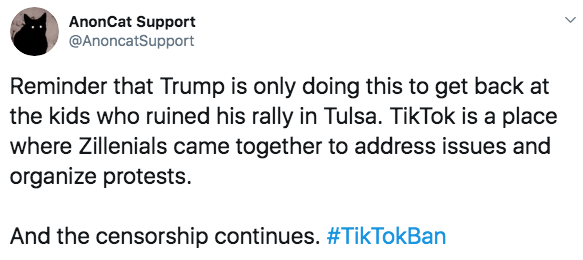 And then, there was the recurring plea: Bring back Vine.