Warning: This article contains extensive spoilers and speculation of events that may occur in Game of Thrones' seventh season.
Like Daenerys Targaryen's plan to cross the Narrow Sea and conquer Westeros, Game of Thrones is now in uncharted waters.
With a shorter seven-episode count for season 7 (and one fewer for season 8), Game of Thrones has started to gear toward wrap-up mode. While season 6 had a few lingering threads left to tackle from George R.R. Martin's A Song of Ice and Fire series, season 7 is a complete mystery. We don't have a major cliffhanger to debate like we did after Jon Snow's death at the end of season 5. It was a series of setups moving the major players into place for what happens next. Jon is the King in the North, Cersei Lannister is on the Iron Throne, and Daenerys sailing across the Narrow Sea.
So what is next? HBO and Game of Thrones are notoriously tight-lipped during the off-season, so we probably won't get too many announcements until closer to the season. That time is quickly arriving.
Today, Game of Thrones finally dropped the first full trailer for season 7, which sets up the major players onto the main stage.
With Cersei in King's Landing, Daenerys in Dragonstone, and Jon in Winterfell—each of them with soldiers at their command—they are ready to face the imminent threats at hand, including each other. Other characters (and dragons) are still on the board, and there's still the looming threat of the White Walkers beyond the Wall. There's no way this will end peacefully.
As Jon Snow puts it, "The Great War is here."
As fans have seen in previous years, there's still plenty to pick apart and analyze from small nuggets slipping out from the Game of Thrones set. On those, we can begin to piece together what to expect for the season ahead.
Game of Thrones season 7 release date
Game of Thrones season 7 will premiere on July 16, 2017.
The great war is here. #GoTS7 premieres 7.16. pic.twitter.com/1Jna10kNuQ

— Game of Thrones (@GameOfThrones) March 9, 2017
Game of Thrones season 7 trailer and photos
HBO finally debuted a trailer for Game of Thrones on May 24. You can see it above.
Entertainment Weekly also gave fans a first look at Drogon, who's grown even more since we last saw him and is now the size of a 747.
New photos from #GameofThrones are here, with new looks at Brienne, Jon, and Drogon–all grown up: https://t.co/WIIhC9wlb8 #GoTs7 pic.twitter.com/YazyP1FZa0

— Entertainment Weekly (@EW) May 22, 2017
HBO released a number of teasers running up to the trailer debut, including this one featuring the Night King.
#GoTS7 begins 7.16 on @HBO. #GameofThrones pic.twitter.com/N3L2HJuEnZ

— Game of Thrones (@GameOfThrones) May 23, 2017
And this one with Jon, Sansa, and Arya.
On March 7, HBO release its first poster for season 7 to EW. The poster doesn't give anything away, because it's basically just a picture of ice and fire, but it is meant to symbolize the clash coming this season.
Get a load of the first official teaser poster for #GameofThrones season 7! https://t.co/J3SWeRRGzi pic.twitter.com/padYij5e7N

— Winter is Coming (@WiCnet) March 9, 2017
On April 20, HBO released 15 new photos offering fans a close-up look at season 7. The photos offer familiar shots such as Daenerys with her council, Cersei on the Iron Throne, Lyanna Mormont speaking to a crowd, and Meera Reed pulling Bran in the snow. We're offered close-up shots of new costumes (many ready to withstand winter) and potential new locations. A photo of Brienne of Tarth and Tormund Giantsbane is sure to make those who enjoyed their brief interactions last season happy, and a shot of Samwell Tarly and Gilly who appear to be studying up at the Citadel.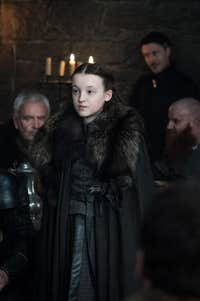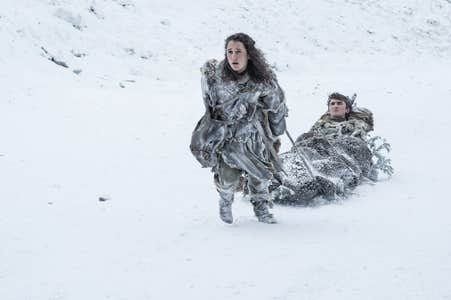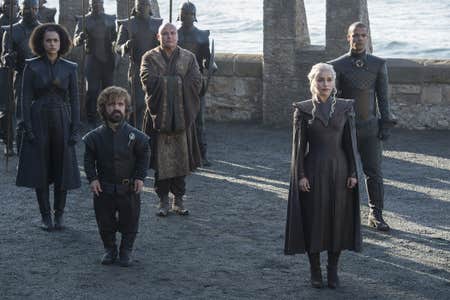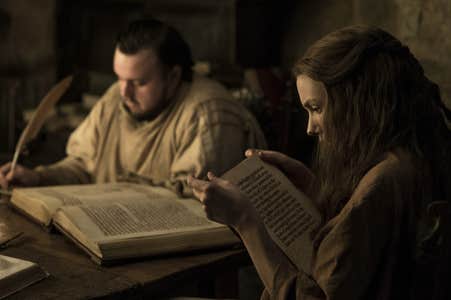 Reddit spoilers
A similar leak occurred before season 6 that later turned out to be inaccurate, so 
some fans started doubting the contents
 of this leak, and guessed it might be a combination of information that emerged set reports and wish fulfillment. For now, we can take these leaks with a grain of salt.
Samwell Tarly and Gilly discover proof that Rhaegar Targaryen and Lyanna Stark married in secret (after he annulled his first marriage), and Jon's true name is "Aegon."
Sansa and Arya will reunite, but not without some tricks from Littlefinger, who tries to pin the estranged sisters against each other.
One of Daenerys' dragons will die and will be resurrected by the Night King.
Confirmed locations and directors 
While most of Game of Thrones is being kept under wraps, the show shared a handy guide in December 2016 for fans looking for officially released information about what they need to know. It shared some of the countries—and in Spain's case, cities—that will stand in for Westeros and Essos.
Also included are the official list of directors. Some fans have been able to discern who's directing what from on-set sightings, but Game of Thrones has yet to commit which directors are taking on which episodes.
Alan Taylor
Mark Mylod
Jeremy Podeswa
Mat Shakman
While filming appears to be ongoing as of early February, Emilia Clarke who plays Daenerys Targaryen, announced she was finishing up her scenes Feb. 3 with a fun lip sync video.
Confirmed appearances
Jim Broadbent was cast in August 2016 for what is being called a "significant" role. Howland Reed, Archmaester Marwyn, and Archmaester Walgrave were immediately thrown out as possibilities for his character, but in a March 7 interview Broadbent revealed he would indeed be an archmaester, and he filmed alongside Samwell Tarly (likely at the Citadel in Oldtown). That certainly narrows the possibilities, as does the additional tidbit that he's in five episodes, making Broadbent's character much more than a passing cameo.
UFC star Conor McGregor was rumored to be cast in a cameo role, but he has since denied it. Reports that the band Bastille will fulfill Game of Thrones' tradition of featuring musicians in minor roles surfaced after being spotted on set, but members called their appearance a "studio tour" but added "we'll see." Another musician claimed to have made an important appearance on the show (potential spoiler at the link), but it seems unlikely. Freddie Stroma, who showed up as Sam's younger brother Dickon last season, is being recast due to scheduling. And according to David Bradley's official résumé, he'll be back for season 7 despite Walder Frey meeting a gruesome death at the end of season 6. (For the record, he is definitely dead.) Question is, will he be a corpse, appear in a flashback, or be part of Arya Stark's rotating collection of faces?
At a panel March 12 at SXSW, showrunner Benioff revealed that Ed Sheeran would appear in a cameo role. He joked that he tried to get the singer on the show for years to surprise Maisie Williams, who is a fan.
New York Mets pitcher (and Game of Thrones fan) Noah Syndergaard revealed in early March that he filmed a cameo for the show in November, shortly after the Mets had been eliminated from the playoffs.
Prediction: Gendry returns
In later seasons of Game of Thrones, we've seen many characters like the Hound and Benjen Stark make their triumphant return to Westeros after being out of the spotlight or missing for years. With few characters still waiting in the wings, Game of Thrones is finally letting us know the answer to one of the show's lingering: Where the hell is Gendry?
Last seen escaping Dragonstone at the end of season 3 so Melisandre couldn't sacrifice him to R'hllor, it's been a long time since we've gotten any word on Robert Baratheon's bastard son. The Game of Thrones showrunners have even joked that Gendry's "still rowing." But now the actor who plays Gendry, Joe Dempsie, was spotted on set in October. Last year we had #KitHaringtonHairWatch. This year it's #GendryWatch.
Gendry has returned, not just to the show but to Dragonstone as well. Further set reports indicate that Gendry might end up being a bigger part of the action than we may have thought as he heads far north.
Spoiler: Jon Snow meets Daenerys Targaryen
After six seasons of dancing around each other, two dragons will finally meet.
First reported back in October, both Kit Harington and Emilia Clarke were spotted filming together along with many of their allies helping out or watching from afar. We don't hear what they say—and we don't even know if this is the exact moment they meet or if that occurs in a different scene—but finally, Jon and Dany are together!
We also don't know the motivation behind such a meeting, which appeared to take place in Dragonstone. Has Jon sought Dany out because he learned of the dragonglass located on Dragonstone that's vital to killing White Walkers? Or has Dany reached out to the lords of Westeros in hopes that some of them may join her cause? And can Jon convince her of the bigger threats looming north of the Wall? Luckily Tyrion, who Jon last saw in season 1, might be able to ease any tensions that arise.
At the end of season 6, Jon doesn't know the truth about his parents, and Dany has no reason to think that Jon might be her only other living relative. (So far, the show hasn't introduced the idea that Rhaegar Targaryen's second child with Elia Martell, Aegon, may not have died at the hands of the Mountain.) Would the show have Jon and Dany get together in an accidental case of incest?
Prediction: Reunions and new alliances
Set photos have also shown that more Starks may reunite this season after Harington, Maisie Williams (Arya), and Isaac Hempstead-Wright (Bran) were seen at Game of Thrones' home base in Belfast. It's not clear if they're all shooting together on those particular days, but it's certainly possible. We know that Bran is heading south, and with Arya back in Westeros, she might head north after hearing her family took back their keep—if she's not too busy dealing out revenge to everyone on her list, that is.
Williams was also spotted filming in Canada in February, which (along with Instagram posts from a company that has trained wolves that appeared in the show) has sparked speculation that another major Stark reunion could happen next season. Arya hasn't seen her direwolf, Nymeria—the only surviving Stark direwolf aside from Jon's Ghost—since Game of Thrones' second episode, but that could change next season.
As for Ser Jorah Mormont? The greyscale-stricken and exiled knight was sent off to find a cure for his fatal disease last season, and it turns out he might have done so, given that Dany and Jorah may finally reunite. How does he do that? We suspect he might run into a maester-in-training in Oldtown.
Over in King's Landing, Cersei isn't winning any popularity contests after destroying half of King's Landing and basically ending the Tyrell line with wildfire last season. But with Dany, who already has Dorne, Olenna Tyrell, and Theon and Yara Greyjoy on her side, coming for the throne, who can Cersei turn to?
She'll have what Lannisters remain and thousands who are sworn to her as the wearer of the crown. But she might also make a major alliance in Euron Greyjoy, who will have extra reason to shut Dany down after his niece and nephew ran away with the Iron Islands' best ships. One report indicates that Braavosi banker Tycho Nestoris will visit Cersei to collect the money the Iron Bank is owed, but how she handles it could change everything.
What's next with the White Walkers
While the kings, queens, and small folk of Westeros will continue to fight tooth and nail for control of the Seven Kingdoms, the White Walkers remain a threat. They were able to break through the Three-Eyed Raven's magic after the Night King touched Bran in a vision (and later track him down). We're less and less confident in the magic that has kept the Wall standing for thousands of years.
Jon, the Night's Watch, and the wildlings know the true threat that lies beyond the Wall. The problem is convincing everyone else.
A major part of the cast was spotted filming in what looked like a dragonpit a few months back for a big sequence, and though not everyone will probably survive, the scene will serve another purpose. If Jon and company can't get people to believe their words, they could possibly bring proof in the form of a wight.
Will it work, and will any of this pan out? We'll have to find out when Game of Thrones returns this summer.