John Wick is evolving into one of Hollywood's best fantasy franchises. Yes, fantasy. Governed by arcane rules and rituals, its characters live in a parallel world as strange as Harry Potter's. By the time we reach Chapter 3 – Parabellum, John Wick (Keanu Reeves) has become a mythic hero whose life is shaped by duty like a chivalric knight, accepting new quests on bended knee. Seemingly invisible to nearby civilians, his theatrical fights take on an increasingly surreal quality. Yet despite all this elaborate worldbuilding, these movies still haven't jumped the shark. Parabellum is as mesmerizing as its predecessors, offering gorgeously shot hyperviolence and some glorious new supporting characters.
John Wick 3
RELEASE DATE: 5/17/2019
DIRECTOR: Chad Stahelski
Keanu Reeves' spellbinding third outing ups the ante, improves on the design, and builds out the John Wick cinematic universe.
Beginning straight after Chapter 2, John Wick is beaten, bloodied, and running for his life. After breaking the cardinal rule of his shadowy world—don't kill anyone in the Continental Hotel—his life is forfeited, inviting a free-for-all for the $14 million bounty on his head. No longer helped by allies like the Bowery King (Laurence Fishburne) or Winston the hotel manager (Ian McShane), he must flee a horde of assassins led by the amusingly silly-yet-lethal Zero (martial arts star Mark Dacascos).
As well as secretly being a fantasy franchise, John Wick takes cues from video games—far more intelligently than most actual video game adaptations. Parabellum is structured like a first-person shooter, with extended periods of violence interspersed with cut scenes: Brief moments of static exposition that direct Wick toward his next fight. Side characters are basically non-playable characters—either enemies and allies whose goals temporarily intersect with Wick's, or nameless goons whose job is to be efficiently murdered by our hero. And, of course, it all culminates in an epic boss battle.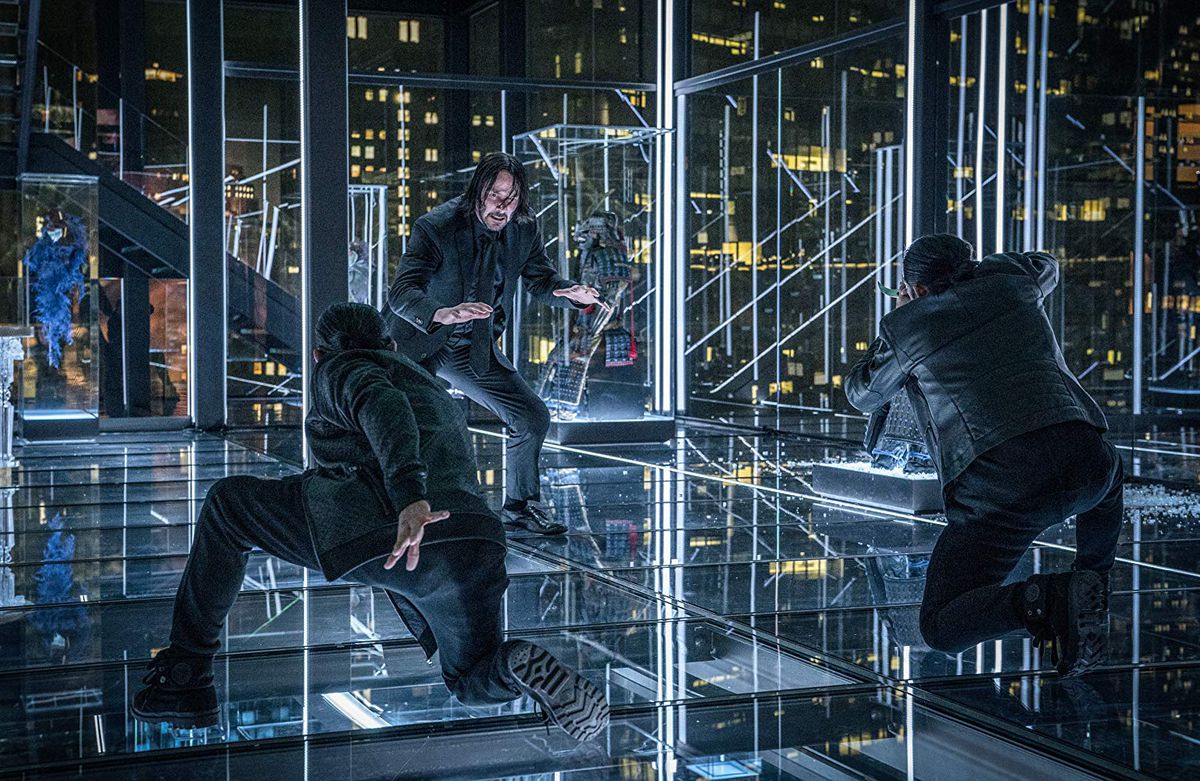 In the five years since the first film, John Wick has set a new standard for American action cinema. Directed by Chad Stahelski and written by Derek Kolstad (this time accompanied by co-writers Shay Hatten, Chris Collins and Marc Abrams), John Wick's brand is all about real, exquisitely crafted stunts filmed in a way that lets the audience see what's actually happening. This sounds like a simple formula, but other filmmakers are finding it hard to replicate. We've seen critical flops that tried to market their violence as similar to Wick's (Proud Mary; Peppermint) or tried to copy Wick's aesthetic (Hotel Artemis; Polar), yet the John Wick brand still reigns supreme.
Parabellum's fight scenes are both shocking and hypnotically beautiful to watch, combining total brutality with Reeves' sinuous grace. It's been deeply satisfying to see Reeves develop this now-iconic role, a character who barely speaks yet somehow stands out from Hollywood's many laconic action heroes. Wick's unrelenting talent for survival is his defining trait, moving in a straight line toward his goal while other characters trip over their own complicated motives.
Wick's simplicity shines through in his appearance, wearing a minimalist black suit while surrounded by eccentric figures in ostentatious costumes. Parabellum's new additions are Wick's counterpart Sofia (Halle Berry), the High Table's Adjudicator (Asia Kate Dillon), and the marvelous Anjelica Huston as someone from Wick's past. (Three films in, we now know three things about Wick: He's an assassin, he was once married, and then one final detail we learn from Huston. This feels like a perfect amount of information for John Wick's pared-down storytelling.)
Berry's Sofia is a great example of how Parabellum ups the ante without going completely overboard—a common problem for action franchises, although Fast and Furious somehow makes it work. Parabellum's plot is as simple as the first two, and while its action scenes are more ambitious, they're still relatively grounded. The film's most significant upgrades involve expanding the cast and worldbuilding, with Wick embarking on a side-quest in Morocco.
There we meet Sofia, a role that required Berry to do extensive combat training alongside a pair of dogs. Yes, John Wick found a way to weaponize man's best friend. Although my favorite animal-related scene may be when Wick fights alongside some horses, offering this entertaining trifecta: Reeves riding a horse (thank you), Reeves using a horse as a murder weapon (naturally), and the aforementioned horses remaining calm in the midst of a gunfight (further proof that John Wick takes place in a fantasy universe.)
In a film whose dialogue mostly focuses on explaining the rules of engagement, much of the characterization is transmitted through combat style and costume. And those endless fight scenes hold our attention partly thanks to the film's exquisite production design, from the signature look of neon light reflecting off Wick's black suit to opulent locations like the Continental. These movies are as much for fans of bold lighting and fabric textures as they are for fans of action cinema.
I'd argue that Parabellum's design team of Luca Mosca (costume) and Kevin Kavanaugh (production design) are just as important as its fight choreographers. Along with the practical fact that its fight scenes thrive on the imaginative use of props and locations, John Wick's visual flair sets it apart from most mainstream action movies. Every location is a palace of vibrant color and reflective surfaces, from a brawl among luminous glass cases to the ornate theater where we meet Huston. It's not hard to copy John Wick's neon poster style, but the films themselves are far more visually complex, with layer upon layer of lighting for scenes that supposedly take place "in the dark." All this dazzling beauty serves a secondary purpose during exposition scenes, which might be dull if not for the feast of costumes and interesting locations to keep the eye busy.
Building on the strengths of the first two movies, John Wick: Chapter 3 – Parabellum is a gripping and often slyly funny visual spectacle. Reeves deserves his crown as the reigning king of American action cinema.
READ MORE:
Want more reviews and interviews from Gavia Baker-Whitelaw? Sign up here to receive her biweekly geek culture newsletter.