The "is this a pigeon?" image, which shows an anime character trying to identify a butterfly, has become a huge meme in the last week. It's an object-labeling meme, like Distracted Boyfriend, that people are editing to make references to pop culture and internet jokes. The butterfly meme is also being used as a way to express a hot take or an opinion.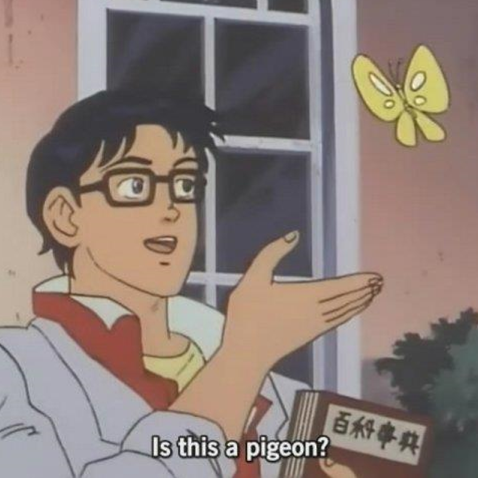 For those unaware, the "is this a pigeon?" line is real. The screenshot that the internet is sharing comes from the anime The Brave Fighter of Sun Fighbird. In the "pigeon" scene, an android character is trying to learn about the world and earnestly asks if a butterfly is a pigeon. Using this scene as a meme is a slam-dunk since everyone can think of a community or a person who misidentifies something. The meme first appeared on the internet in 2011, but people on Twitter started sharing it again a couple of months ago. In early May, the meme peaked and we saw dozens of versions of it, sometimes with the butterfly and sometimes with different objects in its place.
Like Distracted Boyfriend, the butterfly meme works best when it references a very specific community or topic. The latest popular versions of the meme are altered to take those references one step further.
Here is the butterfly meme combined with the "this is fine" meme:
May 9, 2018
Here's the meme edited to reference the "Is this your king?" meme:
no regrets pic.twitter.com/8KcIkROzUW

— Wynton Redmond (@wyntonred) May 10, 2018
Here's a Macbeth version of the meme:
May 15, 2018
And here's the butterfly meme remixed with New Yorker mascot Eustace Tilley, who usually is shown examining a butterfly with a monocle. Here, he is drawn holding a hand up to the butterfly. "Is this a New Yorker cartoon?" the caption reads. (To make this meme even more meta, it was created by New Yorker cartoonist Jason Adam Katzenstein.)
May 14, 2018
Edited memes aren't new, but they are appearing more frequently on Twitter this year. It makes sense. Once a meme blows up on social sites, people grow tired of seeing the same image over and over again. There is an inclination, especially for those of us who are extremely online, to create an entirely new version of a meme. Or to put a meme inside of a meme.
READ MORE:
Distracted Boyfriend—probably the last image meme to become as big as the butterfly meme is right now—also saw many revisions to the original stock photo, which depicts a man checking out another woman while walking down the street with his girlfriend. There was a Distracted Boyfriend meme set in the Matrix. There was a Distracted Boyfriend meme set in Wakanda. And there was an 18th-century painting that looked eerily similar to the Distracted Boyfriend meme. The meme originally went viral in August, but new versions of the Distracted Boyfriend continue to rack up thousands of reactions on Twitter and Tumblr. Does this mean that the butterfly meme will also have a long meme lifespan? The internet's attention span is erratic, so we can't say for sure. But it looks like the butterfly meme will be around for at least a couple of months.
am i getting this right? pic.twitter.com/9BMDWsNdLc

— Noah Ratcliff is not going to GDC today (@20c109) May 7, 2018
https://twitter.com/rfetts/status/994780011356983296
May 11, 2018
Is this a this pic.twitter.com/AJepbfNt3T

— Surreal Memes Bot (@MemesSurreal) May 14, 2018
Or until we find a new meme.
May 9, 2018