If you know anything at all about honey badgers, it's likely due to the 2011 viral video "The Crazy Nastyass Honey Badger." That means you already know that the honey badger don't care, don't give a damn, and most certainly don't give a shit.
But what you really know about the original National Geographic video or the man who made it go viral?
16 interesting facts about the Honey Badger meme
1) It's Christopher Gordon, not "Randall" 
In early 2011, Christopher Gordon, who goes by the alias Randall, posted "The Crazy Nastyass Honey Badger" in which he added extremely sassy commentary over a 2007 National Geographic special, spawning the memorable line "Honey badger don't care" among others. The video garnered 26 million views that year alone and almost certainly remains the first thing to pop into your mind whenever someone mentions a honey badger in any context.
2) And he does give a damn about intellectual property
Even in the early 2010s, the idea of your average YouTube user being business savvy enough to trademark a catchphrase was inconceivable to big business. So a popular meme came along and companies figured they could cash in on some poor sap bestowing a lucrative property on the populace. Except… Gordon actually did trademark "Honey Badger Don't Care," which retailers used on clothes, apparel, and novelty items. Gordon filed suits against Hot Topic, Walmart, Target, Kohl's, Bed, Bath & Beyond, all of which settled out of court with the creator of the honey badger meme. Gordon naturally made a bit of money off his creation in other ways, but that's not a bad method for bumping that figure up even further.

READ MORE:
In fact, according to Motherboard, Gordon has been involved in more than 10 lawsuits aimed at protecting his intellectual property, including one against a greeting card company that claims it didn't violate his trademark because it used "honey badger doesn't give a sh*t" instead of the copyrighted "honey badger don't care."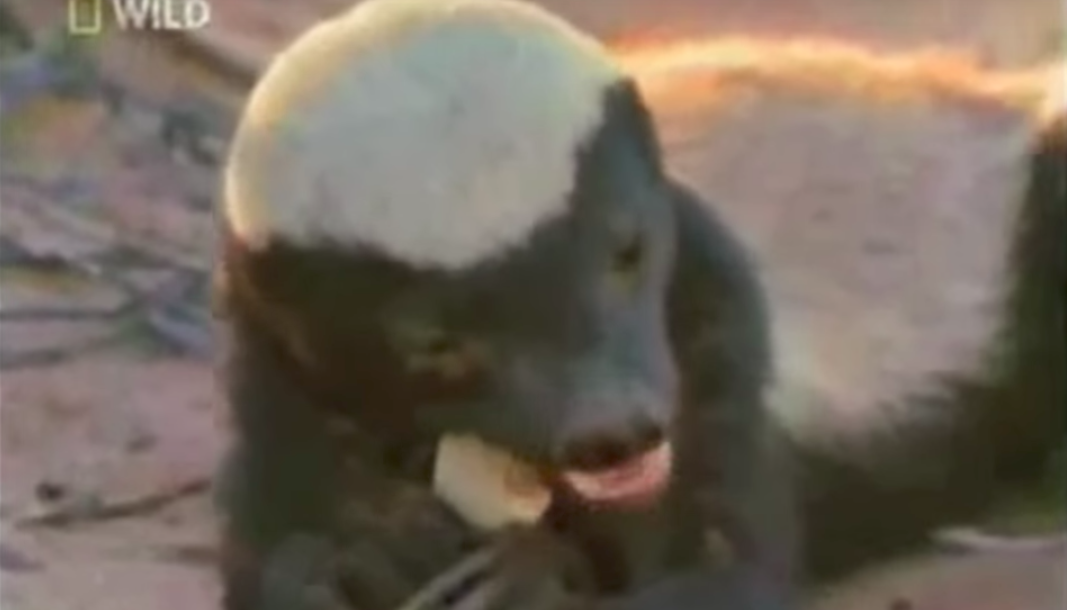 In August 2012, Randall performed on the popular game show, not as a contestant but as a special guest, doing a live overdub of clips of judges "Howard Badger, and Howie Mandrill, and Sharon Ostrich!" It was weird.
In January 2012, the Hollywood Reporter reported that Randall was set to star in an animation/live-action comedy program by a Canadian production company. It was tentatively titled "Honey Badger U" and apparently featured an animated version of Randall teaching at a university for misfits. Sadly, it appears as though it was never picked up.
5) The Honey Badger meme was quite popular among athletes
Something about the honey badger meme really resonated with the sports community. After all, the theme of the honey badger doing whatever it wants despite others trying to stop it should make sense to athletes. That seems like an integral attitude when it comes to sports success.
The most prominent influence is the nickname given to LSU defensive back Tyrann Mathieu, who was reportedly shown the viral video by a coach not long after it took off as a meme, and he apparently laughed so hard he started crying.
The honey badger was synonymous with Mathieu for several years, though so was trouble off the field. In 2013, after being drafted by the Arizona Cardinals, Mathieu decided to distance himself from the nickname, as a means of giving himself a fresh start in the NFL after being dogged by failed drug tests and an arrest for marijuana possession. In the years since, Mathieu has occasionally discussed bringing the honey badger persona back, because not caring is good for business on the field, it seems.
6) Sports coaches loved it, too.
Mathieu wasn't the only one to reference the honey badger. Following a decisive win over the Pittsburgh Steelers on Monday Night Football in late 2011, then-San Francisco 49ers head coach Jim Harbaugh shouted out references to the honey badger meme in the locker room to members of his team in celebration. "Honey badger don't care about no lights," he said to his team, which might be true.
7) As do NASCAR drivers
In early 2012, prior to joining the Sprint Cup at the Daytona 500, racer Danica Patrick likened her upcoming debut to how the honey badger wreaks devastation. "And the honey badger, it was last year, I think, somebody showed me this video of the honey badger, and the commentator on it was very, very funny," Patrick said. "Anyway, the honey badger, he doesn't give a crap, he takes what he wants. And that's how I'm going to be this year, like a honey badger." For what it's worth, she finished 38th in that race.
8) A sporting team chose the honey badger for its mascot
When the Laredo, Texas, indoor soccer team launched in 2013, it was originally the Texas Diesel, a reference to the state's oil culture. But in a move to garner buzz, the team, which was supposed to play in the Professional Arena Soccer League, changed its name to the Honey Badgers. The soccer honey badgers, however, didn't have the same determination as their namesake and folded before ever playing a game.
9) The Johannesburg Zoo had a tweeting honey badger
BG, the honey badger at the Johannesburg Zoo, may not have directly referenced the viral video when he started tweeting in 2013. But it was clear that officials at the zoo knew honey badgers were a popular online reference solely because of it, so in one way or another, it ties back to the meme.
BG's tweets were actually posted by the honey badger. The zoo set up six infrared sensors within BG's enclosure linked to pre-written tweets that posted as soon as they were triggered by the honey badger.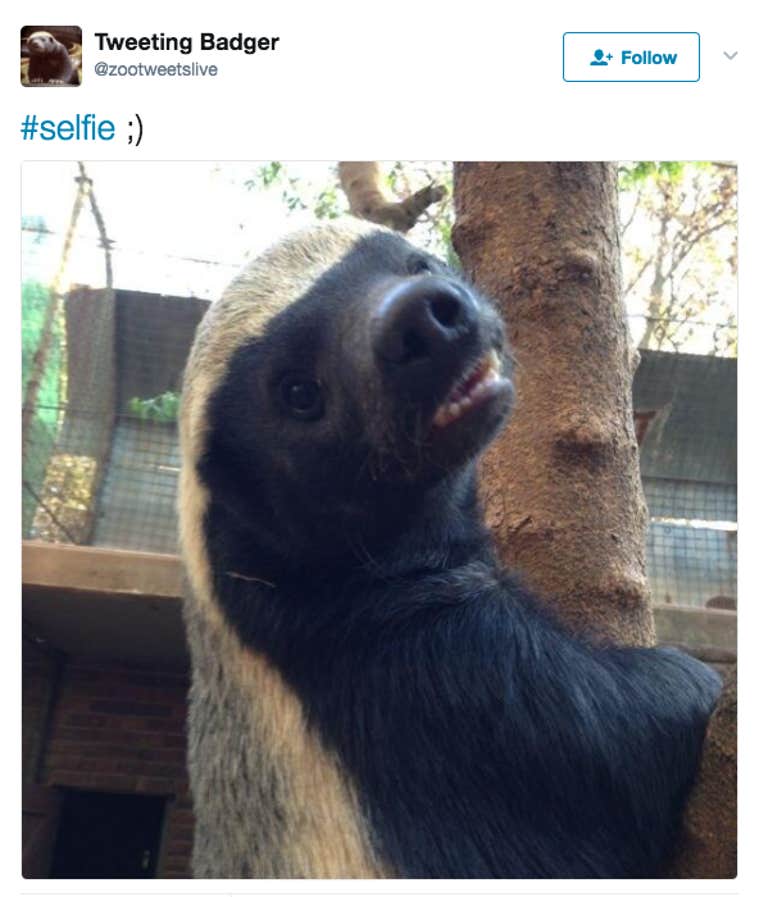 The African Wild Cat next door thinks he's so cool cause he has ears. #badgersgotnoears

— Tweeting Badger (@zootweetslive) July 2, 2013
10) The honey badger sells beer and pistachios
Apparel companies got in trouble for selling shirts with the video's trademark line, but other companies simply wanted the honey badger to endorse their product, or traded off its coolness. Wonderful Pistachios featured a honey badger with commentary by Randall in one of its TV commercials. Meanwhile, Colorado brewery Oskar Blues introduced a beer inspired by the honey badger meme, called Honey Badger Smoked Porter. The brewery described it this way:
This nasty little ale is made with Crisp Maris Otter pale malt, Gambrinus Honey Malt, roasted barley, chocolate malt and dark crystal malt along with a heaping, meaty dose of Oskar Blues home smoked malt (no kidding; there's meat in it) and generously hopped with Columbus all the way through the boil. A huge dollop of Lyons Local Madhava Wildflower Honey at the end of the boil takes it up a notch.

Honey Badger don't care; he just drinks the shit up. Your nose will be attacked with a plume of cherry wood while your palate is tsunamied with rich chocolatey-caramel flavors and campfire smoke. Served at locally at Oskar Blues Home Made Liquids & Solids (Longmont) and Grill & Brew (Lyons) with an OB Hops & Heifers Farm meat stick. About 6% ABV.
11) The honey badger also does care about politics
After the meme went viral, Randall tried his hand at blogging. He had a short stint at the Huffington Post, where he wrote columns such as "Cruzin' for a Bruizin' or How I Learned to Stop Worrying and Just Shutdown" and "Dancin' on the Debt Ceiling." The articles often included videos with honey badger style voiceovers.
Here's Randall mocking Ted Cruz's debt ceiling filibuster.
12) He officially endorsed the honey badger in the 2012 election
It's almost hard to remember after the clown car race that was 2016, but the 2012 election was a hotly contested election that also divided our nation. Although Obama eventually won, Mitt Romney dogged him throughout, and people were very divided on who to vote for. Sensing an opportunity, Randall endorsed the Honey Badger in a post called "What a Cray Cray Election! (Just Vote Honey Badger!)"
The campaign even included a logo and site.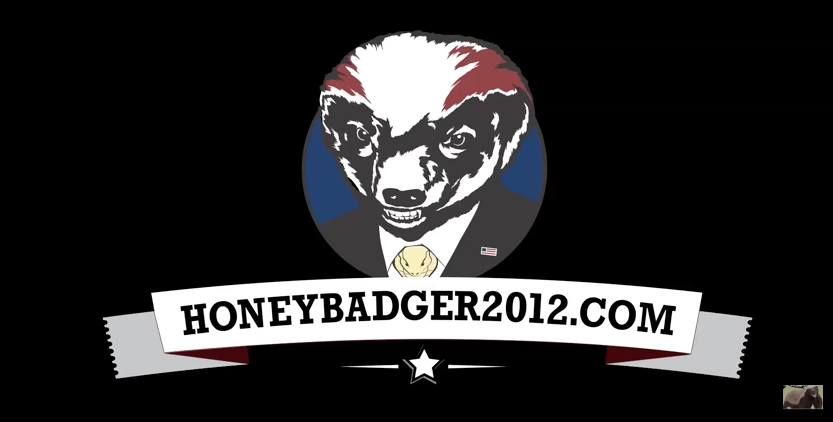 In the op-ed arguing for the honey badger, Randall took a pro-environmental stance, noting that the honey badger does care about that:
"Honey Badger knows that this is the only planet we have right now and that if we don't care for it there won't be any rats, snakes, or sweet honey to eat (so gross)! The party is willing to take the measures necessary to make the changes necessary to move our world toward a more sustainable future. He'll take on the rats and snakes that want to keep environmental policies that pollute our air and water."
He even produced a campaign video.
13) Randall was anti-Donald Trump way back then, too
In another piece for HuffPost, Randall bashed Donald Trump, but his real vitriol was directed at Trump's son, Donald Trump Jr. and his love of big game hunting:
How can he have over 120K followers while posing next to dead, endangered animals? Oh, I'm sorry…did you not hear what's going on? Are you only in on some of the details, but not the full story? It's a very simple story and one which, if you are a human, an animal lover, and on this planet with others, will disturb and upset you.

Animals are innocent. Hunting them is not really a "sport."
14) In the 2016 election, Donald Trump got his own honey badger parody
In his march to the White House, perhaps no candidate quite embodied the honey badger's ethos of not giving a shit quite like Donald Trump. Which is why this parody of Trump clips from the campaign set to Randall's voiceover works so perfectly.
15) Taylor Swift claims to know all the words to the honey badger video
In an interview with Vogue in January 2012, Taylor Swift caused a media hullabaloo when she claimed she could recite the entire video from memory. If you're wondering if her desire to not be recorded using swear words spawned a hundred similar variations of the headline "Taylor Swift does give a shit," you would be right.
16) Randall tried his magic with other animals
Gordon wasn't about to give up after smashing success highlighting one particular animal. He kept the gimmick going on his YouTube account, and while none of the successors quite replicated the magic of the honey badger video, some of them racked up a few million views in their own right. Several of the videos included themes of environmental preservation and included urges for viewers to volunteer or donate to causes protecting wildlife.
Sounds like somebody does care, all right.