Based on the cult comic book series, DC Universe's Swamp Thing is an old-school creature feature. The practical effects are deliciously gruesome, although the jury's still out on the central love story between CDC doctor Abby Arcane (Crystal Reed) and the titular Swamp Thing. With only one episode available for review, I've only seen Swampy in his early form as a boring old human man. Like, whatever. We've all seen TV shows with human men before. Hardly a compelling romantic prospect compared to a swamp monster with glowing red eyes and tentacular vines.
The original Swamp Thing comics were a straightforward Frankenstein story, with scientist Alec Holland (played by Andy Bean in the show) turning into a swamp creature. Alan Moore's 1980s reboot was more ambitious, reimagining Swamp Thing as the living personification of a Louisiana swamp—a plant-based cryptid who echoes Alec Holland's human memories because it absorbed his corpse. A blend of romance, horror, and psychedelic fantasy, Moore's run saw Swamp Thing fall in love with Abby Arcane and featured the first appearance of John Constantine. The new screen adaptation tones down the weirdness (for now, anyway), combining Swamp Thing's horror roots with a more familiar procedural format.
For a show set in rural Louisiana, Swamp Thing stars a slightly eyebrow-raising number of white people. However, perhaps that will change in later episodes. Protagonist Abby Arcane is a local girl who vowed never to return home but is forced to come back when a mysterious disease breaks out. While investigating the source with her CDC colleagues, Abby comes across Alec Holland's swamp-related research, which may shed some light on the outbreak.
Unsurprisingly, people don't exactly adhere to laboratory protocol in this show. Abby introduces herself by ordering hospital staff to use gloves and masks at all times—an instruction that everyone proceeds to ignore, including Abby, who lets her hair hang loose during autopsies. I don't know why this bugs me in such an intentionally unrealistic show, so your mileage may vary. It just seems unwise to dangle your hair beside a mutated swamp cadaver, you know?
Co-written by Mark Verheiden (Falling Skies) and Gary Dauberman (Annabelle, It), Swamp Thing quickly sets the right tone for fans of the comics. Tapping into an ecological theme, we see how a working-class community can be harmed by damage to the local ecosystem. Opting for practical effects over pure CGI, the monster is played by a man in a prosthetic suit (Derek Mears), and the various gory death scenes are all seriously cool. The horror elements are a cut above average TV standard, shaped by big-screen horror veterans like producer James Wan and director Len Wein (Underworld). That being said, this all-male creative team may explain my biggest issue with the pilot. Through no fault of Crystal Reed's (because as any Teen Wolf fan can tell you, she's great), it's hard to believe that Abby Arcane would even give Alec Holland the time of day.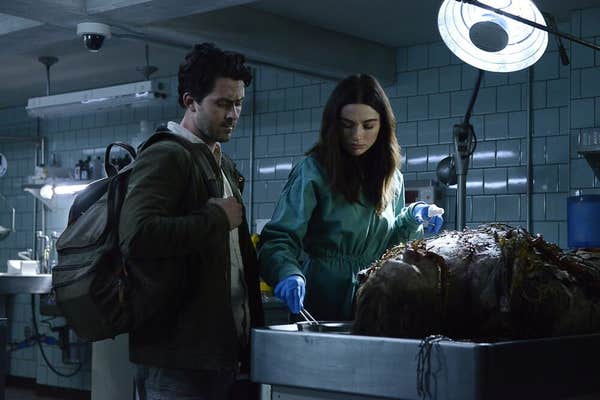 Abby is working to halt an epidemic, and when she first meets Holland, he's acting like a potentially dangerous weirdo. He's the local mad scientist and she has no reason to take him seriously, never mind enjoy his company during a time of intense professional stress. But the show wants him to be the Mulder to her Scully—and to set up their relationship before he turns into Swamp Thing—so it keeps forcing them together. This might have worked if Alec Holland was especially hot or charming, but he… isn't. In fact, at one point he condescendingly mansplains mutagens to her, as if Abby isn't a CDC doctor with professional expertise.
Alec's overall vibe adds up to someone Abby should avoid: A discredited scientist who thinks he can do her job for her, and who lurks around crime scenes like a body-snatcher. At best, his research may be relevant to her job. On a personal level, the episode doesn't make a convincing case for her to actually like him—which is unfortunate, because Reed has to act like she does.
It's hard to tell if this uneven dynamic will have any impact on the rest of the series. It might be a sign of writers who don't understand romance, or it could just mean they're not interested in Alec Holland. The show isn't about him, after all—it's about Swamp Thing. It could still evolve into a botanical version of The Shape of Water, now that the human prologue is out of the way.
Despite the dubiousness of Abby and Alec's relationship, Swamp Thing gets off to a promising start. Unlike NBC's Constantine, it actually seems to appreciate the source material. It may not fully embrace Alan Moore's visceral strangeness, but it's entertainingly spooky and doesn't try to be more serious than its silly premise suggests. If you want to watch a show about a Thing that lives in a swamp, Swamp Thing absolutely delivers.
READ MORE:
Swamp Thing premieres on DC Universe on May 31.