Princess Shuri was a breakout star in Black Panther, winning hearts with her cool Wakandan tech and meme-savvy sense of humor. She's due to return in Avengers: Infinity War, but if you want to explore her role in the comics, be warned: She's pretty different.
If you want to read about a wisecracking teen genius, you're better off with Peter Parker or Riri Williams. The comics version of Shuri is more mature, mirroring T'Challa's role as a politician and warrior. Created in 2005 by writer Reginald Hudlin and artist John Romita Jr., she has a key role in the current Black Panther series—although you have to wait a while for her to show up. To dive straight into a Shuri-centric story, we recommend this 12-issue Black Panther comic from 2008.
This arc begins with T'Challa in a coma, leaving Shuri to become the next Black Panther. With a central role for T'Challa's wife, Storm of the X-Men, the first six issues involve Shuri's ascent to the throne. The second half sees her travel to the U.S. as Wakanda's new head of state.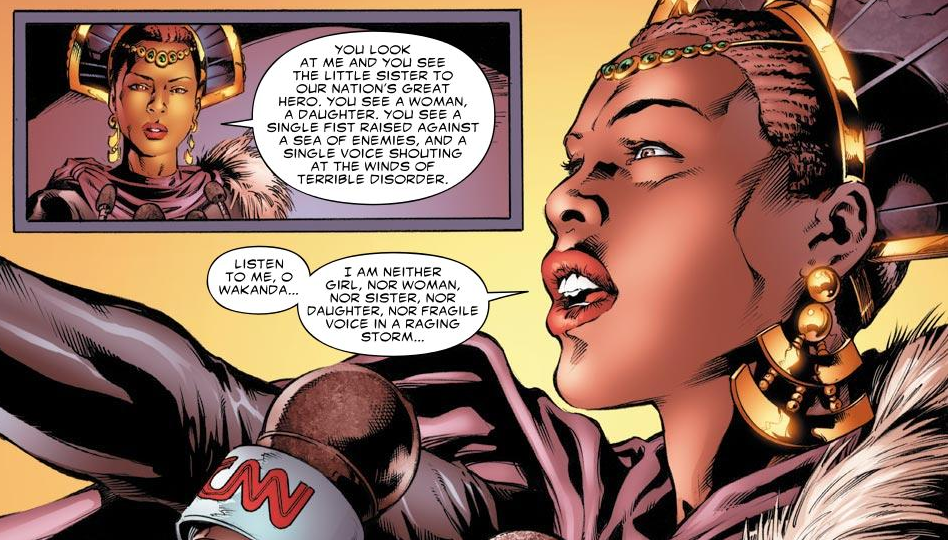 Shuri steps directly into T'Challa's old role, following a similar format as a diplomat and action hero. While she and her team deal with a mysterious attacker in the U.S., T'Challa struggles to recover from his injuries in Wakanda. This comic has all the ingredients for a great Black Panther story, and it's one of the few where Shuri gets protagonist status. (It also co-stars Everett Ross, Martin Freeman's character in the movie.)
After watching Black Panther, you may notice another way in which Ryan Coogler altered Shuri's role. Obviously, she has a different personality, but the movie also has a more progressive attitude toward women. When Shuri became Black Panther in the comics, there's an implication that she took over a "man's role." So despite the presence of the Dora Milaje, sexism definitely exists in this version of Wakanda.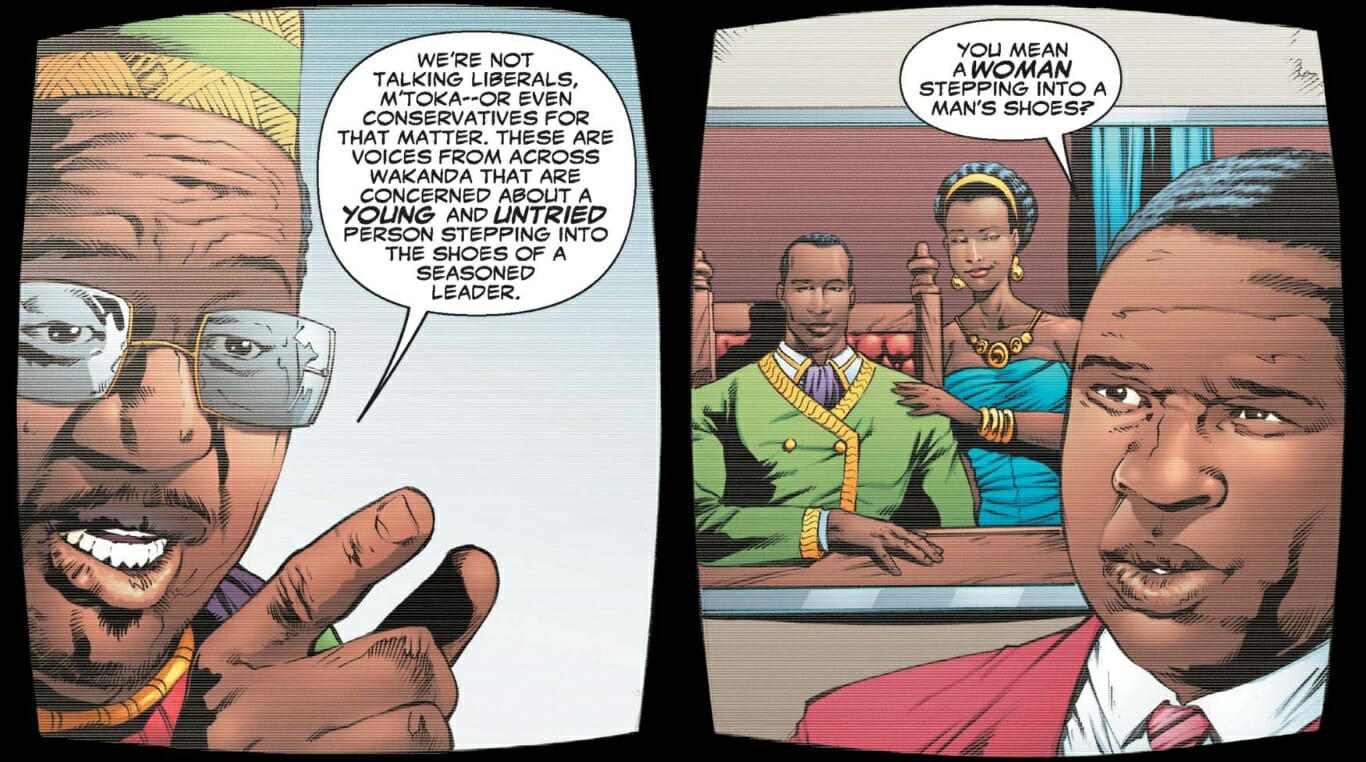 By contrast, the movie depicted Wakanda as a truly equal society. One of the most telling moments came when M'Baku challenged T'Challa in single combat. M'Baku mocked him for allowing "a child" to lead Wakanda's technological research when most movies would've pointed out that Shuri is a girl. Casual sexism is a classic way to illustrate a character's bad attitude, but Black Panther is smarter than that. Shuri's gender just isn't an issue in Ryan Coogler's Wakanda, and that's ultimately a more interesting concept than her having to prove herself against sexist detractors.
Shuri continued as Black Panther for several years after this comic, serving as Wakanda's leader during the epic New Avengers arc of 2013 to 2015. She usually appears as part of an ensemble cast, but if Marvel has any sense, they'll give her a new solo series this year.