After McDonald's was woefully underprepared to handle the demand for Szechuan sauce after a namedrop in a single Rick and Morty episode, it will have 20 million packets available at restaurants nationwide starting Feb. 26 that will hopefully satisfy customers' craving.
The return of Szechuan sauce, which was originally created to promote Mulan nearly 20 years ago, is arriving more than four months after a botched and limited promotion led to riots at McDonald's stores across the country and many angry fans. McDonald's, having seen the reaction, vowed to bring it back in proper this winter—even joking that it would "open any portal necessary" in reference to Rick and Morty—to make it happen.
"We've worked every day since October to bring back much, much, more of the sauce our fans have been craving," McDonald's said on its new site for the sauce. "And we're excited to announce that starting Monday, February 26, 20 million packets of Szechuan Sauce will be available across all US McDonald's restaurants with a qualifying purchase, while supplies last (which this time around, we hope is a while)."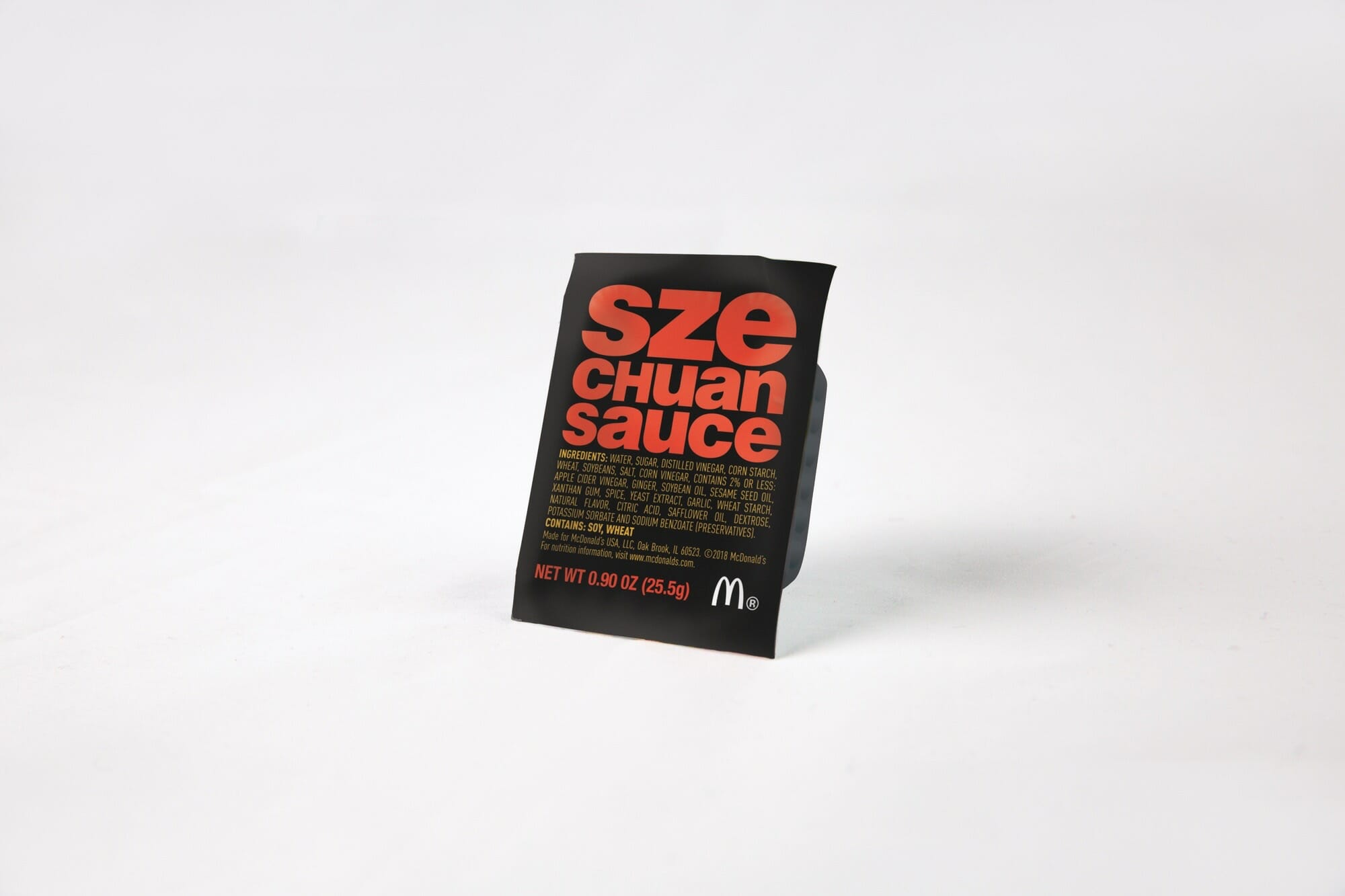 Some customers will probably only care about the sauce itself, and that part is easy. It's available in every McDonald's in the U.S., and there is presumably enough of it that people won't have to pay an exuberant amount of money on eBay after this Monday to get their hands on it. But for those curious about the backstory behind what happened to create an unintentional and national PR nightmare for McDonald's, it offers a behind-the-scenes look at the past 10 months in a three-episode podcast called The Sauce, which is available to listen to on most major podcast platforms.
Given that it's a branded podcast by McDonald's, it tried to put McDonald's in the best light and argued that it had the best intentions when it decided to start fulfilling the call for Szechuan sauce. 
Presented in the style of Serial and other investigative podcasts, McDonald's said that it had no idea that Rick and Morty would namedrop a sauce that many people working at McDonald's had never heard of. McDonald's Chef Mike Haracz couldn't have imagined that his innocent reply to a fan sparked headlines that McDonald's was going to bring the sauce back. It couldn't have ever imagined what it would unleash by giving into that whim.
And when McDonald's gave away three half-gallon jugs to fans and witnessed an auction for the sauce (which Deadmau5 ultimately paid about $15,000 to obtain) gave it a taste of the fandom fervor for this sauce that many had never tasted. But it still underestimated—and didn't quite grasp—just how much in over their heads it was about to be in. The PR and social teams at McDonald's, who saw the opportunity to please fans and promote its new chicken tenders. The move was unprecedented, but McDonald's, from the inside, had no reason to suspect what would happen. It was set up like other promotions used to test new items but on a much larger scale.
"When you think about it, this is kind of amazing," host Catherine LeClair said. "These fans basically managed to get the world's largest restaurant chain to materialize their demands. McDonald's was unearthing and reproducing a sauce that hadn't been made in 20 years just because people asked for it."
But McDonald's underestimated just how many Rick and Morty fans would want the sauce—and that wasn't the only issue it faced. It could only feasibly produce a certain amount of packets in time for the promotion it wanted to pair Szechuan sauce alongside. Jano Cabrera, McDonald's senior VP for corporate relations, believes that McDonald's was able to make about 4,000 cups for the promotion, which would give around 200 restaurants about 20 packets of Szechuan sauce apiece. The lack of supply—as well as confusion in some restaurants—led to people waiting in line for hours only to be told they had run out of sauce.
"No, we are not that smart," Cabrera said in response to claims that McDonald's created demand by limiting supply. "And the question is, 'Are you that dumb?' It's closer to the truth. But the reality is, we're restrained by supply and we did not try to create a limited supply. We tried to create the most that we could in the limited time that we had."
Nearly five months later, McDonald's hopes it has more than enough sauce to reach every U.S. fan who wants to try it, hopefully without the riots this time.