Even casual comic book readers have likely picked up a copy of Saga. The massively popular space opera series, which follows a couple from warring worlds on the run with their young daughter, published its first issue in 2012. Since then, Saga's fandom has grown, inspiring memes and lots of cosplay.
The comic book is an epic story that has drawn comparisons to just about every big sci-fi or fantasy franchise, including Star Wars and Game of Thrones. The world-building is incredible, and the main protagonists—Alana, Marko, and their daughter Hazel—are flawed and relatable. Readers keep coming back for more, but they'll need to wait at least a year to find out what happens next. In July, writer Brian K. Vaughan and artist Fiona Staples announced that Saga was going on a long, and much-needed, hiatus. The pair has made 54 issues together, so they can't blame be blamed for needing a break. 
The Daily Dot recently spoke with Vaughan about the future of the series, sci-fi/fantasy storytelling, and the Lying Cat memes. 
…
You've been publishing the Saga comic for six years now. What have you learned about telling a story over a long period of time?
Brian K. Vaughan: I've climbed this mountain a few times. I've written an ongoing series of this length before with Runaways, Y: The Last Man, and Ex Machina. It's completely new every single time. I've learned to just never worry about your readers and try to second guess what you think they want or need. I try to stay true to the story.
Has your working relationship with Fiona Staples changed?
I think it's been a very collaborative process since the beginning. Fiona likes getting a detailed roadmap of every script. I tell her: Here's all the dialogue, here's what's happening in the story. I've always given her a ton of freedom to design the worlds and characters of Saga. Like the adorable seal-man, Ghüs. That was just something that Fiona made wholly on her own and asked if it would fit into the world of Saga. 
Over the years, my scripts have gotten shorter as I've learned to trust her and get out of the way and mostly just count on her visuals to tell the story. Huge portions of the latest issue, #54, are wordless.
You've said this hiatus will be longer than others. How long?
We came up with this idea of taking short breaks every six issues. We think this hiatus will last at least a year. We don't want to get everyone's hopes up that this will be a brief break.
Why take a break now?
First of all, it's about not killing Fiona. There are very few artists in the history of comics who have not only drawn 54 issues in a row but have also colored them as well. Usually, that's a whole other job, but Fiona does all of that herself. It's an exhaustive amount of work.
I don't want to hire any fill-in artists. This comic book is as much Fiona's as it is mine. It's always been about letting Fiona's ability to draw this incredible book dictate the schedule because we don't work for some sort of corporate overlord. We can trust the art to tell the story.
And 54 issues felt like a good stopping point.
What can we expect from the story when it resumes?
Ever since the first issue, Saga has been narrated by Hazel. This is really her story that we're following. For most of these past issues, she's been a toddler. But she's been growing up in real time over these last several years, and she has much more agency now. When we return, there will be more focus on Hazel.
You're a father of two. Are some of your recent experiences with parenting reflected in the new issues?
I steal a lot of what happens to my 7-year-old and 8-year-old for Hazel's story.
As a dad, the story is not really about, "We've got this magic crystal and we have to take it here to defeat this army." It's more like, "How do you pick a school? What is the experience of letting your child go off to school like?"
I wanted to write about the experience of parenthood, but I also know that that is an excruciatingly boring topic for most people. I hope Saga is a book that is fun and relatable for anyone who is trying to create anything, even if you don't have, or never want, children. But the fact that the book resonates strongly with parents is extremely cool.
Saga has been very successful, and there are many passionate fans. What do you attribute that to?
All credit goes to Fiona Staples. I really thought when I started writing this that it would be my most fringe book ever. It's got naked robots and tree house spaceships. It's so aggressively weird and specific.
But Fiona took my very bizarre, strange ideas and made them hugely relatable. That first cover, of Alana breastfeeding and standing next to Marko, received so much positive feedback. People said they recognized themselves or their loved ones in those characters. Saga is not about far-out escapism. It's about a very grounded, relatable world. Without Fiona's visuals, this would just be a cult novel that no one's ever heard of. Her exquisite eye and attention to detail have given us a book with a kind of audience I never dreamed possible.
The intricate world-building of Saga has drawn comparisons to well-known sci-fi/fantasy franchises, like Star Wars and Game of Thrones. What do you think of those comparisons?
I've actually never seen an episode of Game of Thrones! But it's an enormous success, so I'll take the comparison. And I love Star Wars. 
Does it seem like sci-fi/fantasy stories are more popular right now? 
Sci-fi/fantasy is always popular and will always have a fanbase. I think people are just looking for something with authenticity and some passion behind it.
One of our challenges was colliding the mundane with the fantastic. Sometimes sci-fi and fantasy can just swerve so hard in the world-building of it all that it just gets lost inside of itself. Hopefully, the world of Saga is very recognizable. We might drive our readers crazy when we mention ATMs or fidget spinners because they like the comic to just be about completely alien cultures. But we didn't want to do that. We wanted to create a book that, even though it looks like a far-off crazy world, is about us and life on this contemporary planet.
Is there one character in Saga that you relate to more than others?
I hope there's a little bit of me in each of them. It depends what day you catch me on. On a day when my kids are being particularly annoying, I identify with Will, the bounty hunter. Those days are few and far in between. I'd say there's a little bit of me in each of them.
There's no full-in character for me. They all have parts of myself and parts of my loved ones in them.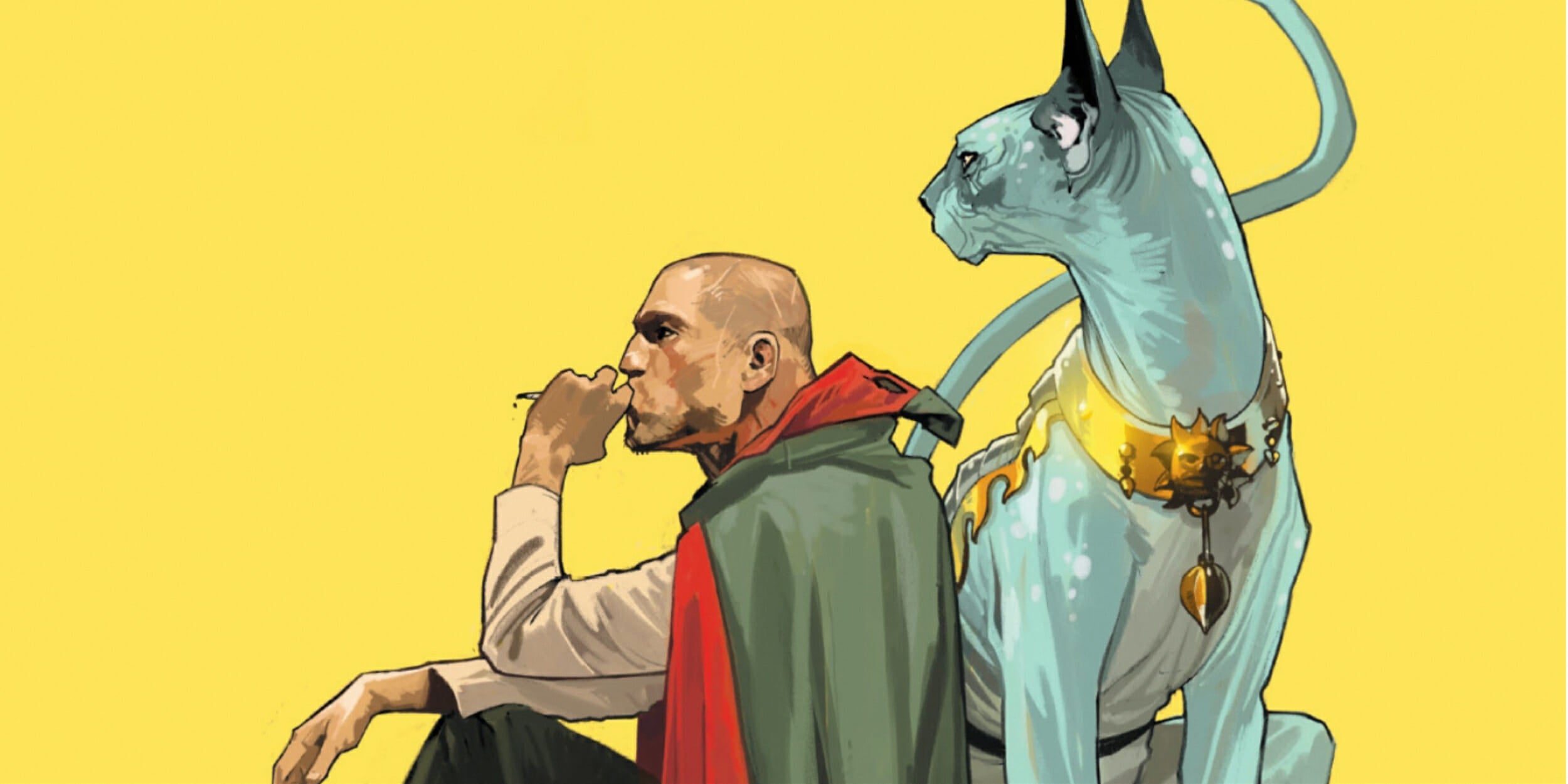 Lying Cat, the sidekick of bounty hunter Will, detects when someone is lying. She simply says: "Lying!" Somehow, this large cat has become an internet meme. Gizmodo called Lying Cat the "official mascot of 2017." Did you expect this reception to Lying Cat?
No, I never did. It's completely surreal. This is not even a main character in the book. This is one of the villain's animal sidekicks! And she can only speak one word.
In other countries, people have sent us footage of political rallies with people holding up a giant Lying Cat sign in the crowd. That's unreal.
Again, all credit to Fiona. I just told her to draw an oversized cat. I love animal sidekicks. I knew that Will would be a Boba Fett-like bounty hunter who would also be on his own hunting down the family. Lying Cat started out basically as a plot device, like, "Oh, we need someone for this guy to talk to, so I'll give him a sidekick."
But instead of just being the muscle, I thought it would be very interesting to make the sidekick a live-in lie detector. I thought it would be helpful for a guy on an investigation. Lying Cat has become a deeply emotional character. She has evolved far beyond what I thought she was going to be originally.
Any other fan reactions to characters that have surprised you?
All of them! It's been so interesting to watch. In the first few issues, Prince Robot was someone people despised, and then they sort of grew to love him and hate him again. I hope that the audience is always sympathetic to Hazel and her parents, a family on the run. But the real goal was to do a story where there were no hard and fast black-and-white heroes and villains. This is a morally complex war that doesn't have any good guys or bad guys in it; just human beings who are doing their best to endure. There's not just a protagonist, but a whole supporting cast that people have come to love. It's thrilling.
A lot of people probably ask you about adapting the comic book into a TV show or movie. Any plans? 
People inquire about the rights every single day. It's nice that the book has been successful enough for Fiona and me that, thankfully, we don't have to sell the rights. We don't need the money. I'm not opposed to adaptations. The pilot for Y: The Last Man just started shooting in New York City, and Runaways is entering its second season. Those have been terrific and a lot of fun.
But Saga was, for me, a way to just celebrate everything I love about this medium of comic books. And I've never thought of comics as a stepping stone to get to TV shows and movies. Those are great, but there are things that comic books can do that TV or movies can't. It's an entirely different experience to read these words and pictures together. Never say never, but for now, Fiona and I are just thinking about how to make the best comic book that we can.
What are you currently reading? Can you recommend any comic books?
There's a new graphic novel by Nick Drnaso called Sabrina. It is extraordinary. The story is so engaged with contemporary life—the nightmare of social media and mass violence. It's smart, piercing, and beautiful.
I also recently read Spinning, a graphic novel memoir by cartoonist Tillie Walden. It just broke my heart.
What will you be doing during your hiatus?
I will mostly be taking my kids bowling and listening to their amazing stories and stealing as many of their ideas as I can. I'm grateful that people are patient with us. The long hiatus will be best for the long-term health of Saga. 
So, does that mean we'll get a bowling scene in Saga?
You can almost guarantee it. I don't know what Fiona's version of bowling is going to look like, but it's going to be awesome.
This interview was edited for length and clarity.
READ MORE: