Apparently the Catholic Church isn't the only monolithic, secretive institution with global reach that's getting a major revamp this week.
A week after debuting its new homepage design, Facebook is retooling user profile pages to match the new, sleeker design.
"We heard from you that the current timeline layout is sometimes hard to read," wrote Facebook product lead Rose Yao on the company blog. "Starting today, all posts are on the right side of your timeline, with photos, music and other recent activity on the left."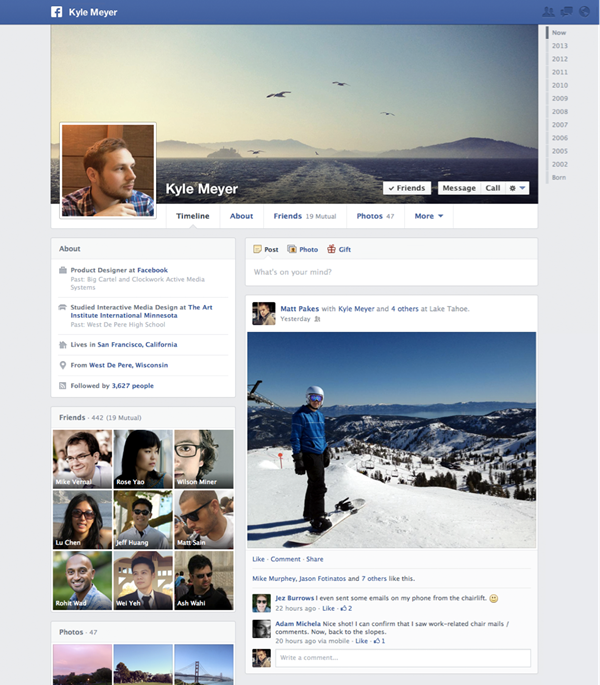 Image via Facebook
The new timeline also promises a simpler layout for About Pages, where Facebook users display their favorite media and interests. The company says it will also be easier to include Apps, like Instagram, as individual sections on your timeline.
The changes begin rolling out today, barely a week after Facebook unveiled a new homepage that was almost entirely newsfeed, with other features of the site crammed into slight toolbars on either side of the screen. And it comes about two months after Facebook announced Graph Search, an amped up search engine that allows users to browse a wider range of data in a much more targeted way.
These major overhauls all center around the theme laid out by Mark Zuckerberg at a press event last week, in which he called the site "the best personalized newspaper in the world." Graph Search, along with the timeline and newsfeed changes, all aim to cement Facebook's status as a "content delivery system."
Andrew Storms, security director for nCircle, said the social network is only able to exist by collecting as much data as possible to create the most targeted advertising model possible. Changes that highlight the newsfeed and increase personalization are integral to this mission.
"Most people don't realize that to Facebook, you're the product—not the consumer," Storms recently told The Daily Dot.
With all these changes afoot, maybe the new Pope can be enticed to start a Facebook page in addition to the Papal Twitter account.
Photo by cbhdesign/Flickr