Sex positivity is something that every teen should be taught. But having that conversation can be a little awkward. So don't make your young adult (or yourself) feel uncomfortable with the sex talk–just hand 'em a book to help them form an idea of what they want to learn about. This way they know that they can come talk to you about anything and you get the benefit of teaching topic-by-topic (or as they ask questions) instead of having to wet their feet for them with your anxiety-driven words. 
Not sure what young adult novels would do the trick? Listed below are some of the top titles for teaching teens about love, relationships and of course, sex.
The best sex-positive books for teens according to reviewers
From the publisher: In this honest, frank, and funny debut novel, four best friends make a pact during their senior year of high school to lose their virginities—and end up finding friendship, love, and self-discovery along the way. To be honest, the sex pact wasn't always part of the plan. Layla started it. She announced it super casually to the rest of the girls between bites of frozen yogurt as if it was just simply another addition to her massive, ever-evolving To-Do List. She is determined to have sex for the first time before the end of high school. Initially, the rest of the crew is surprised, but once they all admit to wanting to lose their v-cards too, they embark on a quest to do the deed together…separately. Layla's got it in the bag. Her serious boyfriend, Logan, has been asking for months. Alex has already done it. Or so she says. Emma doesn't know what the fuss is all about, but sure, she'll give it a shot. And Zoe, well, Zoe can't even say the o word without bursting into giggles. Will everything go according to plan? Probably not. But at least the girls have each other every hilarious, heart-warming, cringe-inducing step of the way.
Price: $10.99
---
From the publisher: Artist Beatrix Adams knows exactly how she's spending the summer before her senior year. Determined to follow in Da Vinci's footsteps, she's ready to tackle the one thing that will give her an advantage in a museum-sponsored scholarship contest: drawing actual cadavers. But when she tries to sneak her way into the hospital's Willed Body program and misses the last metro train home, she meets a boy who turns her summer plans upside down. Jack is charming, wildly attractive . . . and possibly one of San Francisco's most notorious graffiti artists. On midnight buses and city rooftops, Beatrix begins to see who Jack really is-and tries to uncover what he's hiding that leaves him so wounded. But will these secrets come back to haunt him? Or will the skeletons in Beatrix's own family's closet tear them apart? The Anatomical Shape of a Heart by Jenn Bennett is an irresistible, deeply romantic story about a girl and boy who help each other heal and grow.
Price: $3.77 (regularly $10.99) 
---
From the publisher: Alex and Becca have always been best friends. But when Becca does something nearly unforgivable at Alex's dad's funeral, Alex cuts ties with her and focuses on her grieving family. Time passes, and Alex finally decides to forgive Becca. Then she's hit with another shocker: Becca has cancer. It also turns out Becca has a bucket list, one she doesn't know she'll be able to finish now. That's where Alex comes in, along with a mysterious and guarded boy who just may help Alex check a few items off her own bucket list.
Price: $9.51 (regularly $10.99)
---
From the publisher: Girl Sex 101 is a sex-ed book like no other, offering helpful info for ladies and lady-lovers of all genders and identities, playful and informative illustrations on each page, and over 100 distinct voices, plus a hot narrative that shows you how to put the info to good use! Learn how to navigate the twists and turns of female sexuality, with special guidance from thirteen guest sex educators including Nina Hartley, Sex Nerd Sandra, Jiz Lee, Tristan Taormino, Julia Serano, Reid Mihalko, Kelly Shibari, and more!
Price: $34.99
---
From the publisher: My disease is as rare as it is famous. Basically, I'm allergic to the world. I don't leave my house, have not left my house in seventeen years. The only people I ever see are my mom and my nurse, Carla. But then one day, a moving truck arrives next door. I look out my window, and I see him. He's tall, lean and wearing all black—black T-shirt, black jeans, black sneakers, and a black knit cap that covers his hair completely. He catches me looking and stares at me. I stare right back. His name is Olly. Maybe we can't predict the future, but we can predict some things. For example, I am certainly going to fall in love with Olly. It's almost certainly going to be a disaster.
Price: $7.69 ($10.99)
---
From the publisher: Janey King's priorities used to be clear: track, school, friends, and family. But when seventeen-year-old Janey learns that her seemingly happy parents are getting divorced, her world starts to shift. Back at school, Luke Hallstrom, an adorable senior, pursues Janey, and she realizes that she has two new priorities to consider: love and sex.
Price: $9.97 (regularly $17.99)
---
From the publisher: Reagan Forrester wants out – out of her trailer park, out of reach of her freeloading mother, and out of the shadow of the relationship that made her the pariah of Charytan, Kansas. Victoria Reyes wants in – in to a fashion design program and a sorority, in to the arms of a cute guy who doesn't go to Charytan High, and in to a city where she won't stand out for being Mexican. One thing the polar-opposite best friends do agree on is that wherever they go, they're going together. But when they set off on a series of college visits at the start of their senior year, they quickly see that the future doesn't look quite like they expected. After two years of near-solitude following the betrayal of the ex-boyfriend who broke her heart, Reagan falls hard and fast for a Battlestar Galactica-loving, brilliant smile-sporting pre-med prospective… only to learn she's set herself up for heartbreak all over again. Meanwhile, Victoria realizes everything she's looking for might be in the very place they've sworn to leave.
Price: $9.95
---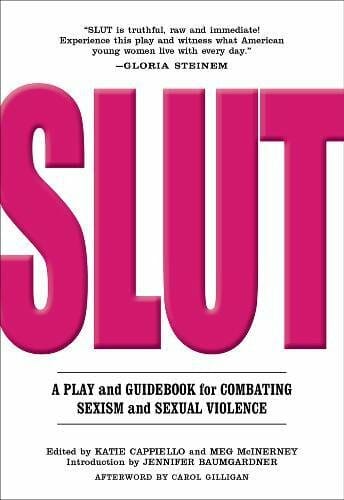 From the publisher: Whether used as a slur or reclaimed as an expression of confidence, the word slut justifies rape, bullying, and the sexual double standard. By turns heartbreaking and hilarious, SLUT captures the real lives of teens and young adults as they negotiate sex and the cruel scapegoating that still hobbles female sexuality and power. This groundbreaking play, written in collaboration with New York City high school students, and guidebook offers communities and individuals concrete tools to inspire change and stop slut. The guidebook includes production notes, a guide for talk-backs, and provocative essays by Leora Tanenbaum, Jennifer Baumgardner, Farah Tanis, Jamia Wilson, among others, providing the resources to inspire change within our communities and ourselves.
Price: $17 (regularly $18.95) 
---
From the publisher: The Garretts are everything the Reeds are not. Loud, numerous, messy, affectionate. And every day from her balcony perch, seventeen-year-old Samantha Reed wishes she was one of them . . . until one summer evening, Jase Garrett climbs her terrace and changes everything. As the two fall fiercely in love, Jase's family makes Samantha one of their own. Then in an instant, the bottom drops out of her world and she is suddenly faced with an impossible decision. Which perfect family will save her? Or is it time she saved herself?
Price: $9.83 (regularly $10.99) 
---
From the publisher: Margaret shares her secrets and her spirituality in this iconic Judy Blume novel, beloved by millions, that now has a fresh new look. Margaret Simon, almost twelve, likes long hair, tuna fish, the smell of rain, and things that are pink. She's just moved from New York City to Farbook, New Jersey, and is anxious to fit in with her new friends—Nancy, Gretchen, and Janie. When they form a secret club to talk about private subjects like boys, bras, and getting their first periods, Margaret is happy to belong. But none of them can believe Margaret doesn't have religion, and that she isn't going to the Y or the Jewish Community Center. What they don't know is Margaret has her own very special relationship with God. She can talk to God about everything—family, friends, even Moose Freed, her secret crush. Margaret is funny and real, and her thoughts and feelings are oh-so-relatable—you'll feel like she's talking right to you, sharing her secrets with a friend.
Price: $7.99 (regularly $9.99)
MORE BAZAAR DEALS:
The Daily Dot may receive a payment in connection with purchases of products or services featured in this article. Click here to learn more.