In 2003, the Black Eyed Peas asked us, "Where is the love?" and for frontman Will.i.am, the love is in wearables.
Will.i.am presented his latest fashionable venture, i.am Puls, on Wednesday at the Salesforce Dreamforce conference in San Francisco. He began teasing his first product, which looks like a smartwatch, back in April, but was adamant during the debut presentation that it is not a watch. PC World quotes him as saying "This is not a watch. It's a new type of communication on your wrist."
The Puls website describes the product  as "the next level smartband as fresh as the risk-takers and groundbreakers who rock it." It has all the functionality of a smartphone and more: from it you can make phone calls without tethering it to another smartphone device, use various apps, and it features 1GB of memory, 16GB of storage, Wi-Fi and Bluetooth connectivity, a pedometer, and an accelerometer.
It as a feature that reads your emotions, called Vibe. It has a Siri-like assistant called Aneeda. There's a high-end version of the i.am Puls that comes in gold, decorated with diamonds.

Photo via V3.co.uk
The retail price hasn't been set, but it will be available this holiday season at AT&T outlets, fashion stores, and online.  
It's easy to mock Will.i.am: He's in a band named after a legume and he once appeared on CNN via hologram. But before you mock his Apple Watch knock-off and make any comparisons to Alicia Keys's brief stint with Blackberry, the celebrity's fascination with technology has a surprisingly storied history.
You could say that his first major commitment to advancing technology came in 2009 when he founded the i.am.angel Foundation. The foundation's mission is to "TRANS4M [transform] lives through education, inspiration, and opportunity" with a particular passion for promoting "STEAM education (Science, Technology, Engineering, Arts, and Mathematics)."
The foundation is still going strong today, with Will.i.am and his team operating programs in his hometown of Boyle Heights in Los Angeles. Back in June, students from area high schools participated in a hackathon to "make apps for social good."
And lest we forget that Beats Electronics CEO Jimmy Iovine credits the singer-turned-tech entrepreneur with sparking the idea for the company. In a 2011 interview with music industry veteran Steve Stoute, Iovine recounted the story.
"I was with Will.i.am one day and [he] says, 'You know, the record business is all screwed up, we're losing money. Jimmy, Jimmy, HARDWARE.' So I said, 'Will, what are you talking about hardware?' He says 'Hardware.' So I said, 'Will, you know why they call it hardware? It's hard. That's why they call it hardware.' About a year later I was walking down the beach and I ran into Dr. Dre. Dre's a guy of few words. He said, 'Jimmy, my lawyer wants me to sell sneakers.' I just looked at him and I said, 'Dre, fuck sneakers. Let's sell speakers.' And he said, 'Wow, that works.'"
The initial idea came to Will.i.am while on tour in Europe in 2004, when he noticed fans holding up phones, now ubiquitous at concerts. Thus, Beats by Dre was born. He has a founding stake in the company, and with the sale of Beats to Apple, stands to make a pretty penny.
Beats has influenced fashion as well as technology; they are the accessory of the hip-hop and sports worlds. Just ask Colin Kaepernick.
In 2011, Will.i.am was named Intel's director of creative innovation," which, in isolation, sounds like a vanity title. But he's arguably one of the few celebrities who have actually… you know… innovated when given a lofty, novel-sounding position from an enterprise.
A year after assuming the role with Intel, Will.i.am's "Reach for the Stars" became the first song to be played on Mars. It was transmitted by the Curiosity rover, and guests, students, and media gathered at NASA's jet propulsion lab in Pasadena in August 2012 to watch the historic transmission.
Sometimes his innovative spirit is misplaced, however. In early 2013, he debuted his i.am+ foto.sosho cases for the iPhone 4 and 4S. A press release called it "The world's first digital camera accessory and app combination." The Kernel clarified its use: "It's a $415 plastic case that your iPhone sits in. You hang it around your neck and it has a camera attached so that you can take photos. A light-up plastic keyboard slides out the bottom."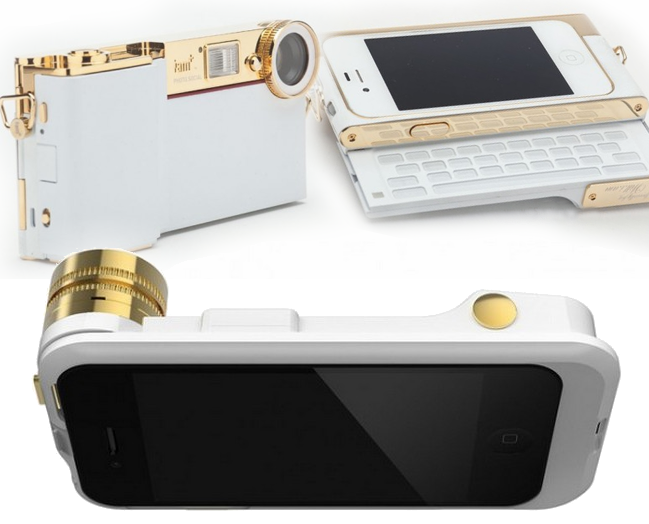 Photo via bosschicks.com
It was an unsightly, prohibitively expensive, and ultimately unnecessary gadget that ended in failure; it was pulled off shelves in November 2013. 
Will.i.am has bigger ambitions for his latest endeavor. With Puls, he wants to expand into jackets, backpacks, and shoe insoles, the Hollywood Reporter says.
Obviously, that's easier said than done, and with the Apple Watch barreling toward us on on the horizon, all of the competition (Puls included) should question their longevity. Puls could very well fail, and became an amusing footnote to Will.i.am's inventive career. But for now, it's another intriguing question mark of a device to add to his collection. 
Photo via ekai/Flickr (CC BY-NC-SA 2.0)