Hundreds of people gathered in Washington DC's Freedom Plaza today as part of the Occupy DC event where they peacefully discussed their demands, including free health care, more jobs and ending American wars.
Sprinkled among protesters was a very familiar face: A handful wore Guy Fawkes masks to symbolize their solidarity with hacker group Anonymous. (The loosely organized collective was inspired by the mask's appearance in the movie V for Vendetta.)
"It's up to you if you wear a mask or not, this is not an Anonymous sponsored event," said one person in a mask, who called himself  "Anon." "That's the beauty of the 99 percent; we're all here for different reasons."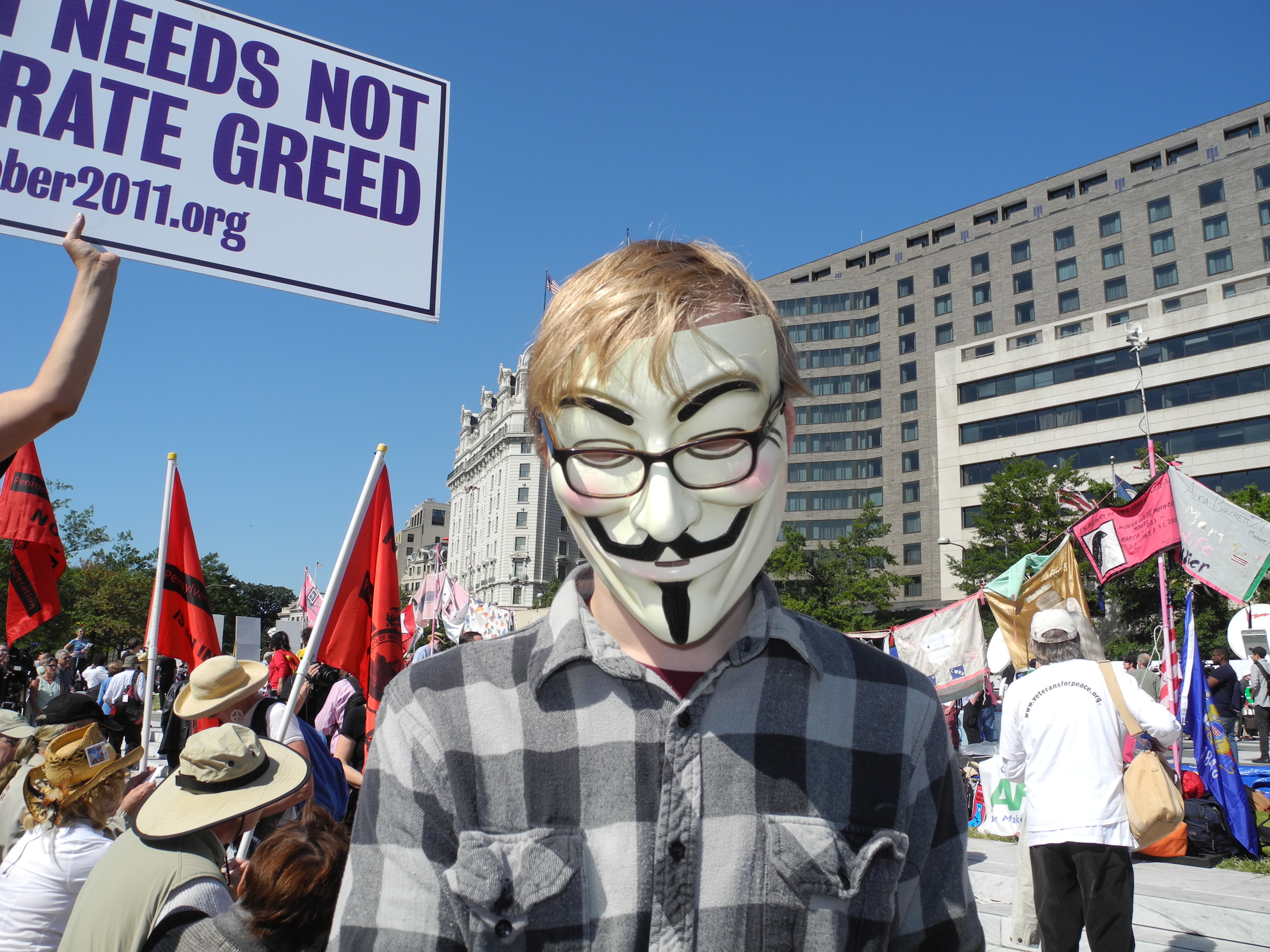 The man refused to reveal his name or show his face, even as numerous reporters snapped photos of his mask. (There appeared to be almost as many journalists as protesters.) But he did say he had recently graduated from college and lived in  Harrisburg, Pennsylvania. He said he found out about Occupy DC through — where else? — Anonymous. He joined the group last year.
"Before Wikileaks, they were just a bunch of people messing around online. Now they fight for things I believe in. I'm helping them out, helping you out," he said.
He said that he had helped Anonymous reveal the identity of a policeman protesters say used pepper spray on them.  New York police are investigating the allegations against  Anthony Bologna. The man claimed partial credit for revealing the cop's identity on Pastebin.
"Anonymous has already started bringing the consequences," he said. "We're going to show the 1 percent that they've pushed us too far."
Organizers of Occupy Wall Street and related protests across the nation often refer to a wealthy "1 percent" who benefit from policies that disadvantage the remaining "99 percent."
Another mask-wearer wasn't so shy about revealing her face. Micki Bean is a 43-year-old "student, single mom and protester" from East Texas who signed up with Anonymous to protest but has no idea how to hack computers, she said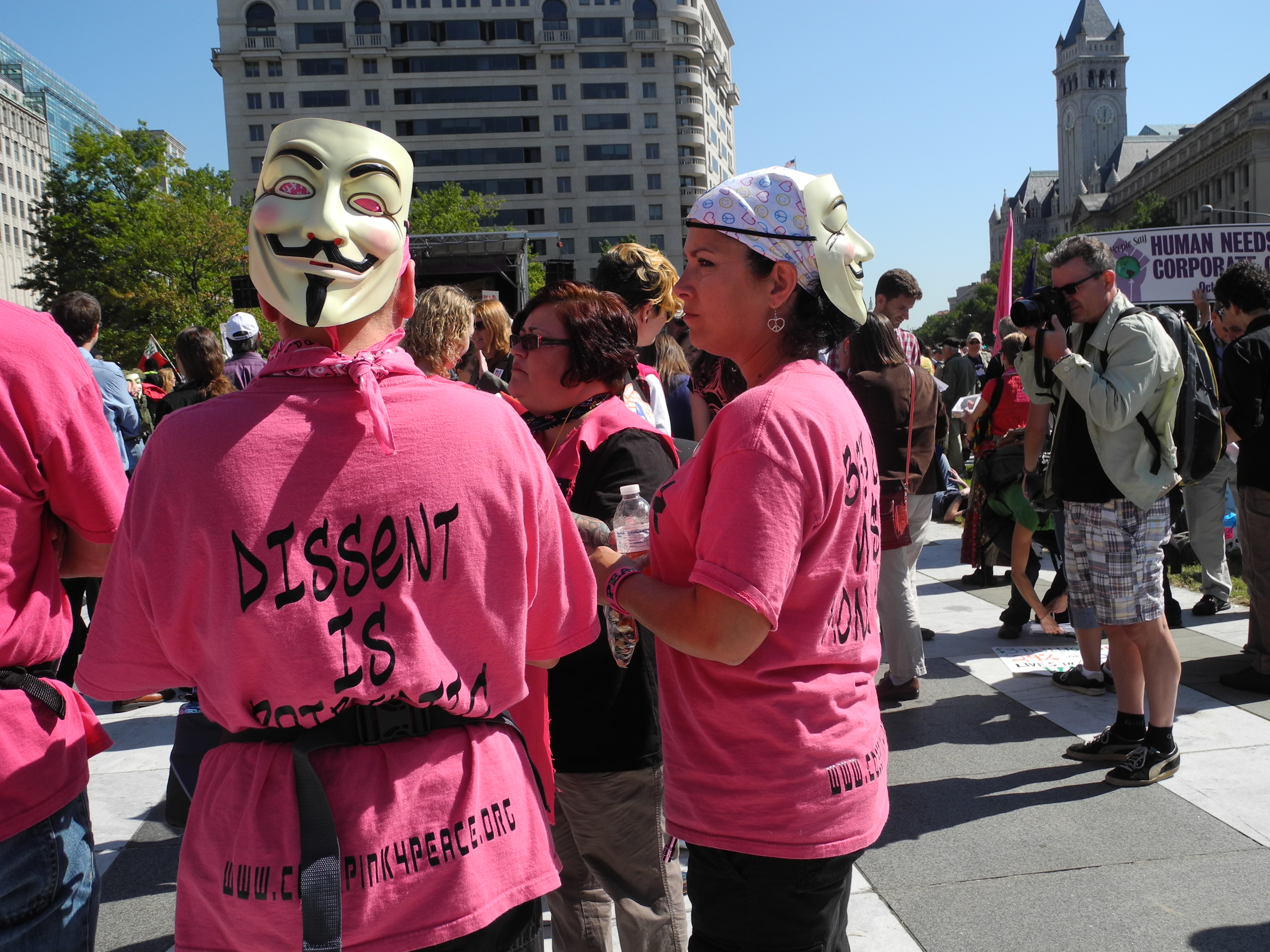 Bean came to protest war with Code Pink, a local peace organization. Several members of her group were donning Fawkes masks over their ponytails.
"My son joined the army in January and that's when I really started digging into the reasons why we went to war," Bean said. "I went way down the rabbit hole, dug into conspiracy theories," she said. "I realized we're not fighting for the right reasons."
She added that she wanted to support Anonymous, but wasn't there for the the lulz, a term hackers use to express amusement.
"I heard Anonymous might be occupying the Federal Reserve building," she said. "I'm sticking around for that."
Eric Jasinski wore his Guy Fawkes mask constantly, but also had no qualms revealing his name. The 25-year-old Iraq war veteran wants people to hear his story.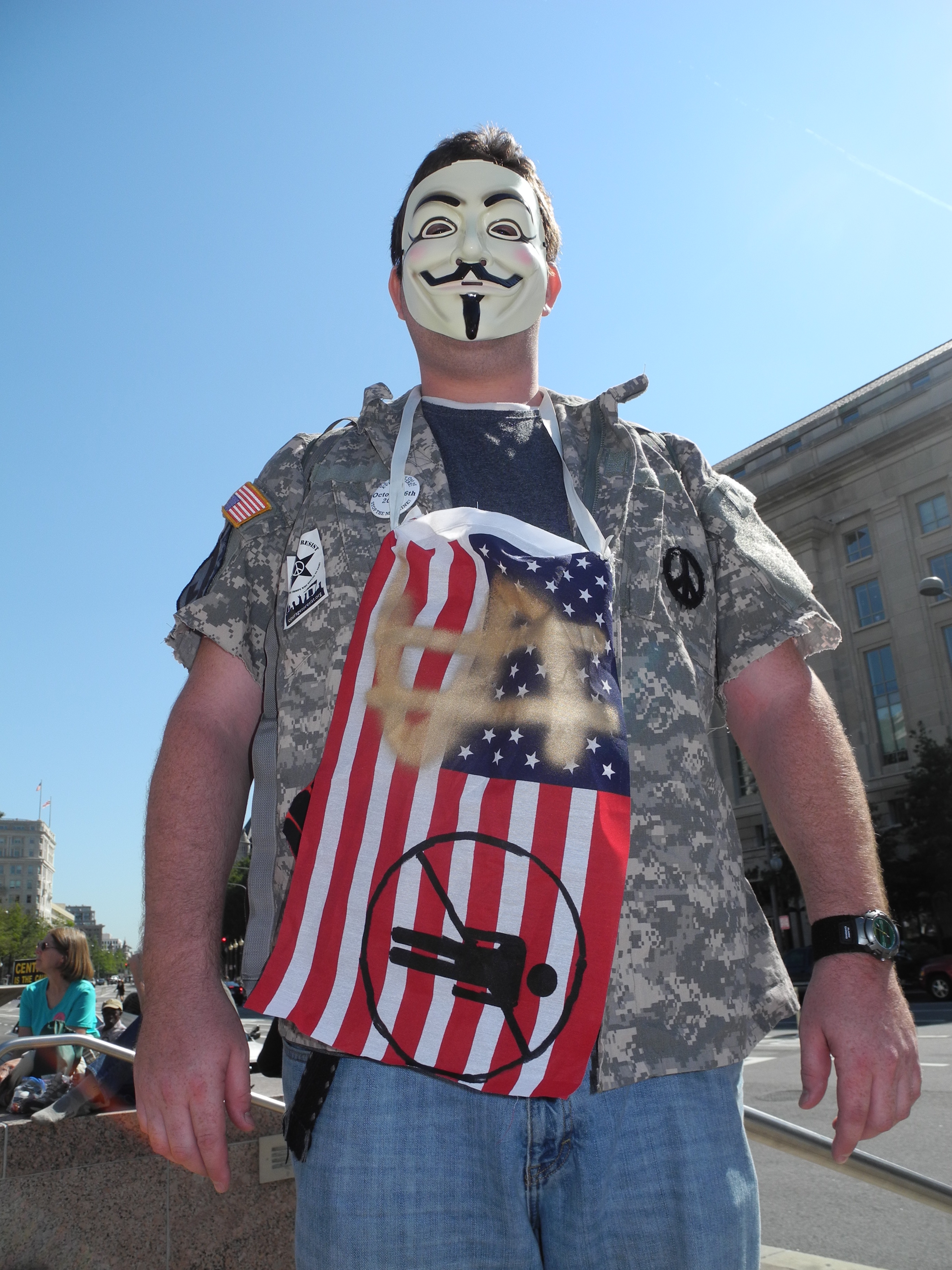 "I joined the army thinking we were actually helping people but I saw nothing but death," he said. "I'm here today to tell the government that they're in the wrong."
Jasinski said he has been on the verge of homelessness and unable to obtain health care for his young daughter. To him, anonymous is lower case, representing the large assembly of people at the event. They're being mistaken as hippies or worse, he said, all because they're kept anonymous and people don't take the time to learn their stories.
"Google is a wonderful thing," he said. "People need to use it to gain knowledge on this and not think we're a bunch of hippies. We have real problems that aren't being addressed."