Do you take the strap? If you think President Donald Trump is the best president in U.S. history, probably not.
Because pegging seems to be an uncomfortable topic for the MAGA and KAG fans of the internet.
Twitter pinned the problem Wednesday evening after user coherentstates shared a meme titled: "How Antifa men have sex." The meme has a small image of Donald Trump with the caption "thedonald.win / SPICY MEME." The image shows a man in a blue baseball cap being anally penetrated by a woman in a schoolgirl outfit.
"Stop threatening us with a good time!!" coherentstates jokes.
By the following morning, her tweet had earned over 10,000 retweets and 98,000 likes. Anti-fascists were thrilled at the prospect of pegging (or being pegged by) hot antifa members.
"I fail to understand how this is bad in any way," one Twitter user wrote.
"I am a part of antifa now," another said.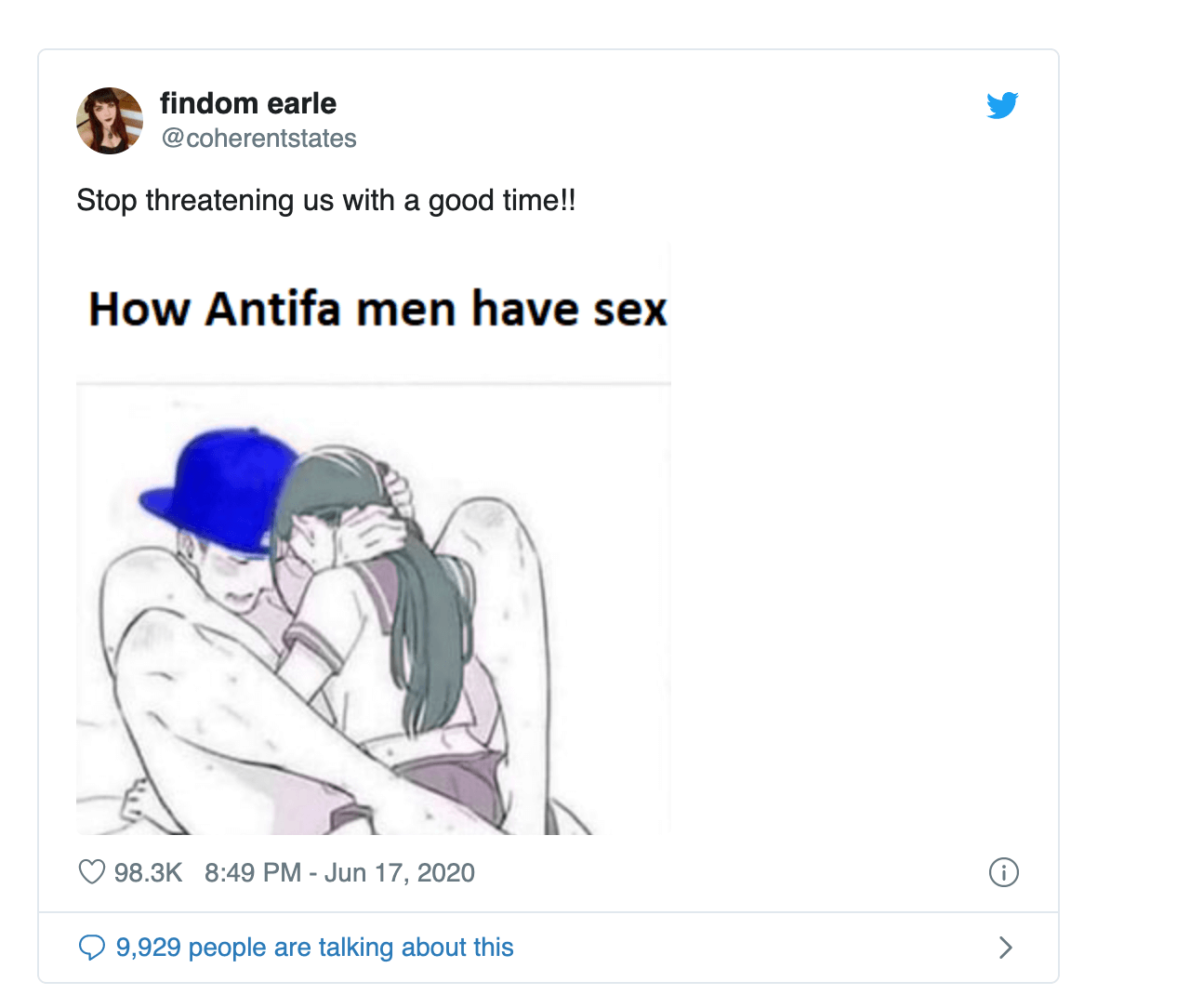 The original image within the antifa pegging meme predates its right-wing message and seemingly emerged in 2018. The meme appears to have its roots from Russian internet users. Common iterations include "how dudes who drink white claw have sex," "how dudes who listen to Limp Bizkit have sex," and "how dudes who play fortnite have sex."
The Daily Dot was unable to find the original right-wing version of the meme on thedonald.win, Trump fans' clone of their popular, but censored subreddit. However, the punchline can be seen on a post from r/The_Donald dating back to 2017. Coherentstates claims she came up with her viral tweet after seeing the image on a fascist trans woman's Twitter page.
"I actually saw it posted on a fascist trans girl's (yeah i know) Twitter account and of course thought it was unintentionally great," she told the Daily Dot. "She used to have a much bigger account but she keeps getting suspended for posting really outrageous shit."
The far-right commonly uses sexual euphemisms with each other. There's a long, racist history on the right of using "cuck," short for "cuckold," as a disparaging term to describe emasculated white men, usually those engaging with feminism, LGBTQ rights, or voters of color. The term has its roots in cuckold porn, which involves a married woman having sex with another man, called the bull.
More often than not, the bull is a Black man.
Pegging follows along the same lines, but touches on the intersection between homoeroticism, misogyny, and female empowerment. A man who enjoys being pegged has surrendered his masculinity to a dominant woman. In the MAGA fan's eyes, receiving the strap means giving up power in the household, foregoing traditional masculine gender roles, and taking on the woman's place as the degraded, penetrated recipient of pleasure.
Hence, why they are trying to paint antifa with it.
The MAGA world's cocktail of homophobia, misogyny, toxic masculinity, and sexual insecurity can be seen throughout thedonald.win. One post claims Hillary Clinton pegs her husband Bill Clinton. Another asks California Gov. Gavin Newsom's ex-wife, Kimberly Guilfoyle, "how [she did] stomach pegging" her husband. When one cardiologist complained United Airlines did not institute social distancing in his flight, a user said "his safe word is 'Karen' when his wife is pegging him."
Sometimes transmisogyny is added into the jokes as well. One post making fun of former President Barack Obama says "my tranny wife was pegging me at the time," referencing the popular right-wing conspiracy theory that Michelle Obama is transgender. Another Trump fan on a post about Prince Harry and Meghan Marke claims "Big Meghan is packing a monster dick," to which a user responds, "no dude, Harry is into pegging. Like baby arm size dildos."
Cis and trans women aren't always the peggers either. One homophobic submission targeting CNN's Brian Stelter calls him a "little cuck" who came up with a tweet "after his girl friend's [sic] boyfriend finished pegging him."
Regardless, the message is clear: pegging has its roots in "degenerate pornography" that is "definitely not healthy" for a cisgender man. That kind of sex is for "antifa pussies."
"I always found it hilarious how every other post on popular subreddits [are] some variation of 'yOu sHOUlD tRy pEgGinG/prOsTAtE sTiMuLatIOn gUys' or my favorite, 'don't feel bad guys, large penises are uncomfortable for sex,'" a thedonald.win poster states. "The frequency with which it comes up kills me lol."
The disdain for pegging may encompass everything from homophobia to transmisogyny, but it says just as much about the poster's political opinions as it does about their sexual fears. If being pegged is a bad thing, then by definition, building a world that embraces a wide range of sexual needs and desires makes you an "antifa pussy."
"I think it's just having a lot of insecurity and using your bad politics as a way to cope with it," coherentstates said.
Yes, it doesn't make sense, but fascism isn't supposed to make sense.
The host of YouTube video essay series Flower Guardian, Rose, notes that the "fascist mindset" involves fascists "viewing themselves as both victims and noble warriors and their enemies as both weak and unimaginably powerful."
Fascism is about feelings, not facts. And as far as MAGA chuds are concerned, that includes what happens in the bedroom between a man, a woman, and the massive dildo shared between the two.
READ MORE: