Say goodbye to MAGA and hello to KAG. It seems we're already gearing up for the 2020 presidential election.
Much like "Make America Great Again" (MAGA) before it, "Keep America Great" (KAG) is the acronym you'll be seeing pop up on social media as the 2020 election grows closer, but there are plenty of people already using it.
If you believe that President Donald Trump has made America "great again," what is the logical next step? To keep it that way.
What is #KAG?
The "Keep America Great" idea formed earlier this year when Trump campaigned for Rick Saccone, a Republican who eventually lost in a special election in Pennsylvania. Seemingly believing that he had accomplished his mission in making the country "great again," Trump revealed the new slogan in front of the crowd.
"We can't say 'Make America Great Again,' because I already did that," the president said, according to MSNBC.
He added: "Our new slogan, when we start running, in—can you believe it, in two years from now—is going to be 'Keep America Great' exclamation point." Since then, the hashtag #KAG has taken off.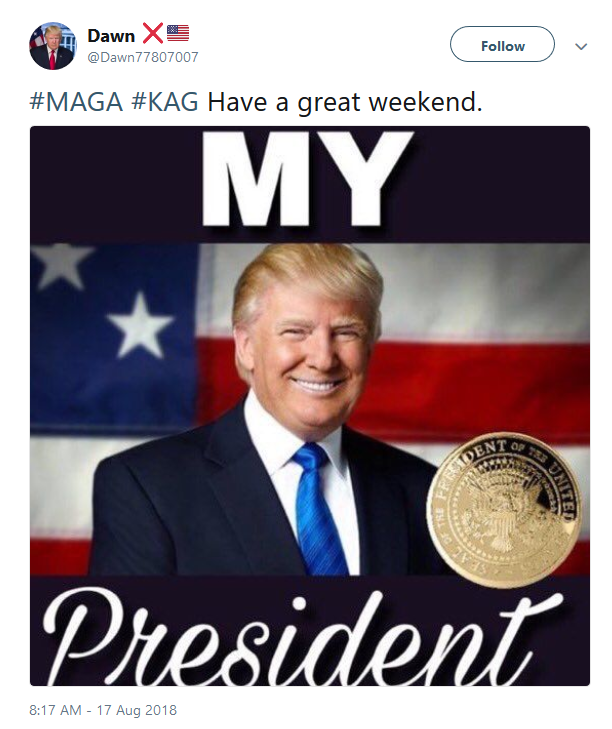 Where is #KAG appearing?
While Trump has yet to use the hashtag (give it time) plenty of people running in the 2018 midterm elections have used it as they attempt to win against what many people expect will be stiff competition from Democrats.
Dr. Kelli Ward, a Republican who is running against Sheriff Joe Arpaio and Rep. Martha McSally (R-Ariz.) in a Republican primary to see who will take Sen. Jeff Flake's seat later this month, has enthusiastically used the hashtag since Trump appeared to endorse her.
Last year, Trump said it was "great" to see Ward run in the primary, a tweet she has run with as the election gets closer. Exactly a year later, Ward retweeted Trump's endorsement, with a variation of the KAG hashtag buried in there.
"Thank you, Pres @realDonaldTrump! We took care of #FlakeJeffFlake & are working hard to make sure AZ sends the strongest voice for the #AmericaFirst agenda to DC to help #BuildTheWall, strengthen our military, #RepealObamacare, care for our vets, & more! #VoteWard #KAG2018 #AZSEN," she wrote.
READ MORE: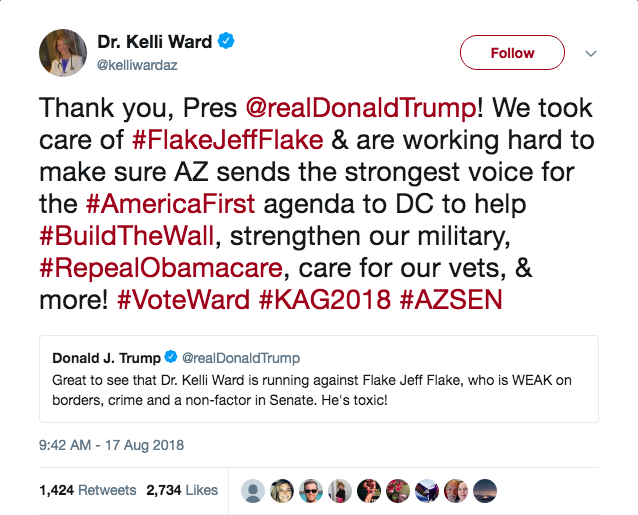 KAG Twitter
Leah Vukmir, a Wisconsin Republican who won the primary in August to square off against Sen. Tammy Baldwin (D) later this year, also decided to celebrate a Trump endorsement by using the KAG hashtag.
"Thank you, Mr. President! Wisconsinites want a senator who will work with you to make American great again, and that's exactly what I intend to do. 🇺🇸 @realDonaldTrump #MAGA #KAG #wisen," she wrote.
https://twitter.com/LeahVukmir/status/1029811131223891968
Even Katrina Pierson, the former campaign spokesperson who is an adviser on Trump's 2020 campaign, has used the hashtag constantly.
Her two most recent posts including #KAG included a picture of her, GOP Chairwoman Ronna McDaniel, and the president's 2020 campaign manager Brad Parscale and one about "#WomenForTrump."
Parscale has not used the hashtag on Twitter yet.
But it's not just politicians who are embracing the hashtag.
KAG Reddit
Besides Twitter, the "KAG" slogan is popular on Reddit, including r/The_Donald, an extremely pro-Trump community on the website.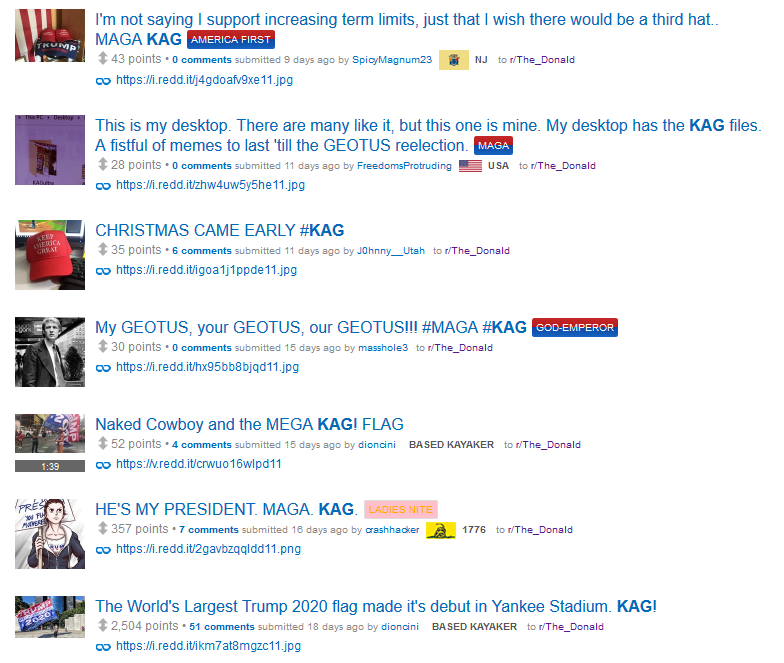 And just as #MAGA took over the discourse leading up to 2016, expect #KAG to do the same.
READ MORE: 
Reactions to the KAG slogan
Not everyone is thrilled with the KAG slogan.
Shortly after Trump announced that he would run using "Keep America Great" as he attempts to win the presidency in 2020, people were quick to pounce on the fact that the idea that America is now "great" because of the president is subjective.
Trump's 2020 slogan: Keep America Great!

Gallup: Just 29% of Americans are satisfied with the direction of the country. Since Trump became president, those figures have ranged from 21% to 32%. Nearly seven in 10 Americans (69%) are dissatisfied.

— Jon Favreau (@jonfavs) March 11, 2018
More accurate Trump 2020 slogans than "Keep America Great":

– Keep America Gullible
– Keep America Golfing
– Keep America Grabbing
– Keep America Gag-ordered
– Keep America Greedy

— Adam Best (@adamcbest) March 11, 2018
Keep America Great.

Legal Disclaimer: Does not include women, minorities, children, the elderly, the LGBT, scientists, teachers, doctors, patients, athletes, dreamers, the working class, the 99%, or anyone with a conscience. #KAG makes us #GAG again.

— Eugene Gu, MD (@eugenegu) March 11, 2018
There are no "KAG" shirts, hats, signs, or buttons available on Trump's reelection website yet–but give it time.
Editor's note: This article is regularly updated for relevance.