Since debuting last fall, Apple's iOS 6 maps have had a rough time adjusting. In addition to sending users miles out of their way or to wrong addresses, the app has also had trouble with geography, bridges, and the concept of time. Since weathering the fail-storm, Apple Maps has been steadily updating its satellite imagery and making improvements to the app, which you can check in on if you can tear yourself away from Google Maps.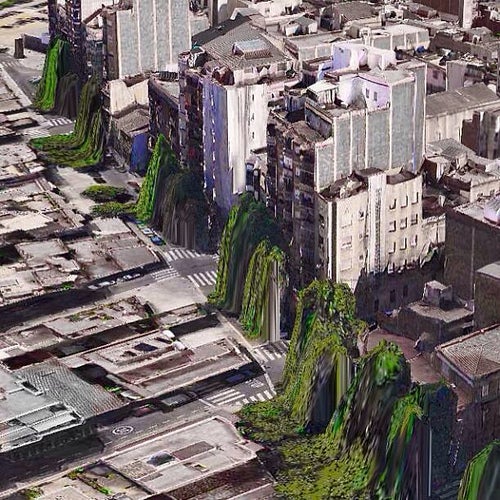 Apple Maps had an especially hard time rendering 3-D graphics. Peder Norrby, founder of Swedish computer graphics company Trapcode, has been collecting images of Apple Maps' graphic flaws on his Flickr page since last fall, and they are pretty amazing. "Stuck at LAX" presents a plane on the tarmac, which seems to be melting. His "glitch in the docks" series offers several aerial views of shipping vessels and cranes overrun with tangled, glitchy vines. Elsewhere, a Coney Island rollercoaster looks like it's been beamed in from another dimension. (He also has a set of non-glitchy iOS map photos.)
Norrby says the two-dimensional to three-dimensional conversion is what most likely caused the bugs, but those may soon be gone. 
"A fun thing with the map glitches is that the engineers are constantly improving their 2D to 3D analysis, so some glitches disappear," he explains. "For example, they seem to recently have added some bridge detection. Bridges used to look completely deranged, but now the software seems to understand the structure of a bridge and properly makes an empty space underneath. I'd guess in some cases they even go in manually and correct the geometry."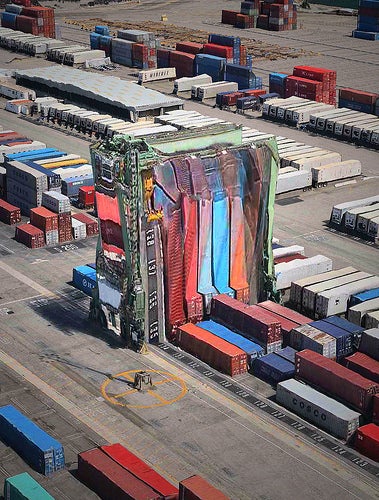 So, in a sense, he is preserving those "deranged" images that may never show up again, those ghosts in the machine. And he's managed to find an artful angle for fractured geometry, a strange beauty in technology's failure. 
"I find beauty in any type of failure, really," he says. "In fact, I think that is where most originality comes from – failures. In my own work, I often make mistakes, or 'bugs' as we call them, when programming computers. It is easy to go, 'Ah, dammit, now it's wrong again,' but I try to pace myself and really look if there is anything interesting that came out, rather than quickly discarding it as a bug. I guess the hard thing is to recognize the 'good' mistakes, those that help push things forward."
Photo by peder.norrby/Flickr